PREWORKOUTS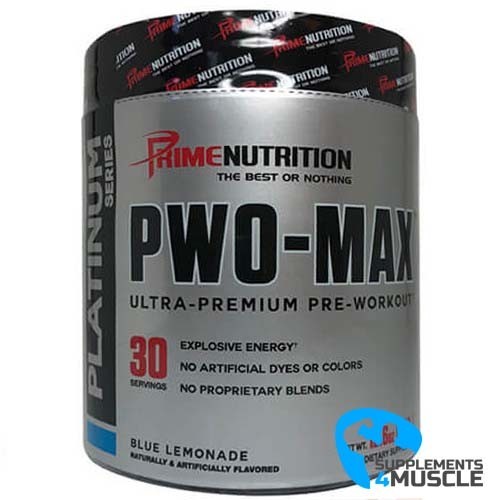 
Prime Nutrition PWO-MAX
75mg of DMAA Per Serving
300mg of Caffeine Per Serving
Intense and Focused Energy
Agmatine Sulfate for Monster Vasodilation
Push Past Mental Barriers With Incredible Focus
30 Minutes to Crazy Intensity
Scientifically Developed and Tested
3 Delicious Flavors, Naturally Sweetened With Stevia
DESCRIPTION
COMPOSITION
DIRECTIONS OF USE
REVIEWS
DESCRIPTION
Prime Nutrition PWO-MAX
Are you prepared to work out? Then it's time to meet PWO-MAX™, the top pre-workout supplement. PWO-MAX™ definitely won't let you off easy - it'll push you to achieve the most out of your workout!
If you want to regain that intense feeling you used to get when you had your first cup of coffee, our pre-workout supplement is more than enough. Our product has several stimulating components and ingredients that allow you to experience a sensation unlike anything you've ever felt. From IFBB professionals to everyday gym-goers, PWO-MAX™ is becoming a must-have for serious fitness enthusiasts due to its capacity to increase workouts to an entirely new level.
Give your workout a serious boost with beta alanine, a powerful lactic acid buffering element which is backed by many studies to amplify physical activity. This supplement will equip you with the strength and staying power to train with a higher intensity than usual. Furthermore, Agmatine Sulfate, a vasodilator, is also integrated which expands the blood vessels for swift and constant nutrient delivery to the body. This expedient circulation will reduce the time required to rest before further exercise and boost the sensation of muscle fullness.
COMPOSITION
Serving Size: 1 Rounded Scoop (12 grams)
Servings Per Container: 30
| | | |
| --- | --- | --- |
| | Amount Per Serving | %DV |
| Sodium (as Sodium Nitrate) | 270mg | 11% |
| Beta Alanine | 3.2g | ** |
| Agmatine Sulfate | 2g | ** |
| Sodium Nitrate | 1g | ** |
| N-Acetyl L-Tyrosine | 750mg | ** |
| Choline Bitartrate | 500mg | ** |
| DMAE (Dimethylaminoethanol) | 500mg | ** |
| Caffeine Citrate | 200mg | ** |
| Caffeine Anhydrous | 100mg | ** |
| 1,3-Dimethylamylamine | 75mg | ** |
Percent Daily Values are based on a 2,000 calorie diet. Your daily values may be higher or lower depending on your calorie needs.
** Daily Value (DV) Not Established.
Other Ingredients: Maltodextrin, Natural and Artificial Flavors, Citric Acid, Sucralose, Stevia, Malic Acid, Acesulfame-potassium, Silicon Dioxide, Calcium Silicate.
DIRECTIONS OF USE
Directions: As a dietary supplement mix 1 scoop with 8-10oz. of water, 30 minutes prior to training. Try starting with a half scoop to assess your individual needs. Do not exceed 1 scoop per day.
REVIEWS
There is no review
Atsiliepimas Atsiliepimas