SARMS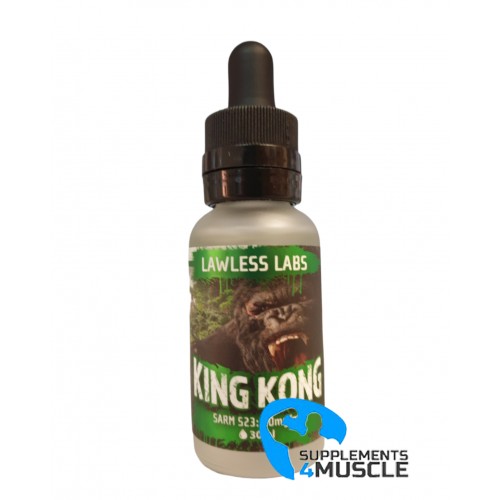 
DESCRIPTION
COMPOSITION
DIRECTIONS OF USE
REVIEWS
DESCRIPTION
Lawless Labs King Kong S-23 30ml
S-23 is one of the most potent forms of selective androgen receptor modulators (SARMs) used in bodybuilding. These molecules act on certain androgen receptors in bone, joint, and muscle tissue.
Lawless Labs S-23 is the perfect pick for fitness-lovers who are looking to expand their muscle mass and sharpen athletic ability. Reports have shown that it helps to increase gym achievements, intensify muscularity, expand bone-forming cells, and increase lean muscle mass over an 8-12 week period. Not only that, it may also benefit bone health and sex drive in both genders while diminishing average body weight and body fat so that you can bid farewell to that surplus weight and fat that's been a long-time troublesome situation. On top of that, S-23 may also help to activate bone-forming cells for improved bone mineral density and broaden muscle durability.
If you use the SARM S-23 from Lawless Labs, you can gain lean muscle mass and a strengthened bone structure. S-23 has been found to be effective in helping to create muscle with minimal fat or liquid gain. As a result, you can expect to observe an increase in your muscles without piling on the fat or water.
Using Lawless Labs S-23 can provide an advantage in that it improves bone mineralization, which in turn leads to stronger bones. With bodybuilding or weight training, it is common to put substantial stress on the body's bones, so taking a supplement like S-23 can be beneficial to give them that extra strength. S-23 has advantageous effects on bone health, both with low and high doses.
The benefits of taking SARM S-23 go beyond simple muscle gain; it's also known to help reduce fat in the body. This is great news for bodybuilders and athletes who are interested in building muscle, but are keen to avoid the addition of extra fat mass. Lawless Labs makes this process easy for its users.
A diet that reduces calorie intake can quickly cause you to lose both fat and muscle. Taking S-23 from Lawless Labs helps reduce muscle wasting, allowing you to lose just fat while keeping and potentially building muscle mass. Get S-23 today!
COMPOSITION
Serving Size: 1ml
Servings Per Container: 30
| | |
| --- | --- |
| Amount Per Serving | 1ml |
| S-23 | 20mg |
Other ingredients: PEG300
DIRECTIONS OF USE
Dosage: 20mg daily (1ml - 1serving).
Cycle length: 4-12 weeks
REVIEWS
There is no review
Atsiliepimas Atsiliepimas