SARMS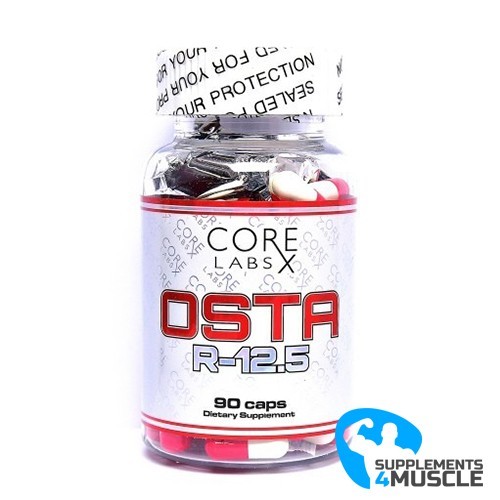 
DESCRIPTION
COMPOSITION
DIRECTIONS OF USE
REVIEWS
DESCRIPTION
Core Labs X Osta R-12.5 
OSTA R-12.5 (Ostarine) is the most powerful and anabolic Selective Androgen Receptor Modulator (SARM). Ostarine is very effective in maintaining and increasing lean body mass as well as accelerating fat loss. Ostarine cannot be aromatized, concentrating all their effects to Androgen Receptor binding and not converting to androgens/estrogens.
A highly popular anabolic SARM, Core Labs X Osta R-12.5 is popular in the world of athletics and bodybuilding to build solid muscle mass and lose stubborn abdominal and visceral fat at the same time. This selective androgen receptor modulator, which is also known as Ostarine and MK-2866, is medically prescribed to treat severe health conditions such as muscle wasting, sarcopenia, breast cancer, urinary incontinence, cachexia, and a wide range of auto-immune disorders. Core Labs X Osta R-12.5 has an approximate half-life of 24 hours and it should ideally be in cycles of 10-16 weeks. Experience massive muscle mass, fat loss, and body strength gains with the explosive Core Labs X Osta R-12.5. Ideal for both cutting and bulking cycles, Core Labs X Osta R-12.5 is associated with significant muscle mass and strength gains. Users can expect gains of 5-10 pounds with just 4-8 weeks of Core Labs X Osta R-12.5 use. It is best stacked with GW-501516, MK-677, and RAD-140. Redefine physical appearance and workout sessions with Core Labs X Osta R-12.5 now.
COMPOSITION
Serving Size: 1 Capsule
Servings Per Container: 90
| | |
| --- | --- |
| Amount Per Serving | |
| NAC (N-Acetyl L-Cysteine) | 350 mg |
| Ostarine (MK-2866) | 12.5 mg |
| (2S)-3-(4-cyanophenoxy)-N-[4-cyano-3-(trifluoromethyl)phenyl]-2-hydroxy-2-methylpropanamide | |
| Vitamin E (TPGS) | 10 mg |
Other Ingredients: Ascorbic Acid, Magnesium Carbonate, Calcium Gluconate, Potassium Gluconate, Zinc Gluconate, Magnesium Stearate, Silicon Dioxide.
DIRECTIONS OF USE
As a dietary supplement, take 1 capsule 2 times daily. Do not exceed 3 capsules in a 24 hour period and do not take for more than 12 weeks continuously without a 4 week break.
REVIEWS
There is no review
Atsiliepimas Atsiliepimas
Related Blog Posts