SARMS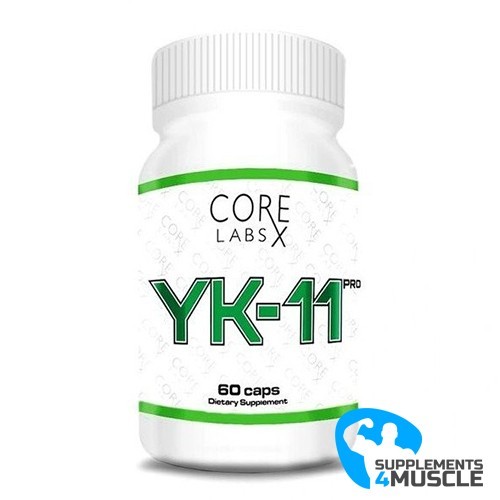 
Core Labs X YK-11 Pro 60caps
Myostatin Inhibitor
Increase Muscle Mass
Boost Strength & Endurance
DESCRIPTION
COMPOSITION
DIRECTIONS OF USE
REVIEWS
DESCRIPTION
Core Labs X YK-11 Pro 60caps
This formulation is based on an androgen receptor-selective compound known as SARM (17α, 20E) -17.20-[(1-methoxyethylidene) bis (oxy)]-3-oxo-19-norpregna-4,20-diene-21-carboxylic acid Methyl ester. Core Labs X YK-11 Pro 60caps is designed to elevate follicle levels in the body, enabling the formation of new muscle cells. It also inhibits myostatin, allowing for unrestricted muscle growth. YK11 binding to androgen receptors helps strengthen bones and reduce brittleness. The product also boosts the activity of protein B kinase in the cells and increases bone cell (osteoblast, osteolyte, and osteoclast) growth. The addition of Vitamin E enhances the bioavailability of the active ingredient, while N-acetyl-1-cysteine boosts liver health and boosts levels of glutathione, a powerful antioxidant.
The most recently developed chemical compound, YK-11- 17-alpha, 20E) 17.20 - [(1-methoxyethylidene) bis (oxy)], 19-dien-4,20-norpregna 3-oxo ester 21-carboxylic acid, possesses the same properties of SARMs without the common side effects associated with androgens, such as enlarged cortical glands, too much hair growth and increased aggression. In a study done two years after, it was confirmed to have a much lower likelihood of adverse effects in comparison to other SARMs. On top of that, YK 11 demonstrated a greater anabolic result than a similar amount of DHT nanomoles, suggesting that this substance can significantly increase lean muscle mass.
NAC is a variant of the amino acid cysteine that has been paired with an acetyl group. It has the positive effect of increasing the amount of antioxidant-glutathione in the body which then decreases the amount of damage caused at the cellular level, rapidly promotes post-injury healing and encourages the development of lean muscle. Diminished levels of cell damage is closely correlated to the deceleration of the aging process. Furthermore, NAC binds toxins from anabolic steroids and clears them from the body when they go through the liver.
A new advancement in substance absorption is Vitamin E (TPGS), a water-soluble form of natural vitamin E. Vitamin E TPGS serves as a nonionic surfactant, boosting absorption and providing antioxidant properties. Furthermore, it is a practical source of natural vitamin E, making it ideal for medicinal and nourishing purposes.
COMPOSITION
Serving Size: 1 Capsule
Servings Per Container: 60
Amount Per Serving
NAC (N-Acetyl L-Cysteine)
350 mg
Vitamin E (TPGS)
10 mg
YK-11


(17α, 20E) -17.20 - [(1-methoxyethylidene) bis (oxy)] - 3-oxo-19-norpregna-4,20-diene-21-carboxylic acid Methyl ester

10 mg
Other Ingredients: Magnesium Stearate, Silicon Dioxide, Magnesium Carbonate, Calcium Gluconate, Potassium Gluconate, Zinc Gluconate.
DIRECTIONS OF USE
As a dietary supplement, take 1 capsule 1-2 times per day for 6-8 weeks. Do not exceed 2 capsules in a 24 hour period and do not take for more than 8 weeks continuous use without a 4 week break between cycles.*