SARMS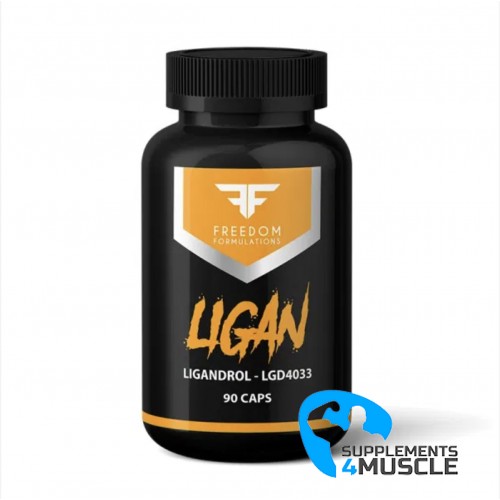 
DESCRIPTION
COMPOSITION
DIRECTIONS OF USE
REVIEWS
DESCRIPTION
Freedom Formulations Ligan LGD 4033 60caps
Freedom Formulations Ligan LGD 4033 60 capsules is a Selective Androgen Receptor Modulator (SARM) that provides great anabolic potential. Taking LGD 4033 will help to achieve built high quality muscle mass, resulting in long-term gains. It is known that Ligandrol posses strong anti-catabolic and fat loss abilities, contributing to the recomposition effect - an increase in slim body mass and decrease of body fat. For sports supplementation purposes, LAG is usually taken during the period of building quality muscle mass, avoiding notable water and fat acquisition.
The impact of taking the drug Ligan LGD-4033 on freedom levels:
Gaining lean muscle mass,
Lack of water retention,
A decrease in body fat,
Aiding fat loss,
Boning up,
Increasing glycogen storage in muscles,
Allowing for a "muscle pump" sensation,
Prevention of muscle breakdown,
And a faster recovery rate.
Which other compound can be used in conjunction with Ligandrol LGD 4033?
Ligandrol is an incredibly strong anabolic agent which can help you to construct muscle tissue. It functions effectively during a bulking cycle in tandem with ostarine and S23 to create high-grade muscle mass.
What is the intended audience for LGD 4033?
SARMs are suggested for more advanced people who want a mixture between regular supplements and anabolic steroids. SARMs are capable of creating impressive muscle mass gains and change the shape of the body, but with no side effects seen in regular steroids. In particular, Ligandrol is good for gaining substantial muscle mass, resulting in a noticeable cosmetic change. If someone has already stopped responding to conventional creatine-based supplements, then changing to SARMs is the next step to attain amazing outcomes.
Ligandrol LGD 4033, which is a selective androgen receptor modulator (SARM), is taken in a 6mg dose. It has a powerful impact on receptors situated in skeletal muscles and bones, showing an anabolic effect. In bodybuilding supplementation, it is utilized to build up lean body mass, often being likened to the popular supplement "turinabol" - Turinabol.
COMPOSITION
Serving Size: 1 Capsule
Servings Per Container: 90
| | |
| --- | --- |
| Amount Per Serving | |
| LGD4033 | 6mg |
Other ingredients: Gelatin, Silica, Rice Flour
DIRECTIONS OF USE
Dosage: 1 serving, 2-3 times daily. Do not exceed 20 mg per day. Best used at intervals of 6-8 hours.
REVIEWS
There is no review
Atsiliepimas Atsiliepimas