FAT BURNERS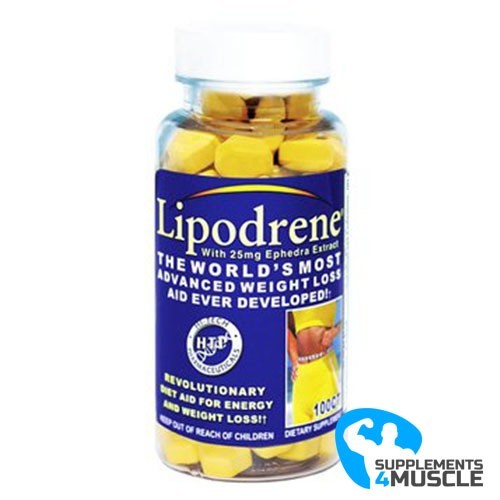 
HI-TECH PHARMACEUTICALS Lipodrene
Promotes weight loss*
Suppresses appetite*
Increases energy*
DESCRIPTION
COMPOSITION
DIRECTIONS OF USE
REVIEWS
DESCRIPTION
HI-TECH PHARMACEUTICALS Lipodrene
Lipodrene from Hi-Tech Pharmaceuticals contains 25 mg of real ephedra extract and is now even better. Why hesitate to try out something that could improve your life? It is our top-selling item and can do more than just provide you with energy, it also helps to suppress appetite. Curious about why Lipodrene is one of the most popular ephedra products? The only way to fully understand is to give it a go.
Examining the Effects of Lipodrene: Is it Effective?
The best way to find out if Lipodrene would be beneficial to you is to go to the reviews section directly above the start of this description and read the numerous 5-star reviews. If you have had great results with Lipodrene that contains ephedra extract, we encourage you to take a moment and write a review to help others understand the potential benefits of this product.
Do you still have doubts about whether Lipodrene with ephedra is right for you? No need to worry; Lipodrene has been thoroughly evaluated by medical experts, and it is made in a laboratory approved by the Food and Drug Administration.
No matter what type of medication you decide to take, there is always the potential to experience adverse side effects. Even medications obtained with a prescription can come with upsetting or even life-threatening side effects. So, before you take Lipodrene, it's strongly recommended that you check-in with your doctor to see if it is right for you. Taking the time to research the possible side effects of taking Lipodrene is also important. While the product is generally considered safe for those who take diet pills, there can be certain common side effects that you might experience. Ultimately, be sure to always read the label carefully to be aware of any potential risks.
The special ingredients in Hi-Tech's Lipodrene may bring about changes in the way you feel, and you could even begin to look better if you make adjustments to your everyday diet and exercise plan. Care should be taken not to go beyond the prescribed dosage for the tablets as there may be many unwanted consequences. Be sure to read all of the information on the bottle to understand it fully. In time, it is alright to become accustomed to taking the tablets, but you must never take in more than what's indicated on the label.
Developed by Hi-Tech Pharmaceuticals, Lipodrene can be counted on to reduce appetite, give you more vigor, and enliven your mindset.* It is one of the top-tier fat-burning and dropping-pounds supplements which you can find today.* To achieve the finest effects, a proper diet and workout routine should be combined with the use of this supplement.
COMPOSITION
Serving size:1 Tablet
Servings Per Container: 100
| | |
| --- | --- |
| Amount Per serving | %DV |
| Propierty Blend with Thermo-Rx® and Extend-Rx™ Technologies: Ephedra Extract 25mg (leaves), Senegalia Beriandieri Extract (leaves), Yielding 225mg Phenylethylamine Alkaloids including: Phenylethylamine, Methylsynephrine, N-Methyl-B-Phenylethlamine and N,N-Dimethylphenylethylamine, Synephrine HCI,Theobromine, Green Tea Extract (45mg EGCG), Theophylline, Hoodia Extract (cactus),Cassia Nomame Extract (plant),Naringen (fruit),6,7 Dihydroxyberganiotin (fruit), 5-Methyltryptamine HCI, L-5-Hydroxytryptophan,Yohimbe HCI | 560mg* |
| Caffeine (Anhydrous) | 100mg |
Other ingredients: Dextrose, Microcrystalline Cellulose, Hydroxypropyl Methylcellulose. Stearic/acid. Magnesium Stearate, Sodium Starch Glycolate, Starch, Triacetin, Titanium Dioxide, FDECYeliow #5 Lake, Silica, FD&C Yellow #6 Lake.
DIRECTIONS OF USE
Dosage: Take 1-2 tablets in the morning and 1 tablet after lunch. Do not exceed 4 tablets daily.
REVIEWS
There is no review
Atsiliepimas Atsiliepimas