FAT BURNERS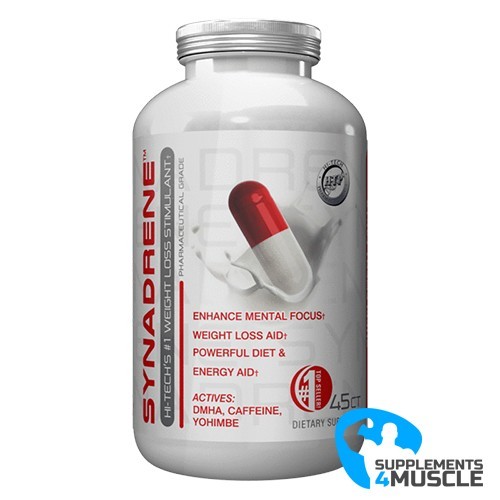 
HI-TECH PHARMACEUTICALS Synadrene DMHA
Enhance Mental Focus
Weight Loss Aid
Powerful Diet & Energy Aid
DESCRIPTION
COMPOSITION
DIRECTIONS OF USE
REVIEWS
DESCRIPTION
HI-TECH PHARMACEUTICALS Synadrene DMHA
Synadrene was developed by Hi-Tech Pharmaceuticals as an alternative to Metabolic Nutrition's Synedrex. The version of Synedrex that was previously available is being reformulated and it is no longer available to purchase anywhere, or is being sold at a very high price. Chances are we won't see the reformulated version for a while, and they are most likely removing the active ingredient AMP Citrate. Synadrene is a formula that is closer to the original Synedrex and uses the power of DMHA.
How Does This Compare?
There were 3 different versions of Synedrex in the past. The first version of Synedrex used 1,3 DMAA. The second version just had caffeine. The third and most recent version used AMP Citrate. Synadrene by Hi-Tech is using DMHA, which was like the active ingredient in the original Synedrex. So you're actually getting a better product that is stronger and closer to the original Synedrex formula.
Benefits & Results
Thermogenic fat burning

Boosts energy levels

Improved mood and focus

Stops hunger

Power of DMHA

Questions About Synadrene
Can women use this?
Yes, this product can be used by both men and women. This product is non-hormonal so it is safe for women.

Can I stack this product?
You shouldn't stack it with other products containing stimulants, but we recommend using it with Thyrene or Hydravax, which are both non/low stimulant. For those wanting to take it pre-workout, you can stack it with non-stimulant pre-workout supplements.

Can I take this with my pre-workout?
Yes, if you are using a non-stimulant pre-workout formula.
Is it gluten free?
Yes.
How much caffeine is in it?
It is part of proprietary blend, so we are unsure.

How much DMHA is in it?
They do not disclose the amount listed.

How does Synadrene compare to Lipodrene and Lipodrene Hardcore?
The biggest difference between the two is that Lipodrene has ephedra extract. Synadrene does not.

COMPOSITION
Serving Size: 1 Capsule
Servings Per Container: 45
| | | |
| --- | --- | --- |
| | Amount Per Tablet | %Daily Value* |
| Vitamin B12 (as Cyanocobalamin) | 100mcg | 1,666% |
| Vitamin B3 (as Niacin) | 20mg | 100% |
| Chromium (from Chromium Polynicotinate) | 175mcg | 146% |
| Vitamin B6 (as pyrdoxine HCI) | 4.25mg | 212% |
| Synadrene Proprietary Blend: | 815mg | ** |
| Caffeine Anhydrous, Green Tea Extract (leaves), 2-Aminoisoheptane HCI, Walnut Extract (bark), Sulbutiamine, Sandalwood Extract, Yohimbine Extract (bark), Alpha Lipoic Acid, Poly-Thyronine. | | |
DIRECTIONS OF USE
Take 1 capsule three times daily. Do Not exceed 4 capsules in any 24-hour period.
REVIEWS
There is no review
Atsiliepimas Atsiliepimas