FAT BURNERS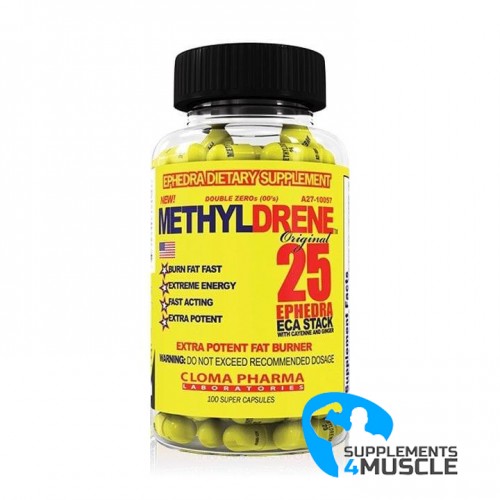 
Cloma Pharma Methyldrene 25 ECA Stack
Very strong fat burner
Aids in fat absorption and fat breakdown
Suppresses appetite
Promotes energy
Helps elevate moods
DESCRIPTION
COMPOSITION
DIRECTIONS OF USE
REVIEWS
DESCRIPTION
Cloma Pharma Methyldrene 25 ECA Stack
Cloma Pharma Methyldrene ECA is one of the most powerful fat burners available for athletes. All of the ingredients included are scientifically proven to be effective. The "ECA" blend provided in a strong dosage gives this supplement an upper edge over other similar products.
ECA (Ephedrine, Caffeine, and Aspirin) has acquired a reputation for being highly successful in aiding people to shed unwanted fat. The mix of ingredients comprising ephedrine, caffeine, and acetylsalicylic acid has an intense thermogenic capacity. There is a sizable amount of scientific research studies, as well as much testimony from ECA's long history of use by countless users and athletes, that testifies to the effectiveness of this weight loss supplement.
COMPOSITION
Serving Size: 1
Servings per container: 100
Amount Per Serving
Vitamin B6 (as Pyridoxine Hcl)
2mg
Vitamin B12(as Cyanocobalamin)
6mcg
Chromium (as Chromium picolinate)
30mcg
ECA Blend
375mg
Caffeine Anhydrous
250mg
White Willow Extract (Bark) (25% Salicins)
100mg
Ephedra Viridis Powder (Leaf)
25mg
Methyldrene Fat-Burning Support System
298mg
Citrus Aurantium Extract (Fruit) (30% Synephrine)
50mg
Panax Ginseng Extract (Root) (4%Ginsenosides)
50mg
Ginger (Root) Powder
38mg
Cocao Extract (20% Theobromine)
35mg
Cayenne Pepper Extract (Fruit) (40,000 Heat Units)
35mg
Cactus Cladod (as Opuntia Ficus Indica) Powder
35mg
Green Tea (leaf) Extract (95% Polyphenols)
35mg
Yohimbe (Pausinystalia Yohimbe) (Bark) Extract 8% Yohimbine
19mg
GriffoniaSeed Extract (Source 5-HTP)
1mg
Other Ingredients: Dicalcium Phosphate, Gelatin, Magnesium Stearate, FD&C Blue #1, FD&C Red #3, FD&C Yellow #6, Silicon Dioxide, Titanium Dioxide.  
DIRECTIONS OF USE
Dosage: 1 capsule twice a day
REVIEWS
There is no review
Atsiliepimas Atsiliepimas