Xtreme fat burners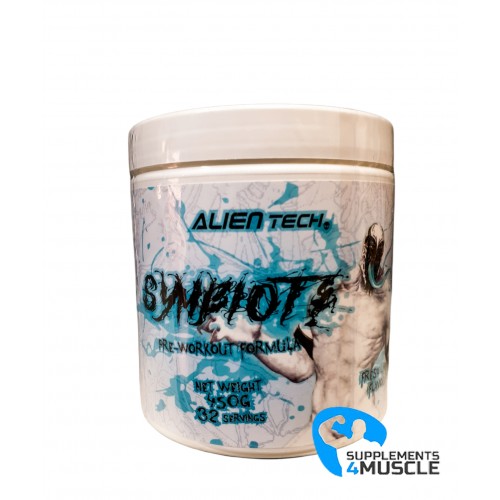 
AlienTech Symbiote 450g
The Symbiote from AlienTech is a hardcore booster which, as the name suggests, enters into a symbiosis with your body. Due to its ingenious composition, it is at the forefront in terms of effect.
DESCRIPTION
COMPOSITION
DIRECTIONS OF USE
REVIEWS
DESCRIPTION
AlientTech Symbiote 450g
More power, more concentration and even more energy is what you can expect from an AlienTech Symbiote pre-workout.
AlienTech Symbiote is the most explosive cocktail of high-energy stimulants and nitric oxide enhancers ever created.
AlienTech Symbiote consists of clinically researched ingredients that increase energy levels, maximize muscle size / fullness, increase strength, improve concentration and drive into training.
AlienTech Symbiote contains high doses of stimulants to help you achieve perfection during your training. This recipe is designed to take your workouts to the next level with a pump, focus and extreme energy!
New export hit from the USA
With DMAA and yohimbine
Brutal pump with agmatine and L-citrulline
Extreme focus 
Newest hardcore composition
Number 1 US booster
great solubility
Delicious taste
COMPOSITION
Serving Size: 14g (one scoop)
Servings per container: 32
| | |
| --- | --- |
| | Amount per serving |
| L-Citrulline | 5000mg |
| Arginine AKG | 3500mg |
| Beta-Alanine | 2000mg |
| Taurine | 1500mg |
| Agmatine Sulfate | 500mg |
| Acetylcarnitine HCL | 300mg |
| Anhydrous Caffeine | 200mg |
| 1.3 DMAA | 30mg |
| Yohimbine HCL | 5mg |
| Vitamin C | 500mg |
| Vitamin B6 | 49mg |
| Niacin | 30mg |
Other Ingredients: Malic Acid, Citric Acid, Sucralose, Natural & Artificial Flavours
DIRECTIONS OF USE
Mix 1 serving (1 scoop) with 200ml of water and drink 15-30 minutes before training. Dietary supplements can not be used as a substitute of a varied diet. Do not exceed recommended portion for consumption during the day!