PREWORKOUTS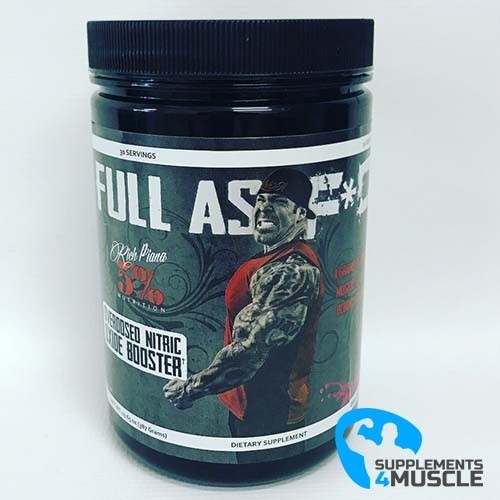 
Rich Piana 5% Full As F*ck
Skin tearing muscle pumps
Optimal nutrient delivery
6g Citrulline per serving
Improved muscle growth and strength
Reduces fatigue by enhancing oxygen delivery to muscles
Tastes delicious in every flavour
DESCRIPTION
COMPOSITION
DIRECTIONS OF USE
REVIEWS
DESCRIPTION
Rich Piana 5% Full As F*ck
Rich Piana 5% Full As F*ck is a pre-workout Nitric Oxide booster created with quality ingredients that enhance blood flow, intensifying your training and cutting down on fatigue and muscle soreness. Having a good pump when exercising is paramount and nothing is quite like the feeling of having your muscles full and nourished with nutrient-carrying blood. The pump can significantly change the way your muscles look, providing them with that 'FULL AS F*CK' look. It contains the most effective Nitric Oxide boosters on the supplement market, with incredibly high doses. FULL AS F*CK will increase the amount of blood entering your muscles to the maximum extent possible. If you're wanting to look super pumped while training, this is something you should add to your gym bag. There is no greater feeling than having your muscles filled to the brim with nutrient-rich blood.
COMPOSITION
Serving Size: 1 scoop (12.9g)
Servings Per Container: 30
Amount Per Serving

%DV

Vitamin C (as ascorbic acid, calcium ascorbate)

250mg

417%

Niacin

30mg

150%

Calcium (as calcium ascorbate)

9mg

1%

Magnesium (as magnesium citrate, magnesium glycerophosphate)

15mg

4%

Sodium (as sodium chloride, sodium glycerophosphate)

17mg

1%

Potassium (as potassium citrate, potassium glycerophosphate)

36mg

1%

L-Citruline

6000mg

**

L-Taurine

2000mg

**

Glycerol Monostearate

1000mg

**

Dan-Shen Extract (Salvia Miltiorrhiza) (Root)

650mg

**

Beet Root Powder

500mg

**

L-Norvaline

250mg

**

Hesperidin

100mg

**

Black pepper Fruit Extract (BioPerine®)

5mg

**
Other Ingredients:Natural Flavours, Citric Acid, Silicon Dioxide, Sucralose, Acesulfame Potassium, Red #40
DIRECTIONS OF USE
Directions: As a dietary supplement for adults, consume one serving (1 scoop) of Full as F*ck with 8-12 ounces of water 30 minutes before training on an empty stomach.
REVIEWS
There is no review
Atsiliepimas Atsiliepimas