PREWORKOUTS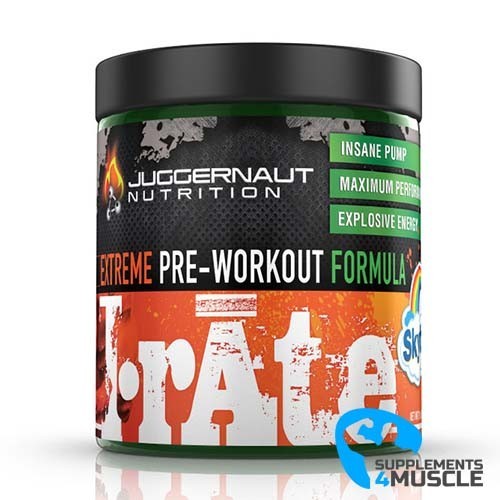 
DESCRIPTION
COMPOSITION
DIRECTIONS OF USE
REVIEWS
DESCRIPTION
Juggernaut Nutrition IRATE
Juggernaut Nutrition IRATE (previously known as In-Rage) has an impressive influence despite being fairly simple in regards to its composition. The ingredients used have been carefully selected with the precise doses required in order to create an intense sense of arousal, focus and energy for the workout, along with triggering a notable muscle pump.
It consists of:
A hefty 5 gram dose of citrulline malate 2: 1 can dilate the blood vessels, increase nitric oxide production, and fast-track muscle fatigue detoxification.
Yohimbine hcl helps the body become more alert and prepared for action by stimulating the production of adrenaline. It also boosts neural activity and encourages the breakdown of fat, specifically in areas such as the hips and stomach. Furthermore, the synthesis of nitric oxide is enhanced, the concentration of norepinephrine in the corpus cavernosum goes down, and stronger erections are supported in males.
Beta alanine is an amino acid that does not increase the size of the muscles, but boosts levels of carnosine in them. This helps delay fatigue when exercising, allowing for longer, more intense workouts. The result is increased strength and endurance.
Creatine Hcl boosts the amount of phosphocreatine found in muscle tissues by 40%, allowing for a greater intensity of exercises, enhanced performance, and a stronger push for muscular growth.
Geranium serves as a powerful stimulant that helps to speed up fat burning and boost the difficulty of workouts.
COMPOSITION
Serving Size: 1 scoop 9.3 grams
Servings Per Container: 30
| | | |
| --- | --- | --- |
| | Amount Per Serving | %DV |
| N.O complex blend | | |
| Citrulline Malate 2:1 | 5.000mg | ** |
| Yohimbine HCL | 2.5mg | ** |
| Power/strenght blend | | |
| Beta alanine | 2.500mg | ** |
| Creatine HCL | 1.500mg | ** |
| Energy/focus blend | | |
| Caffeine Citrate | 150mg | ** |
| Caffeine Anhydrous | 150mg | ** |
| 1-3-dimethylamylamine | 70mg | ** |
Daily Value Based on a 2.000 calorie diet
**Daily Value not established
Other Ingredients: Artificial fruit flavor, sucralose, silicon dioxide.
DIRECTIONS OF USE
WARNING: EXTREMELY POWERFUL
DUE TO EXTREME POTENCY users may wish to begin by consuming (1/2) scoop to assess tolerance. On non training days take one scoop first thing in the morning.
Mix one scoop heaping scoop with 6 oz of water or your beverage of choice (do not exceed 2 scoops within a 24 hour period).
REVIEWS
There is no review
Atsiliepimas Atsiliepimas