Xtreme PWO formulas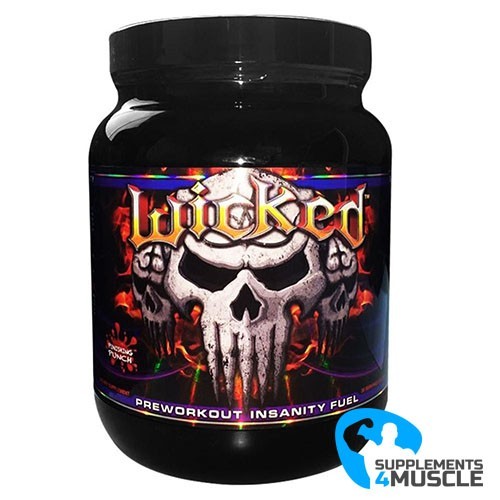 
Innovative Labs Wicked DMHA
Helps Increase Energy*
Helps Increase Strength & Power*
Helps Increase Muscle Endurance*
Helps Increase Muscle Pumps*
Promotes Better Muscle Contractions*
Helps Accelerate Muscle Recovery*
Helps Improve Focus*
Helps Improve Overall Mood*
Helps Increase Vascularity*
DESCRIPTION
COMPOSITION
DIRECTIONS OF USE
REVIEWS
DESCRIPTION
Innovative Labs Wicked
Innovative Laboratories have unleashed their newest pre-workout supplement WICKED onto the market. By utilizing a combination of special Nitric Oxide Amplifiers, Cell Volumizers, and Neurogenic Energizers for profound anabolic effects, WICKED is on another level of pre-workouts. Not only does it contain unique ingredients, such as Agmatine Silicate, L-Citrulline Silicate and Red Wine 30% extract, but it also promises increased energy, strength, endurance, vascularity and concentration. Defy your own boundaries by making every workout the best with WICKED!
Using WICKED preworkout is like entering beast mode; it leads to strong energy levels, rigorous pumps, and enviable vascularity, while also boosting strength and endurance and maintaining concentration during the entire workout. Once you try it, you won't want to train without it -- unlike other supplements, WICKED packs real value without relying on miscellaneous additives or too much caffeine.
2-Aminoisoheptane HCL (DMHA) is a potent stimulant which produces effects akin to those of DMAA. It influences the nervous system by augmenting the concentrations of dopamine and norepinephrine. Combining intense exercise with the use of DMHA can bring about remarkable results including appetite suppression, lowered body fat, enhanced memory and creativity, as well as alleviating anxiety by decreasing fatigue. This product can work as an attractive alternative for people who find the effects of DMAA desirable but exhibit low tolerance to it. DMHA and DMAA share a very similar chemical structure, subsequently their impact is similar.
COMPOSITION
Serving size:2 scoops (11g)
Serving Per Container: 30
Amount per Serving
%DV
Vitamin C
250mg
416%
Niacin (as Inositol Nicotinate)
400mg
2,000%
Vitamin B6
20mg
1,000%
Inositol (as Inositol Nicotinate)
100mg
**
N.O. Amplification Matrix:
Beta-Alanine, L-Citrulline Silicate, Red Wine Extract (standardized to 30% Glycerol)
5000mg
**
Anabolic Cell Volumizer:
Creatine Nitrate, 2-Aminoethanesulfronic acid Silicate, Agmatine Silicate, (N-(aminoiminomethyl)-beta-alanine),  D-Ribose, Creatinol-O Phosphate
4090mg
**
Neurogenic Energizers:
Caffeine Anhydrous, 2-Aminoisoheptane HCL, Histidine, Rauwolfia serpentina extract
390mg
**
Other Ingredients: Maltodextrin, Natural and Artificial Flavors, Citric Acids, Malic Acid, Sucralose, FD&C Red #40, Blue #1.
DIRECTIONS OF USE
Suggested Use:
On Training Days: Take 1 Heaping Scoop to assess personal tolerance. Once tolerance has been assessed, users may increase dosage to 2 scoops in 6-8oz (depending on taste preference) of ice cold water. Do not take with food.
On Non-Training Days: Take 1 Scoop in the morning.
REVIEWS
There is no review
Atsiliepimas Atsiliepimas