Xtreme fat burners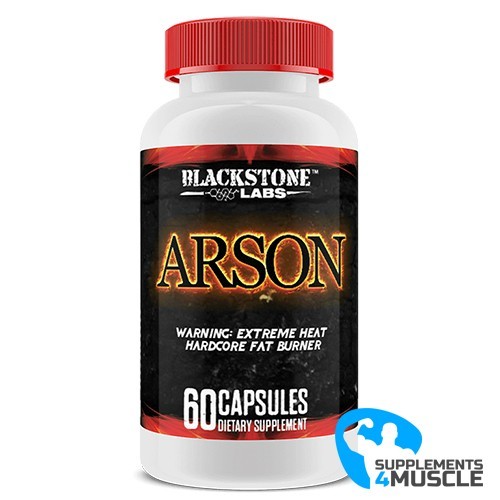 
DESCRIPTION
COMPOSITION
DIRECTIONS OF USE
REVIEWS
DESCRIPTION
Blackstone Arson a thermogenic fat burner with extreme potency. The unique formula of stimulants, a combination of three forms of yohimbine, DMHA, extracts of citrus fruit provides an intense, long-lasting effect in a maximum way of reducing body fat. The best fat reducer for advanced athletes allows you to lose unwanted body fat from sites that are resistant to burning, such as the stomach, thighs or buttocks.

The supplement improves the body's aerobic capacity allowing you to do heavy workouts without feeling tired. Arson perfectly regulates fat metabolism affecting energy. The preparation has a significant effect on the mood, reducing the feeling of depression caused by the low supply of carbohydrates.

Eria Jarensis Extract - acts as a neuromodulator in the central nervous system, giving many benefits to cognitive functions. It provides effects that improve mood by increasing the level of dopamine and nor-adrenaline in the body. Dopamine is responsible for increasing the sense of well-being, and therefore the extract from Eria Jarensis provides a euphoric effect, and at the same time reduces the feeling of anxiety. Dopamine and noradrenaline are also associated with increased mental alertness and concentration. It has an effect similar to DMAA - it ensures agitation, concentration, alertness and euphoric effect.

N-Methyl-B-Phenylethylamine-methyl derivative of beta-phenylethylamine. In the body, it acts as a neurotransmitter and causes an increase in the level of dopamine and norepinephrine. In the natural form, there is, among others in chocolate, unfortunately, it is quickly degraded in the gastrointestinal tract, therefore it is used in a complex form that does not undergo oxidation. Methylphenylethylamine HCl is a biologically active derivative of beta-phenylethylamine. Use is recommended in case of intense physical effort and to improve mood.

Caffeine Anhydrous - has a thermogenic effect and suppresses appetite due to the increase in the production of adrenaline and norepinephrine. It has been proven that it causes the formation of such neurotransmitters as dopamine, acetylcholine or even serotonin in the central nervous system, which exerts a stimulating effect and increases cognitive functions. The overall activity of caffeine on the body, allows you to maintain the effectiveness of training and maintain a positive mood, despite the calorie deficit.

2-Aminoisoheptane - is a stimulant known as octodrine. DMHA has a relaxant effect on the bronchi, thanks to which our aerobic capacity increases, furthermore it has a decongestant activity (narrowing blood vessels, causing an increase in the oxygen flow rate), does not cause "stupor" and sharpens the senses that could not always be experienced with dmaa.

Theobromine- is a substance found primarily in cocoa beans, popular yerba mate, coffee or tea. Its main features include a diuretic, pressure-lowering and thermogenic properties, especially in combination with caffeine and polyphenols. This substance stimulates the heart and dilates blood vessels, thanks to which it has a presumed hypotensive effect (however, it has not yet been confirmed by tests). Thanks to the Theobromine, ECA XTREME has a positive effect on muscle definition as well.

Green Tea contained in green tea inhibits the enzyme called catechol O-methyl transferase or COMT, which actually breaks down the fat-burning hormone norepinephrine. Because green tea is rich in catechin helps raise the level of norepinephrine, keep it at an elevated level and prolong thermogenesis. It has also been shown that there is a synergistic interaction between caffeine in green tea and catechins (in particular EGCG) in green tea, which increases the body's use of calories as energy. In addition, it was found that the combination of caffeine and EGCG in green tea significantly increases the resting metabolic rate.

Citrus Nat Sudaidai Hayata Extract, Citrus Junos Siebal-yuzu, Ex Tanaka Extract - citrus extract is a source of polyphenols, flavonoids that participate in the breakdown of body fat, suppress appetite and stimulate metabolism. Citrus fruit regulates body weight and also affects PPARα regulation. PAR-α has a function that regulates lipid metabolism. In the liver, it affects the greater use of fatty acids, which ensures increased energy burning and fat reduction.
Citrus Aurantium Extract - bitter orange is not an edible fruit but it is an excellent source of vitamin C, the amount of which in the extract can reach even 42%. Bitter oranges are much richer than just vitamin C, but also antioxidants such as bioflavonoids, such as hesperidin. In addition to the high content of perfectly digestible vitamin C, the bitter orange is famous primarily for the firmness of the synephrine plant, which is a natural substitute for ephedra. Synephrine has a similar structure to ephedrine. It is obtained in a natural way, from immature citrus fruits, e.g. Citrus uranium L., Citrus aurantium L. This substance is a natural substitute for ephedra. Increasingly, it is added to drugs and dietary supplements intended for athletes as well as overweight people. This compound boosts metabolism, reduces appetite and at the same time increases mental and motor activity. Synephrine increases blood pressure and affects the minute volume of the heart. It widens the bronchi to facilitate breathing, effectively clears the sinuses and improves well-being.

Cayenne Pepper Extract - contains capsaicin. Regular absorption of capsaicin causes inactivation of the TRPV1 receptor and increases body temperature. It affects the activity of calcium transporters in muscles, which leads to increased thermogenesis. The ATP-dependent calcium transporter is a protein that transports calcium ions from the cytoplasm to the endoplasmic reticulum of muscle cells, which consumes energy from the breakdown of the high-energy bonds contained in ATP. Capsaicin causes this transporter to stop transferring calcium ions, but it still breaks down ATP and energy is dissipated in the form of heat.

Yohimbe Extract - works by blocking α2 receptors that interfere with fat burning, which can significantly facilitate slimming and help to sculpt resistant parts of the body. It is worth remembering that the action of yohimbine effectively eliminates insulin, so taking this compound in the vicinity of meals containing carbohydrates is pointless. Yohimbine can be particularly effective on fasting, before physical exercise.

11-Hydroxy-Yohimbine- a large scientific study confirms that 11-hydroxy Yohimbine is 56% more effective than the most popular yohimbine hcl. 11-hydroxy yohimbine shows increased alpha-2 adrenergic receptor binding capacity up to 10-fold. The terminal half-life of 11-hydroxy yohimbine is about 8-11 hours, compared to the two-hour half-life of yohimbine hcl. 11-hydroxy yohimbine provides a clear advantage over yohimbine in the affinity to alpha-2 adrenergic receptors and a longer half-life in the blood.

Alpha-Yohimbine - has antioxidant, anti-inflammatory, analgesic, carbohydrate-insulin-dependent properties, counteracting cancer and improving the mental condition. High standardization of the rauwolscine extract, in other words, yohimbine or isohimine, focuses the action of the product on the nervous system and the loss of unnecessary body mass. Inhibiting the operation of the cholinergic system, it increases the concentration of adrenaline, stimulating the body to function and intensifying the lipolysis process. Strengthening the oxidation of fatty acids in the mitochondria. It promotes the burning of previously-stored adipose tissue in areas of the body rich in α2-adrenergic receptors, mainly the lower abdomen and on the hips.

Grains of Paradise - an extract acting agonistically on TRPV1 receptors and enhancing the production of adrenaline and noradrenaline, promotes lipolysis, thanks to which it releases energy substrates necessary to maintain the continuity of the muscles involved in physical effort. Strengthening the degradation of previously accumulated adipose tissue, increasing the efficiency of thermogenesis occurring in brown adipose tissue. Promotes an appropriate hormonal environment by increasing the synthesis of testosterone and acting anti-estrogenally supports the formation of the appropriate composition of the body. By leading to the strong induction of TRPV1 and TRPA1 receptors, it induces limiting their activity, which reduces the amount of pain experienced.

Black Pepper Extract - the extract of black pepper is the key ingredient is piperine - it makes us sneeze, but also primarily affects that we lose weight. Researchers conducted studies that clearly show that piperine interferes with the action of genes responsible for the formation of new fat cells. Thanks to the piperine contained in black beans, we better absorb the B group vitamins, selenium, and beta-carotene. Pepper improves digestion, disinfects the urinary tract, helps fight inflammation and even reduces the sensation of pain.
COMPOSITION
Serving Size: 1 Capsule
Servings Per Container: 60
| | |
| --- | --- |
| Amount Per Serving | |
| Proprietary Fat Burning Blend: | 453 mg |
| Eria Jarensis Extract (leaves)(yielding N-Methyl-B-Phenylethylamine, N, Dimethylphenylethylamine and Phenylethylamine), Caffeine Anhydrous, 2-Aminoisoheptane HCL, Theobromine Anhydrous, Green Tea 98% Extract (leaves) | |
| Citrus-Rx® Proprietary Lipolytic Blend and Arson® Thermogenic Blend: | 148 mg |
| Citrus Nat Sudaidai Hayata Extract (fruit), Citrus Junos Siebel, Ex Tanaka Extract (fruit), Citrus Limonium Extract (fruit), Citrus Aurantium Extract (fruit)(supplying 25mg Synephrine Alkaloids), Cayenne Pepper Fruit Extract (Capsimax®), Yohimbine Extract (bark)(yielding Yohimbine, 11-Hydroxy-Yohimbine, and Alpha-Yohimbine), Grains of Paradise (seed), Black Pepper (fruit) extract (95% Piperine) | |
Other Ingredients: Gelatin, Dicalcium Phosphate, Magnesium Stearate, Silica, Titanium Dioxide, FD&C Red #3.
DIRECTIONS OF USE
Take (1) capsule in the morning and (1) capsule in the afternoon. Do not exceed (3) capsules daily.