Xtreme fat burners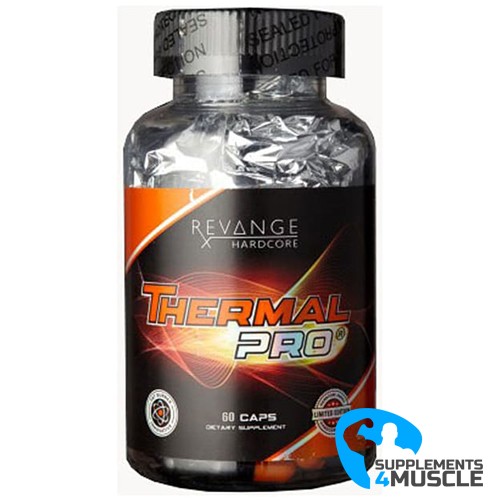 
DESCRIPTION
COMPOSITION
DIRECTIONS OF USE
REVIEWS
DESCRIPTION
Revange Hardcore Thermal Pro Limited Edition 60 caps
The recently released Revange Hardcore Thermal Pro Limited Edition 60 caps is an advanced fat burning supplement designed to increase the metabolism and accelerate weight loss, as well as enhance energy levels. It contains three special ingredients meant to promote total body wellness, providing adaptogenic components that support the transportation of active ingredients and optimise their absorption.
Every capsule is furnished with the identifying mark of the Revange maker and the item name Thermal Pro Hardcore!
This new product is designed to maximize fat burning in areas that are resistant to burning, like the abdomen, thighs, and backside. It combines the most potent peppers and isolated capsaicin to produce a warming sensation, helping to get rid of unwanted kilograms. Adaptogens, like mountain rhododendron, l-dopa, and alpha GPC, also work to reduce tension and raise morale, making it easier to stay motivated and powered through exercise. The potency of this product and its actions, however, makes it more suited to advanced users.
Theacrine is an alkaloid which shares a similar structure to caffeine, as well as activating the same pathways. It is thought to be produced from caffeine then kept in the body, and is found mostly in Chinese tea Camallia sinensis alongside caffeine and theobromine. It has the effect of boosting energy levels over a longer period of time than caffeine, in addition to having a slower build-up of tolerance and no negative side-effects. Furthermore, it does not elevate blood pressure.
The catechins contained in green tea block the enzyme referred to as catechol O-methyl-transferase or COMT, which usually diminishes the fat burning hormone norepinephrine. The abundance of catechins in green tea elevates the level of norepinephrine, keeping it elevated and prolonging thermo genesis. Research has also shown that the combination of caffeine and EGCG in green tea increases the body's ability to use calories as energy. Moreover, it has been discovered that the combination of caffeine and EGCG in green tea considerably heightens the resting metabolic rate.
Guarana can give you a boost like coffee, but its effects last up to 6 hours, which is 2 hours longer than coffee. Its effects are more subtle and not as strong as those of coffee.
Yohimbe Extract blocks alpha 2 receptors that prevent fat loss, which can help to slim down and shape difficult to target areas of the body. It is essential to remember that yohimbine diminishes the effects of insulin, so it is ineffective to take this substance in close proximity to meals containing carbs. Yohimbine is most successful while fasting and prior to physical exercise.
The Trinidad Moruga Scorpion is the spiciest pepper on Earth, with a heat level higher than 2 million SHU. It can also be used to boost fat burning and increase your body temperature.
Synephrine has properties similar to ephedrine and comes from immature citrus fruit such as Citrus uranium L. and Citrus aurantium L. As an alternative to ephedra, it is commonly added to exercise supplements and weight loss aids to increase metabolism, diminish hunger and sharpen motor and mental activity. Additionally, synephrine elevates blood pressure and the rate of the heart beat, widens airways to help you breath easier, unblocks the sinuses, and leaves users feeling good.
Hordenine HCL is a naturally occurring phenylethylamine found in limited quantities in certain vegetation. By facilitating the release and guarding of norepinephrine, Hordenine is known to have a positive effect on fat loss, appetite management and an increase in energy levels. People take this supplement for these three main reasons.
Halostachine HCL, sourced from Halostachys caspica, is an alkaloid hydrochloride with the capacity to increase metabolic processes. It is comparable to ephedra, but much safer. By arousing adrenaline and noradrenaline secretion, it can produce a stimulating effect on the body and mind to bolster one's motivation and endurance, as well as physical strength.
Octopamine HCL comes from the bitter orange fruit. It modulates the adrenergic system, meaning it activates beta-3 adrenergic receptors which causes fat cells to break down. Due to these thermogenic and lipolytic capabilities, it has become an important addition to fat burning and pre-workout supplements. Additionally, octopamine HCL has an inhibitory effect on the appetite.
Capsaicin, found in Capsicum Annuum, impacts the movement of calcium ions in muscles. The ATP-controlled calcium transporter ferries these particles from the cytoplasm to the muscle cells' endoplasmic reticulum, an action which requires the ATP stored in the high-energy bonds to power it. When capsaicin is present, however, this movement is disrupted, yet the body still expends energy to break down the ATP, which is released in the form of heat.
The chemical synthesis of Yohimbine HCL found in the Nuke incinerator eliminates other alkaloids usually found in the plant, ensuring more reliable results when isolating the substance.
Rauwolfia Vormitoria is known to possess antioxidant, anti-inflammatory, and analgesic properties, as well as supporting carbohydrate-insulin metabolism and improving mental condition. It is highly standardized in terms of the rauwolscine extract, or yohimbine and isohimine, meaning that its main action can be concentrated on the nervous system, increasing the chances for losing excess weight. Through its influence on the cholinergic system, this substance increases the adrenaline levels, thereby energizing the body and intensifying the lipolysis process. The oxidation of fatty acids in the mitochondria is also stimulated, leading to the burning of fat located near areas of the body which contain a high number of α2-adrenergic receptors, mainly the lower abdomen and hips.
It has been scientifically proven that 3.5 diiodo L-thyronine can help speed up fat burning. This is attributed to the fact that the substance effectively increases the amount of oxygen used in the body. Additionally, research suggests that using this compound is not linked to any potential side effects, which is not the same when using thyroid hormones.
Rhodiola Rosea, also known as the mountain rosary, is part of a group of plants called adaptogens. Adaptogens help the body adjust to cognitive and physical pressure. This plant can help reduce tiredness, sharpen focus, and brighten spirits. The net effect is improved performance, both in the gym and in other settings such as work or school.
Levodopa contains the active ingredient for the prime neurotransmitter needed for accurate performance of our brains, per scientific study. It is a natural amino acid that's produced by tyrosine hydroxylase. In addition to the vast rise in dopamine, L-dopa is utilized medically for its characteristics of increasing remembrance and focus, and improving sexual ability. It is also prevalent for utmost production of testosterone and human growth hormone, specifically for physically active individuals.
Taking Alpha GPC before bedtime or rest can promote a relaxing and calming environment while reducing the effects of stress and irritability. It works by activating the parasympathetic system, increasing levels of GABA (an inhibitory neurotransmitter) and growth hormone (GH, a regenerative hormone) as well as decreasing adrenergic activity in the sympathetic nervous system. Alpha GPC helps to support the regeneration of the nervous system and gives an anti-stress and calming effect.
Deanol is an element found in the brain but only in minimal amounts. It is close in structure to choline and functions more effectively at creating acetylcholine than simply choline because it is able to easily pass the blood-brain barrier. Deanol is categorized as a nootropic and, although it does have mild stimulation of the CNS, its energizing effects are not pronounced. It can enhance the production of acetylcholine, therefore facilitating communication in the cholinergic system.
The key component in black pepper, piperine, has the ability to stimulate heat production. This helps to improve the flow of blood to the digestive system, which enhances the breaking down of food and the absorption of many of the active ingredients in dietary supplements.
Grape Seed Extract is a copious provider of the most potent antioxidants and offers an array of other benefits such as improving blood circulation, acting as an anti-inflammatory and regulating cholesterol.
COMPOSITION
Serving Size: 1 Capsule
Servings Per Container: 60
| | |
| --- | --- |
| | Amount Per Serving |
| Methyl-Thermo Stim Energy Reactor and Metabolic Accelerator: | 377 mg |
| Theacrine (1,3,7,9-tetramethyluric acid), Green Tea (98% Polyphenols, 60% EGCG, 40% Catechins), Guarana (22% Caffeine), Centrophenoxine, Yohimbine Extract 8%, Trinidad Moruga Scorpion (2 mil SCU), Methyl Synephrine HCL, Synephrine HCL, N-isopropylnorsynephrine HCL, Methyl Hordenine HCL, N-Caffeoyldopamine, N-Coumaroyldopamine, Higenamine HCL, Halostachine HCL, Octapamine HCL, N-Methyl Tyramine HCL, Capsicum Annuum (Capsaicin) Alpha Yohimbine HCL (Rauwolscine), Yohimbine HCL, 3,5" diiodo L-thyronine, Vitamin B12 (As Methylcobalamin) 100 mcg (1667% DV) | |
| Well Being Tonics and Adaptogens: | 330 mg |
| Rhodiola Rosea (5,8% rosavins + 1,7% salidroside), Macuna Pruriens (99,6% L-Dopa), B-Phenylethylamine HCL, Alpha GPC, DEANOL (DMEA), Sulbutiamine, Vitamin B6 (Pyridoxine) | |
| Delivery & Bioavailability Enchancing Agents: | 20 mg |
| Piperine 98%, Grape Seed Extract 95%, Niacin USP (Vitamin B3), Vitamin E TPGS Powder 10% | |
DIRECTIONS OF USE
Take one capsule 30 min before workout. Do not exceed 2 capsules during 24 hour period!
REVIEWS
There is no review
Atsiliepimas Atsiliepimas