TESTOSTERONE BOOSTERS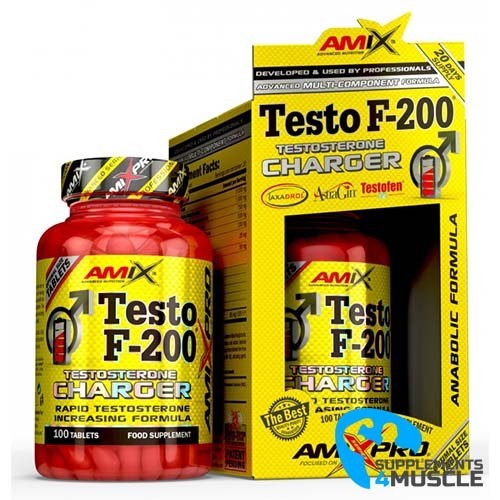 
Amix Testo F-200
natural and safe

fast recovery, fast growth

more energy

anabolic support complex
DESCRIPTION
COMPOSITION
DIRECTIONS OF USE
REVIEWS
DESCRIPTION
Amix Testo F-200
Amix Testo F-200 is a revolutionary supplement with aim to increase naturallyyour testosterone level which is the missing link essential for building muscle, by providing your body with the nutrients it needs to naturally produce more testosterone. The nutrients in Amix TestoF-200 turn the dial to maximum, ensuring you have all you need to support the fastest growth possible.
COMPOSITION
Size : 100 tablets, 250 tablets, 200 capsules (Serving size 5 tablets)
Nutritional Information
Active ingredients

Amount per Serving

D-aspartic acid

3000 mg

L-arginine Alpha Ketoglutarate

1000 mg

Tribulus Terrestris (90% steroidal saponins content)

750 mg

Maca Root Extract 10:1 (Lepidium meyenii)

500 mg

Testofen® Fenugreek (standardized for 50% Fenuside)

100 mg

AstraGin™ Patent-Pending Extract derived from Panax Notoginseg-Astragalus Membranaceous

25 mg

Taxadrol® (Pinus Silvestris):
Flavanoids-Flavonols
Steroids-Phytosterols
Lignans
Carotenoids
Phenols
Benzenoid

50 mg

Vitamin B3 - Niacin (as Nicotinamide)

16 mg (100% *)

* VNR: daily reference nutritional value (adults)
Ingredients: d-aspartic acid, anticaking agent: microcrystalline cellulose; l-arginine alpha ketoglutarate, tribulus terrestris extract (whole plant), anticaking agent: croscarmellose sodium; maca root extract (lepidium meyenii), Testofen® - Fenugreek (Trigonella Foenum - Graecum), AstraGin™ (Patent-Pending Extract derived from Panax Notoginseng – Astragalus Membranaceous), Taxadrol® (Pinus Sylvestris), Nicotinamide (Vit. B3), anticaking agents: magnesium stearate, silicon dioxide.
DIRECTIONS OF USE
Directions For Use:Take 5 tablets daily between meals. Wash down with plenty of water. Use this product max. over a period of 8 weeks, followed by 4 weeks off cycle.