TESTOSTERONE BOOSTERS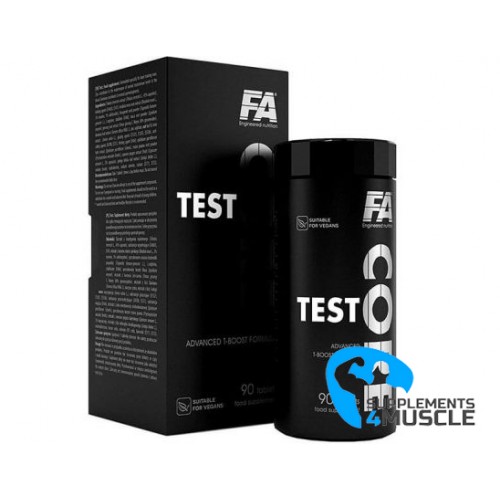 
DESCRIPTION
COMPOSITION
DIRECTIONS OF USE
REVIEWS
DESCRIPTION
FA Test Core
FA Test Core is a dietary supplement created to enhance the wellbeing of men.
It is possible that boosting testosterone levels, building lean muscle mass, emphasizing existing muscles, burning fat, increasing libido, and improving sleep quality could all come about through taking this product.
FA Test Core is a robust testosterone enhancer with carefully handpicked components that work together synergistically to not only advance gains in the fitness center but also general health and sex-related performance in men. By taking Test Core, you can expect:
Tribulus Terrestris is renowned for enhancing libido and providing exciting new feelings. Pink Radiol is an adaptogen that can handle stressful situations and boost one's mood. L-arginine is an amino acid that opens up blood vessels, allowing for an impressive muscle pump, as well as amplifying GH release and sexual performance. Finally, MACA is full of varying minerals, and has been used for many years in traditional medicinal practices to amplify sexual appetite.
Fenugreek is a plant that contains saponins as its main active ingredient and has an anabolic effect on the body, leading to an increase in lean muscle mass. Ginseng, a plant associated with numerous health benefits due to its mineral, vitamin, and other beneficial substances content, is a great resource to utilize in order to help with the recovery and relaxation process, reduce post-workout pain, and hasten recovery after exhaustive workouts. Damiana leaves are also helpful, as they are a natural source of sterols designed to promote proper hormone production in the body. Lastly, oat extract is known to be a great resource to turn to if one is looking to boost their free testosterone levels.
COMPOSITION
Net quantity: 90 tab. (103.5g).
Serving: 1 tablet.
| | | |
| --- | --- | --- |
| The portion contains: | 1 tablet | 3 tablets |
| Zinc | 6.7mg (67 *) | 20mg (200 *) |
| Selenas | 16.7mcg (30 *) | 50mcg (91 *) |
| Boronas | 0.33mg | 1mg |
| Horizontal horn extract (90% saponins) | 166.7mg (150mg) | 500mg (450mg) |
| Pink rhodium extract (3% rosavin, 1% salidroside) | 100mg (3mg, 1mg) | 300mg (9mg, 3mg) |
| L-arginine | 50mg | 150mg |
| Peruvian pepper root extract | 3.3mg | 10mg |
| Fenugreek extract | 16.7mg | 50mg |
| Ginkgo Biloba leaf extract | 6mg | 18mg |
| Ginseng root powder (80% ginsenoside) | 20mg (16mg) | 60mg (48mg) |
| Broad turner leaf extract | 20mg | 60mg |
| Extract of oat leaves and stems | 16.7mg | 50mg |
| Herb extract of small-flowered goat | 10mg | 30mg |
| Extract of the root of common lust (Muira puama) | 10mg | 30mg |
| Cayenne pepper extract (2% capsaicin) | 10mg (0.2mg) | 30mg (0.6mg) |
*% Nutritional reference.
Ingredients: fillers (E460 (i), E341), Horizontal horn extract (Tribulus terrestris L., 90% saponins), Pink rhodium extract (Rhodiola rosea L., 3% rosavin, 1% salidroside), stabilizer (E1202), L -arginine, tackifiers (E551, E470b), ginseng root powder (Panax ginseg C. Meyer, 80% ginsenoside), zinc sulphate, fenugreek extract (Trigonella foenumgraecum L.), oatmealLeaf and stem extract (Avena sativa L.), Broad turner leaf extract (Turnera difusa Wild. J), Epilobium parviflorum Schreb., Capsicum annum L., 2% capsaicin lust root extract (Ptychopetalum olacoides Benth.), Ginkgo biloba L. extract, Lepidium meyenii, sodium borate, sodium selenite, hardener (E464), colorants (E171, E172) E1200, E553b), maltodextrin.
Allergens : oats.
Warnings: Do not exceed the prescribed recommended dose. The food supplement should not be used as a food substitute. A balanced diet and a healthy lifestyle are important.
Storage: Store in a dry, cool place, out of reach of children. Protect from direct sunlight and moisture.
Best before: the date on the package.
Manufacturer: Fitness Authority Sp.zo.o., ul. M. Reja 3, 80-404 Gdansk, Poland.
DIRECTIONS OF USE
Usage: Take 1 tablet 3 times daily before meals.
REVIEWS
There is no review
Atsiliepimas Atsiliepimas