TESTOSTERONE BOOSTERS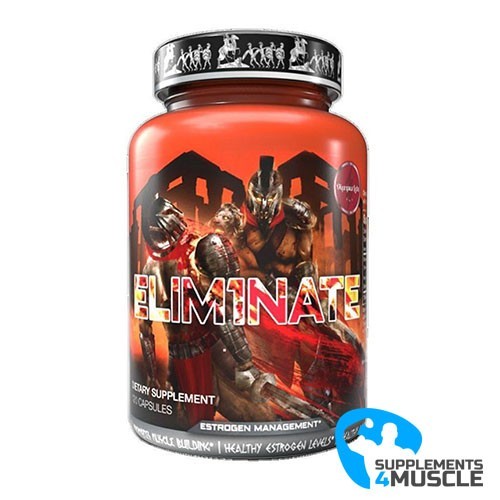 
Olympus Labs Elim1nate 120 caps
Estro Elimination
Natural Myotropic Upregulator
Lean, Dry, Hard Muscle Mass
Powerful Anti-Catabolic Modulator
Powerful Test Booster
Cortisol Blocker
Ultimate All-In-One Supplement
DESCRIPTION
COMPOSITION
DIRECTIONS OF USE
REVIEWS
DESCRIPTION
Olympus Labs Elim1nate
Olympus Labs Elim1nate is a powerful supplement aimed at optimising hormone balance and general wellness. This formula, composed of luteolin and pine bark extracted from orange fruit, helps maintain a balanced level of estrogen, especially after using prohormones. Additionally, Elim1nate enhances lean body mass, ensures healthy cholesterol, and boosts metabolism.
Luteolin is a flavonoid with strong antioxidant capabilities that can block aromatase activity, the process of converting testosterone into estrogen. Thus it facilitates elevated testosterone levels and decreased estrogen. It further contributes to balanced levels of lipids within the blood, shields against cognitive disorders and warding off ailments of the nervous system. Additionally, luteolin proves useful in combating toxicity related to cancer treatments, such as leukemia, thyroid cancer, lung cancer, and prostate cancer.
Pine bark extract consists of 95% oligomeric proanthocyanidins (OPC). It works in a similar way to luteolin, prohibiting the transformation of testosterone into estrogen by disrupting the aromatase enzyme. Several studies have proved that ingesting OPC complexes can have a substantial impact on the amount of nitric oxide (NO) within the body, which is responsible for expanding blood vessels and improving the circulation of blood due to the enhancement of the 'muscle pump'. Therefore, pine bark extract is effective in treating problems with erectile dysfunction. If you suffer from a low sex drive or high blood pressure, boosting the extent of NO in your system is an effective method of restoring your overall health.
COMPOSITION
Serving Size: 1 Capsule
Servings Per Container: 120
| | |
| --- | --- |
| | Amount Per Serving |
| Elimistane™ Luteolin [from orange extract (fruit)] | 100mg |
| Pine (Pinus Massoniana) [Bark] (Standardized to 95% Proanthocyanidins) | 25mg |
DIRECTIONS OF USE
As an adult dietary supplement, take 1 capsule three to four times daily with meals. Do not exceed more than 4 capsules in a 24 hour period of time.
REVIEWS
There is no review
Atsiliepimas Atsiliepimas