TESTOSTERONE BOOSTERS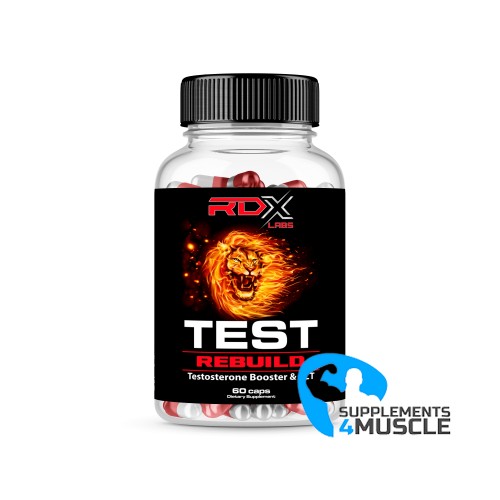 
RDX Labs Test Rebuild 60caps
RESTORE TESTOSTERONE LEVELS
ENDURANCE AND STRENGTH BOOSTER
INCREASE STAMINA
DESCRIPTION
COMPOSITION
DIRECTIONS OF USE
REVIEWS
DESCRIPTION
RDX Labs Test Rebuild 60caps
RDX LABS TEST REVIVAL – THE RAW STRENGTH OF FREE TESTOSTERONE & HUMAN GROWTH HORMONE!
TEST REBUILD – Alpha Stack:
–The ultimate supplement for boosting testosterone and libido
–The ideal combination for unlocking post-cycle therapy – surpassing over-the-counter products
–A capable tool for lowering estrogen and cortisol
–An invigorating serum to encourage total regenerative capability
–A powerful tool to suppress myostatin
–A powerful hormone booster, to augment human growth hormone production.
TEST REBUILD – Wild Synergy from Nature!
Test Rebuild is a highly intricate stack of as many as 22 components that provides intense anabolic qualities. It is noticeably more powerful than any other testosterone-booster and PCT product available, making it a clear frontrunner in the industry.
TEST REBUILD – HOW DOES IT WORK?
At the first intake of TEST REBUILD, its energizing capacities will become evident. With every additional dose, the potency of the supplement will be further augmented until maximum strength is achieved. As TEST REBUILD continues to be taken, remarkable transformations in your blood test results will become discernible in only a week's time.
-An increased proportion of useable testosterone
-Less SHBG (Sex Hormone Binding Globulin)
-Less estrogen (if it was too high)
-Decreased cortisol
-Less myostatin
-Growth Hormone production
-Overall body rejuvenation
We guarantee that after the TEST REBUILD cycle, your hormonal system will be fully operational. We guarantee that the people around you won't be able to recognize you anymore, as you'll be even more amazing than you are now!
TEST REBUILD – FOR WHOM AND WHEN TO USE?
Use TEST REBUILD if:
If you are over 35 years of age and have experienced a lower level of testosterone, you may be looking for ways to boost your libido and enhance your performance. A Post Cycle Therapy (PCT) protocol is ideal for those who have taken performance-enhancing drugs such as Prohormones, Selective Androgen Receptor Modulators (SARMs) or Serms. Additionally, a natural anabolic cycle might be preferable over a creatine stack as an alternative to getting the power of an alpha male like never before.
Are you curious about what is in TEST REBUILD? It is packed entirely with energetic elements which create a powerful and potent combination. Furthermore, it offers optimum effectiveness for the components.
Stimulating Nettle Extract (3,4-Divinillytetrahydrofuran 95%) 200 mg – a boost in operational testosterone, and an anabolic effect.
Nettle root extract (Urtica dioica L.), known as Stinging Nettle Extract, has powerful health and anabolic benefits. It boosts levels of male hormones while decreasing female hormones. Taking this extract enhances your capacity to exercise, returns hormonal balance after taking bodybuilding supplements and significantly enhances sexual capacity.
Epimedium Extract 70% Icariins, commonly known as Horny Goat Weed, is a powerful source of potency, fertility and libido support, supplying 150 mg per serving.
Icarrins Horny Goat Weed is an impressive natural enhancer of sexual desire, potency, and fertility. You can count on it to give you a great erection when you need it and it can help you to experience a rising drive during any period of the day or night. Furthermore, it boosts the amount of male hormones, so you are likely to recognize an increase in your muscular strength and size.
Armistane (Andro-3,5-Dien-7,17-Dione), at a dosage of 50mg, works to prevent the production of aromatase, lower cortisol levels, and to reduce the breakdown of muscle tissue.
Armistane interferes with the aromatase transformation, which diverts testosterone to become estrogen. It concurrently decreases cortisol, staving off muscle deconstruction, leading to an elevated testosterone, greater energy and muscular power, and the capability to form lean body mass through intense exercising.
Fenugreek Seed Extract (with 50% Saponins) at 50 milligrams promotes growth and has wide-ranging health advantages.
Fenugreek aids digestion and increases muscle mass. It aids glucose metabolism, kills bacteria, lowers bad cholesterol, possesses anti-inflammatory properties, and safeguards the liver and kidneys.
Eurycoma Longifolia (Tongkat Ali Extract) at 150 milligrams can increase libido and create firmer and longer erections.
Tongkat Ali root extract is a natural way to increase your libido and provide lasting erections. It boosts the body's amount of testosterone in a secure manner, and there won't be any problems after discontinuing the use of it.
N-methyl-D-aspartic acid (30 mg) is a NMDA agonist which helps to renew depleted receptors.
NMDA, short for N-methyl-D-aspartic acid, is an NMDA receptor agonist. It works by having an impact on neurotransmitters in the brain, helping to heal the nervous system and steady the overall disposition. When used after having taken stimulants or misused alcohol, NMDA assists bringing back full homeostasis, or equilibrium in the body.
Catuaba Bark Extract 30 mg is known for being an effective aphrodisiac.
Catuaba Bark can help to enhance the feeling of sexual desire and performance. Its natural properties promote improved erection and higher production of male sex hormones. The herb has antioxidants that can fight free radicals, boost your energy levels, and spice up your life.
Poalmetto Extract 50 mg can be used to restore an equilibrium of hormones, increase sex drive, and detoxify the body.
An extract taken solely from saw palmetto, referred to as Saw Poalmetto, helps bolster the endocrine system and heighten libido and sexual performance. Additionally, it supports the functioning of the urinary system, as well as expels toxins and waste from the body.
Maca Root 20 mg has been shown to enhance fertility, bring an energetic boost and elevate mood.
Maca Root, often referred to as "Peruvian ginseng," is an adaptogen known for enhancing libido, boosting fertility, and providing positive energy that promotes overall well-being. On top of that, it is a natural aphrodisiac and anabolic support, containing all the essential vitamins and minerals needed to supplement vitamin deficiencies and restore depleted minerals after intense physical activity.
Coleus Forskohlii Root Extract (containing 40% Forskolin) is taken in an amount of 20 mg to help reduce appetite, increased energy, and slimming down of fat.
Forskolin, which is an extract derived from Indian nettle, is an incredible substance. It changes ATP into CAMP. For those who like to exercise, it suppresses the appetite, ups the energy level to drive more activity, and fast-tracks fat burning.
Diinodolylmethane (DIM) 50 mg is an estrogen modulator which reduces fatty tissues and encourages the growth of lean muscle.
DIM speeds up the breakdown of estrogen, female hormones that lift testosterone levels and help you bulk up with solid muscle. Furthermore, it expedites getting rid of excess fat. Thanks to DIM, you'll be left with a lean mass and simultaneously guard yourself against potentially cancerous and prostatic diseases.
Improved output and greatly synergized operations of Alpha Male components.
95% Piperine 10mg allows for higher absorption of components, resulting in improved performance.
Piperine helps promote the proper transfer and intake of Alpha Male components. As a result, it increases the effect of each element, as your body can take advantage of every milligram present in Alpha Male. Additionally, piperine functions as a potent antioxidant – it works to combat free radicals, heighten fertility, and enhance skin texture.
Grape Seed Extract 95% 10 mg slows the metabolism of substances found in NO Stress, allowing for improved potency and a longer effect. This is due to its ability to inhibit specific liver enzymes, such as P450, CYP2C9 and CYP3A4, and thus prolonging their activity. Alpha Male benefits from such extended action.
Naringin 10 mg – more potent and lasting elements
Naringin alters the composition of naringerin, avoiding the liver from breaking down the components of Alpha Male, making it function better and for a longer time. Additionally, naringin promotes lipolysis, reduces cholesterol levels, and has anti-inflammatory, cancer-fighting, and antiseptic effects.
The supplement of Vitamins and Minerals provides Mega Beauty ability, renewing properties, and various practical applications when used by an Alpha Male.
Boron AAC 10 mg can assist with aiding better body coordination, restoring and regenerating cells within the system.
Bor has the ability to revitalize and reenergize your body and mind. It boosts testosterone levels, shields and fortify your bones and joints, and quickens the process of muscle repair. Furthermore, it gives your skin a vibrant and firm look, which will make you feel more youthful and attractive.
Vitamin E TPGS 10 mg is an Ingredient Delivery System that boasts high levels of absorbability.
Vitamin E TPGS is a type of vitamin E able to dissolve in water, which leads to better absorption. This is what makes Alpha Male so effective - vitamin E TPGS boosts the body's capability to utilize Alpha Male, increasing the prominence and digestibility of its contents.
Vitamin D3 (Cholecalciferol) at a rate of 10,000 IU helps to enhance the structure of the bones, and controls the calcium-phosphorus balance.
Vitamin D3 aids in the assimilation of minerals in the digestive system and reinforces your bones. This helps to prevent broken bones and eliminates the possibility of mineral deficiencies.
Taking AAC Zinc, with 10 milligrams of zinc, can help to boost testosterone, confidence and the look of the skin.
Zinc increases testosterone production, raising fertility and enhancing libido. It can contribute to protein synthesis, aiding the growth of lean muscle mass. Insulin production is also improved with zinc, resulting in an anabolic effect. Skin can be rejuvenated and detoxified, in addition to improving the look of hair and nails.
COMPOSITION
Servings per container: 60
Serving size: 1 capsule
| | | |
| --- | --- | --- |
| Serving Size | 1 Capsule | 3 Capsules |
| Servings Per Container | 60 Servings | 20 Servings |
| Stinging Nettle Extract (3,4-Divanillyltetrahydrofuran 95%) | 200 mg | 600 mg |
| Horny Goat Weed (Epimedium Extract 70% icariins) | 150 mg | 450 mg |
| Tongkat Ali Extract 200:1 (Eurycoma Longifolia) | 150 mg | 450 mg |
| Arimistane (Androsta-3,5-Diene-7,17-Dione) | 50 mg | 150 mg |
| Fenugreek Seed Extract (50% Saponins) | 50 mg | 150 mg |
| Diindolymethane (DIM) | 50 mg | 150 mg |
| Saw Palmeto Extract | 50 mg | 150 mg |
| N-Methyl-D-Aspartic Acid | 30 mg | 90 mg |
| Catuaba Bark Extract | 30 mg | 90 mg |
| Maca Root | 20 mg | 60 mg |
| Coleus Forskohlii Root Extract (40% Forskolin) | 20 mg | 60 mg |
| Piperine 95% | 10 mg | 30 mg |
| Grape Seed Extract 95% | 10 mg | 30 mg |
| Naringenin | 10 mg | 30 mg |
| Boron (As Boron AAC) | 10 mg | 30 mg |
| Vitamin E TPGS (Drug Delivery System) | 10 mg | 30 mg |
| Vitamin D3 (As Cholecalciferol) | 10 000 IU | 30 000 IU |
| Zinc (As Zinc AAC) | 10 mg | 30 mg |
Other Ingredients: Magnesium Stearate, Silicon Dioxide
DIRECTIONS OF USE
Dosage: Stack 1 – 3 capsules a day at regular intervals.
REVIEWS
There is no review
Atsiliepimas Atsiliepimas