SARMS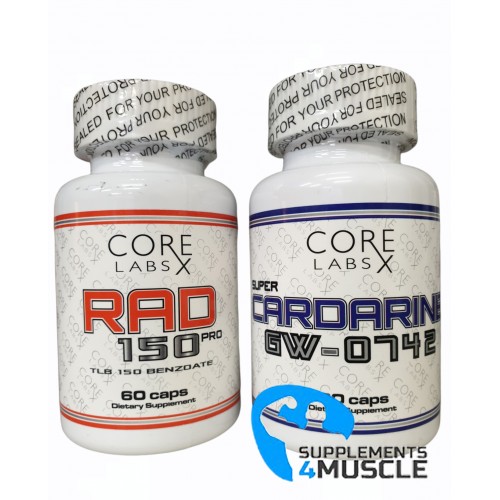 
Core Labs stack for lean mass: Super Cardarine+RAD-150
Get our latest products as a stack. Super Cardarine and RAD-150 combined! New and improved, try out the latest stack for fantastic gain of lean mass. You will get lean muscle, insane strength and lose fat at the same time with this combo!
DESCRIPTION
COMPOSITION
DIRECTIONS OF USE
REVIEWS
DESCRIPTION
Core Labs X RAD 150 Pro 60caps
Try sarm Core Labs RAD 150 and get effects that increase muscle hypertrophy, which is the same phenomenon that occurs when lifting weights.
RAD-150 is a new sarm also known as TLB-150 benzoate. The new product is an anabolic ester. The RAD-150 (TLB-150) is the culmination of sarm development and is characterized by exceptional performance.
Rad 150 mimics the role of natural testosterone in the body more strongly than unesterified sarm.
The compound binds only to androgen receptors in muscle tissue, without affecting other organs. Like all sarms, RAD-150 binds to androgen receptors in skeletal muscle tissue. Since RAD-150 is an esterified form of RAD-140, it provides an extended duration of action in the body, so the dosing frequency can be reduced if necessary, making it a more economical compound than rad 140. The extended half-life prevents a decrease in the anabolic response with a missed dose.
Promotes muscle growth.
It has no androgenic effects.
Rad 150 provides fast muscle regeneration.
Increases sexual performance and libido.
Ideal for courses and bridges.
RAD150 affects the rapid regeneration of muscles.
Provides fast results
Rad 150 has no harmful effects on the liver.
It has a longer half-life compared to other sarms
When taken correctly, it has no side effects.
It is very stable and has a high absorption rate.
Does not cause hair loss
What is the difference between RAD-150 and RAD-140?
RAD-140 first appeared as a safer alternative to testosterone replacement therapy. Both blends are similar in structure and action, however RAD-150 is an anabolic ester. The structure of RAD-150 contains an additional group of benzoate esters. In RAD-150, the increased alkalinity makes the compound more stable. The compound is more like natural testosterone, so it binds more easily to androgen receptors.
RAD-150 is an anabolic ester that works faster and lasts longer in the body than other Sarms.
Anabolic compounds are characterized by increased bioavailability, which means that the body absorbs them faster. They also have a longer half-life, which allows the body to clear the compound more slowly. RAD-150 will start working quickly and last 48 hours or more. RAD-140 and RAD-150 are ideal for use together. You can combine sarms with growth hormones to maximize your action potential.
Benzoate TLB 150 is a chemical that strongly stimulates muscle growth and enhances the reduction of adipose tissue. Sarm RAD-150 affects the accelerated regeneration of muscles after training. You will also notice other benefits while using it, such as increased libido and improved sexual performance.
NAC - is the acetylated form of l-cysteine, which is responsible for the regeneration of the body through the secretion of endogenous glutathione. In addition, the product supports regeneration and improves exercise parameters. Cysteine ​​influences, among other things, the improvement of antioxidant functions of the body, increases the level of immunity, supports the fight against viruses and infections, has anti-catabolic properties and protects muscle mass.
Vitamin E - inhibits the oxidation of LDL cholesterol, thereby preventing the formation of atherosclerotic plaques. It takes an active part in the synthesis of anticoagulants, maintaining the proper permeability of cell membranes and minimizing the clumping phenomenon of platelets, therefore it effectively prevents the formation of blood clots in blood vessels. Recommended for people with high blood cholesterol levels. It can be used to prevent myocardial infarction. Research conducted so far has shown that vitamin E has anti-cancer effects. Its high doses support the action of insulin and normalize blood glucose levels.
Core Labs X Cardarine GW-0742 60 caps
Benefits:
Visible increase in muscle mass
Effective fat burner
Increased training capacity
Neuroprotective effect
Healthy joints
The brand new supplement based on Sarm GW-0742 developed by GlaxoSmithKline, a selective Peroxisome Proliferator Receptor Agonist (PPAR). Due to the completely independent mechanism of action from the hormonal axis, GW-0742 can be used in people of both sexes.
How does GW-0742 differ from GW-501516?
Super-GW is the new and powerful Sarm that differs from its predecessor, the Cardarina or GW-501516 for a greater synthesis and biological activity, up to 200 times more effective. Currently, it is the backbone of all clinical research on the PPARβ / δ agonist.
Appreciated in the latest tests for its rapid and extreme ability to reduce body fat while maintaining muscle mass. It provides evident results on resistance from the first dose, and is extremely versatile as it can be combined with other Sarms.
PPARβ / δ ligands are members of a group of nuclear receptors that play different roles in cell metabolism, development and differentiation. There are numerous effects on genes involved in metabolism, GW-0742 can help treat diabetic disorders, insulin sensitivity and fat burning in a dose-dependent manner. Skeletal muscle plays a significant role in insulin resistance and PPARβ / δ upregulates GLUT4, which regulates tissue glucose uptake. Administration of PPAR agonists increased HDL (good cholesterol) levels in vitro, resulting in an increase in reverse cholesterol transport. Studies suggest that PPARδ is a significant factor for lipid uptake in macrophages.
Super Cardarine GW-0742 improves fat loss by increasing glucose uptake in skeletal muscle tissue, modifying and improving energy metabolism. Turn fat into energy without lowering blood sugar levels. Originally developed to treat obesity and other metabolic diseases, it is gaining immense popularity due to its ability to burn fat rapidly even more effectively than its predecessor, the classic Cardarina.
Super Cardarine GW-0742 is also used profitably in the process of building muscle tissue. The mechanism of action is based on the stimulation of the expression of the anti-inflammatory cytokines IL-10 and TGF-β mRNA. Research shows that it greatly affects the process of increasing the rate of myogenesis and in the case of muscle damage, complete regeneration occurs twice as fast.
Super Cardarine GW-0742 enhances the oxidation of fatty acids by increasing the mitochondrial density in cells. The compound perfectly uses the fat of the cells, as well as the fats of the daily diet, using it as the primary fuel. The use of GW-0742 increases the number of mitochondria in the muscle tissue, which results in an increase in muscle efficiency. The high concentration of mitochondria allows to increase the efficiency of metabolic processes, allowing to generate more ATP. Finally, it increases the muscle contraction force and prolongs the maximum time of aerobic work.
Studies show that Super Cardarine GW-0742 alleviates changes in astrocytes (glial cells crucial in the remembering process), providing protection against neurodegenerative diseases.
Super Cardarine GW-0742 also enhances the chondrogenesis process, helping to protect the joints from degeneration. It has a beneficial effect on the condition of cartilage and joints, favoring the synthesis of type II collagen and glycosaminoglycan, components of cartilage in humans. §
Furthermore, the integration with GW-0742 influences, as mentioned, a greater secretion of the transforming growth factor beta (TGF-β), influencing optimal conditions of the joints. The TGF-β factor reduces the level of ossification, reduces inflammation and increases the stability of cartilages.
COMPOSITION
Core Labs X RAD 150 Pro 60caps
Serving Size: 1 Capsule
Servings per Container: 60
| | |
| --- | --- |
| Amount Per Serving | |
| NAC (N-Acetyl L-Cysteine) | 350mg |
| Vitamin E (TPGS) | 10mg |
| TLB 150 Benzoate (RAD-150) | 10mg |
Other Ingredients: Ascorbic Acid, Magnesium Carbonate, Calcium Gluconate, Potassium Gluconate, Zinc Gluconate, Magnesium Stearate, Silicon Dioxide.
Core Labs X Cardarine GW-0742 60 caps
Serving Size: 1 Capsule
Servings per Container: 60
| | |
| --- | --- |
| Amount Per Serving | |
| NAC (N-Acetyl L-Cysteine) | 350mg |
| Vitamin E (TPGS) | 10mg |
| Cardarine 2.0 (GW-0742) | 10mg |
Other Ingredients: Ascorbic Acid, Magnesium Carbonate, Calcium Gluconate, Potassium Gluconate, Zinc Gluconate, Magnesium Stearate, Silicon Dioxide.
DIRECTIONS OF USE
Core Labs X Cardarine GW-0742 60 caps
As a dietary supplement, take 1-2 capsules per day for 8-12 weeks. Do not exceed 2 capsules in a 24 hour period and do not take for more than 14 weeks continuous use without a 4 week break between cycles.
Core Labs X RAD 150 Pro 60caps
Take 1-2 capsules a day . The course is 6-8 weeks. Do not exceed 6 capsules in a 24 hour period and do not take for more than 8 weeks continuous use without a 4 week break between cycles.