SARMS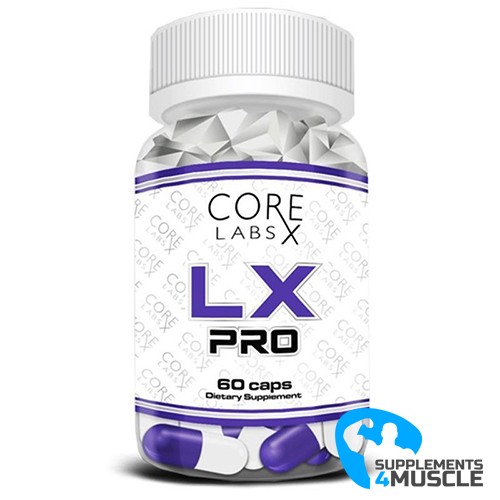 
DESCRIPTION
COMPOSITION
DIRECTIONS OF USE
REVIEWS
DESCRIPTION
Core Labs X LX Pro 60 caps
Core Labs X LX Pro 60 caps are enriched with a unique preparation to stimulate massive muscle mass, strength, and cardiovascular endurance gains. Want to gain muscle mass and lose body fat at the same time? Trust Core Labs X LX Pro 60 caps and you will never be left disappointed.
Why Buy Core Labs X LX Pro 60 caps?
Helps you gain solid muscle mass and size
Promotes rapid muscle recovery after strenuous workout sessions
Enhances libido and the sense of well-being
Promotes higher muscle gains and better post-workout recovery
Provides optimum nourishment
Wholesome nutrients in every dose
One of the world's most used & trusted bodybuilding supplements
Provides required stamina and strength to deal with rigorous workouts
Improves protein synthesis in muscles
Achieve killer workout sessions with Core Labs X LX Pro 60 caps. Get that perfectly toned body that you have always dreamed of now with Core Labs X LX Pro 60 caps. Buy Core Labs X LX Pro 60 caps now.
Conquer all athletic and gym challenges now. What are you waiting for? Place the order now! Purchase Core Labs X LX Pro 60 caps and get ready for a ripped physique.
COMPOSITION
Serving Size: 1 Capsule
Servings per Container: 60
| | |
| --- | --- |
| | Amount Per Serving |
| NAC (N-acetyl L-cysteine) | 500 mg |
| Stinging Nettle Extract (3,4-divanillyltetrahydrofuran 95%) | 100 mg |
| Rosemary Leaf Extract (Standarized to 40% Carnosic acid, 25% Ursolic acid, 20% Rosmarinic acid) | 100 mg |
| 5a-Hydroxy Laxogenin | 50 mg |
| (25)-3-(4-cyanophenoxy)-N-[4-cyano-3-(trifluoromethyl)phenyl]-2-hydroxy-2-methylpropanamide (MK-2866) | 12.5 mg |
| Vitamin E TPGS | 10 mg |
DIRECTIONS OF USE
Take 2 capsules daily for optimal results. Do not exceed 3 capsules in a 24 hour period. Do not use for more than 12 weeks without a 4 week break between cycles.