All products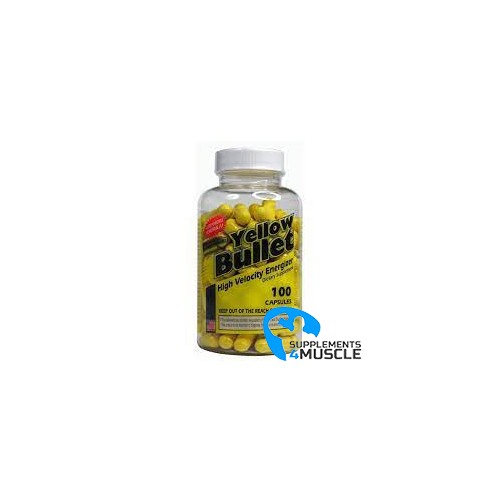 
DESCRIPTION
COMPOSITION
DIRECTIONS OF USE
REVIEWS
DESCRIPTION
YELLOW BULLET DIET PILLS W/ EPHEDRA EXTRACT | HARD ROCK SUPPLEMENTS
If you remember the powerful formulas like Yellow Swarm and Yellow Jackets, then you are going to love these diet pills with ephedra!
Yellow Bullet by Delta Health Products is one of the most intense and effective ephedra diet pill on the market today. The yellow jacket pills or the yellow swarm pills may be long gone, but that is alright because Yellow Bullet definitely fills that void. Although this fat burner is made by a different company, it stills provides a very potent formula that is much safer than its predecessors.
Each formula contains a powerful blend including 300mg of caffeine and 25mg of ephedra extract! It's a 1-2 power punch for weight loss and energy!
BENEFITS & RESULTS
Boost your metabolism
Suppress your appetite
Increase your energy
Turn your body into a thermogenic fat burning furnace
More calorie burning
Improve power output
DETAILS ON THE YELLOW BULLET FROM HARD ROCK SUPPLEMENTS
This diet supplement gives you 25mg of ephedra extract. This is usually the normal amount in a formula when the extract is a part of it. You may be confused right now because of the ephedrine ban. Well, the FDA banned ephedrine alkaloids back in 2004. What makes this product legal and different from what is banned is ephedra extract. Ephedra is usually referred to a type of plant which produces ephedrine. Ephedrine is the main active ingredient found within specific types of ephedra plants. Ephedrine is also known as an alkaloid and is very strong and perceived to having dangerous side effects, which is why the ban took place. Ephedra extract is a stripped down version of ephedra which then makes it more suitable for weight loss and energy supplements.
PACKED WITH INGREDIENTS
This supplement is packed full of strong ingredients that work well. This product works so well that if you do not lose any weight then you really need to take a hard look at your diet and/or workout routine because this fat burner contains everything you need to shred the weight off. You only need one serving per day, but don't worry, you will feel it. It's that powerful. The energy you receive as well as the results go hand in hand and has so much potential to help you reach your goals. One of the most common side effects from this product will be jitters. It's understandable to have this side effect because of some excess energy and loss of weight in a quick period of time.
COMPOSITION
Serving Size: 1 capsule
Servings per Container: 100
1 capsule
Caffeine Anhydrous
300mg

Proprietary Blend

Ephedra Extract (25mg Ephedra Nevadensis), Glucuronolactone, Phenylethylamine HCL, Synephrine HCL, Nettle Root Extract, Yohimbine HCL, Xanthinol Niacinate, Ephedra Leaf Extract (Ephedra Nevadensis)

925mg
Other Ingredients: Gelatin, magnesium stearate, silica, titanium dioxide, FD&C yellow 5, FD&C yellow 6
DIRECTIONS OF USE
Hardrock Supplements recommends that you take one capsule as needed. There are 100 servings per bottle. Do not stack with any other supplements or products that contain caffeine or stimulants.