Xtreme fat burners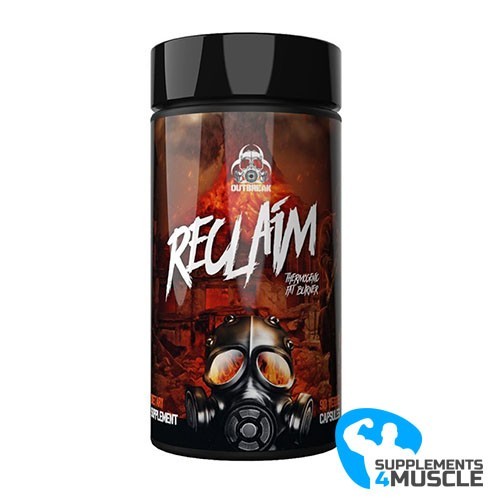 
DESCRIPTION
COMPOSITION
DIRECTIONS OF USE
REVIEWS
DESCRIPTION
Outbreak Reclaim - Thermogenic Compound
Outbreak Reclaim™ is an extraordinary fat-burning formula that post-apocalyptic survivors can turn to if they don't want to be overtaken. It brings together components that can generate heat inside the body, known as thermogenesis, and this is what burns calories and rids fat. Many slimming products exist today, yet few have the ability to target the most efficient way of dropping the pounds in this manner. This is why Reclaim™ stands above the rest.
Reclaim™ is a genuine thermogenic compound which is a lot more than simply a sports supplement; it is a necessity for existence.
Acetyl L-Carnitine
An essential part of any weight-loss system is Acetyl L-Carnitine. This constituent helps to transport fats to the mitochondria of cells, and they can be used as fuel. This will enable the body to be more efficient in utilising body fat as energy. This fat-burning process is especially crucial when dieting to stop muscle proteins from destructing and resulting in muscle mass loss. In addition, Acetyl L-Carnitine is also a remarkable nootropic that can boost memory, concentration, cognitive ability, and mood. Exactly what a dieter needs to remain focused.
L-Tyrosine
Clinical research has indicated that L-Tyrosine assists with offsetting cravings and improving mood while also delivering stress relief. It has been revealed that L-Tyrosine decreases hunger while intensifying the thermogenic action of caffeine and capsaicinoids which are present in Reclaim™.
Caffeine
Caffeine is recognized for being a powerful energy enhancer, and when merged with other vigorous fat-burning components, its potency is greatly augmented and the results are far more impressive. Furthermore, it supplies an essential energy lift to help those working hard make it through yet another tough and strenuous day.
Coleus Forskohlii (Root)
Forskolin has a two-sided advantage. It is highly effective as a thermogenic agent, which can induce thermogenesis, and as an effective appetite suppressant. Studies conducted with Coleus Forskholi, an herb which contains Forskolin, have presented promising outcomes, demonstrating that it can guard against loss of muscle mass while dieting, an integral part of any weight loss program.
Rhodiola Rosea (Root) (std. 3% Salidrosides)
Rhodiola Rosea has a variety of established advantages as part of a weight loss program. Evidence suggests that not only does it reduce fatty acid levels, but also gets fortified when mixed with Synephrine (as is done in this formula). Moreover, it possesses a calming property that has generated beneficial conclusions from enquiries related to stifling binge eating.
Juglans Regia extract (Bark)
This extract is abundant in 2-amino-5-methylheptane, a powerful stimulant that boosts brain activity. Its effects are twofold, with a swift increase in energy being experienced as well as a notable decrease in hunger. Furthermore, ingestion of Jugland Regia extract causes a release of dopamine and seratonin, leading to a heightened sense of comfort.
Theacrine (as TeaCrine®)
Research has shown that Theacrine helps to provide mental alertness, vigor, and added incentive. It does not elevate heart rate or blood pressure, but instead can intensify the effects of other components, such as synephrine and caffeine, in Reclaim™ to generate extra energy and thermogenesis.
Capsimax® Capsicum (Fruit) Extract (2% Capsaicinoids)
Capsimax® is a high-purity capsaicin extract with a special protective coating that keeps the usual burning sensation from occurring, though it is still recommended to consume it within 10 minutes. Research has proven capsaicin to be highly effective when it comes to inducing a thermogenic response from the body. With Reclaim™, one will start to sense the body heating up shortly after taking it.
ActiGin® (Panax notoginseng (root) and Rosa Roxburghii (Fruit)
ActiGin® is a natural product that is created by extracting and processing highly purified Panax notginseng and Rosa roxburghi with pharmaceutical grade technology. In addition to providing a range of recovery benefits, ActiGin® can also help prevent the breakdown of muscle mass during times of dieting or taking thermogenic supplements.
Citrus Aurantium (Synephrine)
Studies repeatedly demonstrate that Synephrine can cause weight loss, both as-is and when combined with other components in Reclaim™. Additionally, it is capable of increasing lipolysis and fat breakdown when consumed, resulting in short-term fat reduction and thermogenic effects.t loss and thermogenic activity.
COMPOSITION
Serving Size: 3 Veggie Caps
Servings per Container: 30
| | |
| --- | --- |
| | Amount Per Serving |
| Acetyl-L-Carnitine HCl | 750 mg |
| L-Tyrosine | 500 mg |
| Caffeine Anhydrous | 300 mg |
| Rhodiola rosea [Root] (Standardized to 3% Salidrosides) | 150 mg |
| Coleus forskohlii [Root] Extract | 100 mg |
| Juglans Regia Extract | 80 mg |
| Theacrine (as TeaCrine™) | 50 mg |
| Grains of Paradise (Aframomum melegueta) [Seed] (Standardized to 12.5% 6-Paradol) | 50 mg |
| Capsimax® Coated (Capsicum annuum) [Fruit] Extract (Standardized to 2% Capsaicinoids) | 50 mg |
| Synephrine HCI | 30 mg |
| ActiGin® (Panax notoginseng [root] and Rosa roxburghii [fruit]) | 25 mg |
DIRECTIONS OF USE
Take 3 Reclaim™ capsules first thing in the morning before your first meal.
REVIEWS
There is no review
Atsiliepimas Atsiliepimas