Xtreme fat burners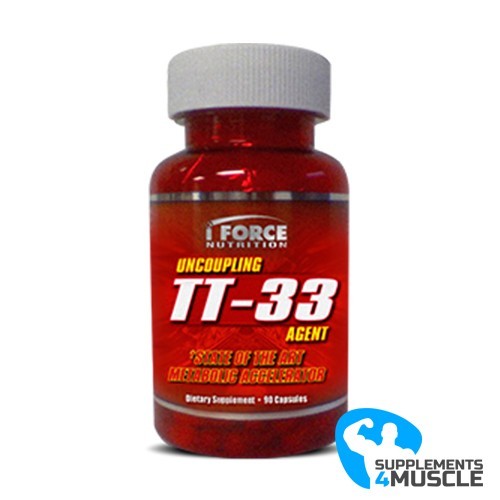 
iForce Nutrition TT-33
Augment UCP Expression
Increase Nutrient Partitioning
Boost RMR and cAMP
Raise NST-Thermo Genesis
DESCRIPTION
COMPOSITION
DIRECTIONS OF USE
REVIEWS
DESCRIPTION
The purpose of iForce Nutrition TT-33 is to induce fat loss efficiently by activating key pathways. It will take your body from its usual fat-storing state to a chiseled, furnacelike physique. Instead of relying on stimulants that can cause serious side effects, you can use this advanced fat loss supplement for results that speak for themselves.
What effect does the TT-33 have on the body?
TT-33 has the capacity to amplify the metabolic rate of the body by furnishing endogenous iiodo-thyronines. These dynamic agents quickly raise the basal metabolic rate and activate uncoupling proteins (UCP's), thereby activating the body's metabolism to go into overdrive.
Uncoupling proteins (UCPs) are found in the body and consist of three different classes. All three classes have divergent roles- they can maximize metabolic proficiency and fat burning. UCP-1 unleashes stored fatty acids so that they can be removed from the mitochondria, UCP-2 counteracts Reactive Oxygen Species created in the course of burning fat, and UCP-3 ferries the stored fatty acids from the mitochondria so that they can be used as energy.
The UCPs operating together create the communication pathways that enable TT-33 to facilitate quick weight loss and heat-producing calorie burning.
Methylcobalamin, found in each serving of TT-33, is reported to have a major impact on mental clarity, focus, and oxygen efficiency. This incredibly important compound helps the brain perform its functions and also creates oxygen-rich red blood cells.
Don't let a "kitchen sink" weight loss product zap away all the results of the time you've put in at the gym and in the kitchen building muscle mass. Take advantage of the UMAD-Complex in TT-33, which unleashes a flurry of uncoupling proteins aimed squarely at fat stores. This will help you keep all the muscle you've worked for while burning fat.
COMPOSITION
Serving Size: 1 Capsule
Servings Per Container: 90
| | | |
| --- | --- | --- |
| | Amount Per Serving | %Daily Value |
| Uncoupling Metabolic Adipose Destruction (UMAD) Complex | | |
| Vitamin B12 (Methylcobalamin) | 250mcg | |
| 3,3 Diiodo L Thyronine | 100mcg | |
| 3,5 Diiode L Thyronine | 50mcg | |
DIRECTIONS OF USE
Consume 1 capsule 2-4 times per day, spaced evenly throughout the day. Do not exceed 4 weeks of continuous use.
REVIEWS
There is no review
Atsiliepimas Atsiliepimas