TESTOSTERONE BOOSTERS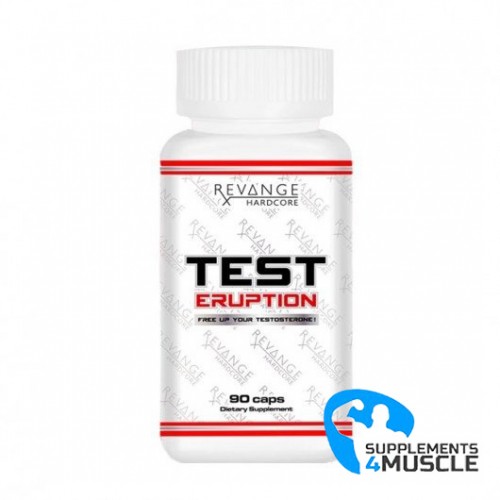 
DESCRIPTION
COMPOSITION
DIRECTIONS OF USE
REVIEWS
DESCRIPTION
Revange Nutrition Test Eruption 90caps
TEST ERUPTION  - testosterone activation!
Looking for a powerful PCT? - TEST Eruption
Decrease in testosterone with increasing age? - TEST Eruption
Looking for a product that will effectively increase your training results between cycles? - TEST Eruption
HOW DOES TEST ERUPTION REVANGE WORK?
increases the amount of free active testosterone!
maintains endocrine balance after PH / AAS cycles!
restores high levels of free testosterone for people with low levels!
WHO IS TEST ERUPTION FOR?
The greatest benefit from using the product is for men aged 30+ and for guys on AAS / PH courses who exercise mindfully and know that steroids and prohormones cannot be taken without the powerful PCT product.
TEST Eruption is the perfect product for you if:
looking for a powerful product Unlock (PCT) after SAA / PH cycles
growing up, you do not want to allow testosterone levels to drop
looking for products to use between creatine cycles
TEST ERUPTION - a huge increase in active testosterone!
The market is full of so-called testosterone booster inventions. 99% of them do not work - this is money wasted! Typically, retailers and manufacturers claim that their product increases overall testosterone levels in the body. Nonsense. None of the herbs have this effect. If someone is in the wrong and thinks that a natural remedy can raise your total, own testosterone, unfortunately, this is a huge mistake! But not to raise all testosterone levels. The level of active testosterone is important.
ADVANTAGES OF USING TEST ERUPTION REVANGE
Even + five kilos of pure muscle mass during unlock!
Large gains in muscle mass and strength
Increased endurance in training
Reduction of body fat
- Protection of the heart and bones
Greater desire for sex
Full, long lasting erection and constant readiness for sex
Improving self-esteem
Increased energy and motivation to exercise
Improves concentration and attention
Improves well-being
COMPOSITION OF TEST ERUPTION - PHARMACEUTICAL QUALITY AND SAFETY OF APPLICATION
Test Eruption is a guarantee of the highest pharmaceutical quality, purity and effectiveness of the ingredients used and absolute safety of use, which is confirmed by certificates!
Stinging Nettle root extract (3,4-divanillyltetrahydrofuran 95%)
The key component of Test Eruption 3,4-divanillyltetrahydrofuran binds proteins that inactivate active testosterone.
5a-Hydroxy Laxogenin - gains in muscle mass and strength
5a-Hydroxy Laxogenin has a favorable anabolic androgenic ratio compared to some prohormones, but has no side effects.
Horny Goat Weed / Epimedium Extract (98% Icariin)
Protecting the heart of atherosclerosis and bones from osteoporosis. Increases nitric oxide production - an anabolic muscle building effect.
Mucuna Pruriens (98% L-dopa) - mood, strengthening sleep, motivation
Mucuna pungent improves mood and motivation, makes it easier to fall asleep. Thanks to the higher levels of dopamine, you can easily start a new day early in the morning - completed tasks bring joy. Improves memory, concentration, creativity, and also increases the level of self-esteem and libido.
Eurycoma longifolia extract - increased libido, improved erection
Eurycoma long-leaved root extract naturally increases libido, guarantees long-lasting erection. Increases testosterone levels in the body in a natural and safe way.
Vitamin E TPGS - resistance to infections, youthful and healthy appearance
Signs of a lack of vitamin E are anemia, fatigue, susceptibility to infection, aging and keratinization of the skin, and disorders of the nervous system.
Vitamin D3 - Strong Bones
Formed in the skin by exposure to sunlight. Regulates calcium and phosphorus levels, essential for proper bone development.
COMPOSITION
Serving Size: 1 capsule
Servings Per Container: 90
| | |
| --- | --- |
| Ingredients | per serving |
| Stinging Nettle root extract (3,4-divanillyltetrahydrofuran 95%) | 350mg |
| Mucuna Pruriens (98% L-dopa) | 100mg |
| Horny Goat Weed / Epimedium Extract (98% Icariin) | 100mg |
| Tongkat Ali Extract (Eurycoma longifolia extract) | 50mg |
| 5a-Hydroxy Laxogenin | 50mg |
| Vitamin E TPGS | 10mg |
| Vitamin D3 | 2000IU |
Other Ingredients: Magnesium Stearate, Silicon Dioxide
DIRECTIONS OF USE
As a dietary supplement take 1 capsule 3 times per day on an empty stomach. For best results use for 4 to 8 weeks. Do not exceed 8 weeks of continuous use.
REVIEWS
There is no review
Atsiliepimas Atsiliepimas