TESTOSTERONE BOOSTERS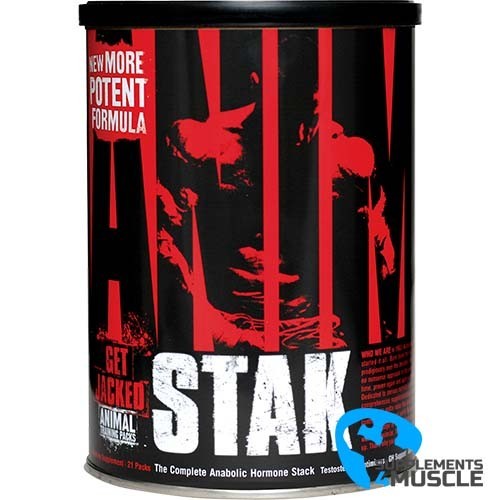 
Animal Stak
The Complete Anabolic Hormone Stack
Testosterone Optimizers
GH Support
Aromatase Inhibitors
Restorative Support
DESCRIPTION
COMPOSITION
DIRECTIONS OF USE
REVIEWS
DESCRIPTION
Animal Stak
As a determined bodybuilder, you want the best results possible. Naturally, you train hard and consume an ample amount of nutrition. However, you are looking for other methods to take your performance to the next level. Animal Stak works dependably with your body to enhance testosterone and growth hormone and get you the increased strength and mass you desire.
Maximizing the quantity of your body's natural muscle-growing hormones, such as testosterone and GH, can drastically improve your ability to build muscle.
Improving hormone levels
Regarding optimizing hormones, there are a couple of factors to consider: ensuring that your "Test" levels are not low due to any nutrient deficiencies; reducing the transformation of "Test" into hormones such as estrogen and DHT; and confirming that your ratio of free to total "Test" is favorable.
By taking care of the three facets mentioned, you can unlock your body's true potential. Animal Stak 2 was made to take care of all of these hormone management issues, making it a comprehensive and natural "test" bundle.
Reduce the conversion of estrogen to DHT.
Universal Animal Stak 2 has constituents to prevent the alteration of estrogen and DHT levels, a usual phenomenon. It also holds nutrients that might contribute to improving levels of serum "Test". Out of all the three, the most consequential element is likely the proportion of 'free' to 'total' "Test".
The average male typically has between 300-1000 nanograms per deciliter of "total" "Test" in his body. Nevertheless, this is not a precise indication of how much of that "Test" is available for the body to use.
Basically, if you have significant amounts of "Test" in your body, most of it is unusable. So, the only form of "Test" that matters is free "Test", as it is the form which brings about the maximum results for bodybuilding that athletes desire.
Increase free "Test"
Although free "Test" is valuable, the amount of it available is very limited. In reality, the amount of free, or active, "Test" is less than 2% of the total "Test" available.
Contemplate the following: although you could have a total "Test" reading of 700 ng/dl, only 14 ng/dl or less is able to get into cells and have an effect by connecting with androgen receptors. That being said, although you might attempt to raise the amount of total "Test", you particularly need to amplify free "Test".
If you desire to maximize the results of muscle building hormones, and all other things are in check, then Animal Stak is worth trying out.
It doesn't matter what your "Test" level is, Animal Stak can assist you in discovering the 98% of "Test" in your system that is unavailable to you so that you can accomplish th
COMPOSITION
Container size: 21 sachets
Serving size: 1 sachet
Servings per container: 21
Amount Per Pack
%DV
Vitamin B6 (pyridoxine HCl)
10.5 mg
525%
Magnesium (as oxide)
450 mg
113%
Zinc (as oxide)
30 mg
200%
Vitamin D3 (as cholecalciferol)
1000 IU
250%
Pro Testosterone Complex with LJ-100™:
Tribulus Terrestris Extract (fruit)(standardized for protodioscin & steroidal saponins)
Eurycoma Longifolia powder (root)
Eurycoma Longifolia Extract (root)(Eurypeptides, glycosapoininis & polysaccharides)
Fenugreek (seed)
Stinging Nettle Root
Maca Extract (lepidium meyenii)
1500 mg
-

Growth Hormone Support (with ArginoCarn®, SuperSerum™, Sustamine™):
Arginine Complex (Arginine HCl, ArginoCarn® [acetyl-L-carnitine arginate dichloride])
L-alanym-L-Glutamine
Beef Serum Albumin Concentrate
Alpha Glycerylphosphorylcholine (alpha-GPC)

1500 mg
-
Anti-Aromatase Complex:
Polygonum Cuspidatum Root (reveratrol)
Calcium-D-Glucarate
Diindolylmethane (DIM)
300 mg
-
Hormone Aplifying Blend:
L-Carnitine Fumarate
Agmatine Sulfate
Glycine propionyl L-carnitine HCl
Quercetin
Astaxanthin
500 mg
-
Restorative Support Complex:
Milk Thistle Extract (silymarin)
Astragulus (root)
Ashwagandha Extract (root)
Na-R-Alpha Lipoic Acid (Na-R-ALA)
Coenzyme Q10
500 mg
-
Other ingrednients: Gelatin (capsule), Dicalcium Phosphate, Magnesium Stearate, silicon dioxide, stearic acid, Titanium Dioxide, Fd&C Blue #1, FD&C yellow #5&6.
DIRECTIONS OF USE
DOSAGE: Take a single pack daily for 21 straight days. On training days, take it 30-45 minutes before lifting. On non-training days, take it prior to bed. For best results ''cycle'' this product fallowing a schedule of three weeks on and one week off.
REVIEWS
There is no review
Atsiliepimas Atsiliepimas