PREWORKOUTS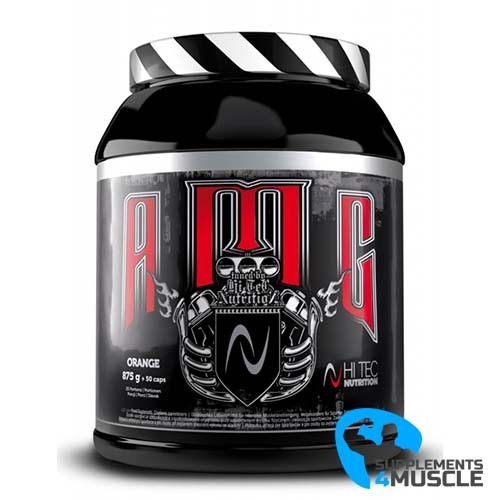 
DESCRIPTION
COMPOSITION
DIRECTIONS OF USE
REVIEWS
DESCRIPTION
HI TEC AMG
HI TEC AMG - ALL IN ONE GROW Muscle Formula is a complex pre- workout formula, which provides energy, building substances, stimulants and hormone regulators, strong plant substances and adaptogens, anti-catabolic and substances that increase the volume of muscle cells and stimulate the production on nitric oxide. AMG will allow you to increase the intensity and efficiency of training which can lead to faster growth in strength and muscle mass.
COMPOSITION
875g + 50 caps
25 Portions
Amount per serving
35g

Creatine-Matrix:
Creatine-Monohydrate
Creatine-Alpha-Ketoglutarate
Creatine-Ethyl-Ester-HCL
Creatine-Ethyl-Ester-Malate
Creatine-L-Pyroglutamate
Creatine-Pyruvate
Tri-Creatine-Citrate
Tri-Creatine-HM-ß
Tri-Creatine-Malate
Tri-Creatine-Orotate

4000mg

NO-Booster-Matrix:
Beta-Alanine
L-Citrulline-Malate
L-Arginine-HCL
L-Arginine-Alpha-Ketoglutarate
Di-Arginine-Malate
L-Arginine-Pyroglutamate
L-Arginine-Ketoisocaproate
L-Ornithine-Alphaketoglutarate

9000mg

BCAA-Matrix:
L-Leucine
L-Isoleucine
L-Valine

8000mg

Hormone-Matrix:
D-Aspartic-Acid
Glycine
Tribulus-Terrestris-Extract
Fenugreek-Extract
Maca-Extract
Megnesiumaspartate
Zink-L-Methionine
Pyridoxine-HCL

4000mg
Energy-Matrix:
Taurine
Maltoderxtrine
Dextrose
D-Glucuronolactone
Koffeine
L-Tyrosine
Ginseng-Extract
Traubenkern-Extract
Grun-Tee-Extract
Rhodiola-Extract
Buchweizen-Extract
8000mg
DIRECTIONS OF USE
DIRECTION FOR USE: Take A.M.G. 30-15 minutes before you get to gym. Mixes 35g of powder with about 400-500ml of cold water ant take two capsules with the last sip. The recommended portion for daily consumption should not be exceeded. Dietary supplements are no substitute for a well-balanced diet and a healthy lifestyle. 
REVIEWS
There is no review
Atsiliepimas Atsiliepimas