TESTOSTERONE BOOSTERS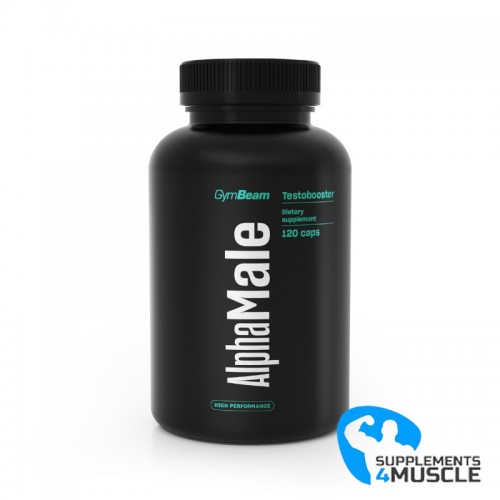 
DESCRIPTION
COMPOSITION
DIRECTIONS OF USE
REVIEWS
DESCRIPTION
GymBeam AlphaMale TestoBooster 120 caps
AlphaMale TestoBooster is an effective combination of components that increases the amount of testosterone in the bloodstream, making sure it remains at an ideal rate.
AlphaMale TestoBooster is a combination of components intended to encourage the testosterone hormone to remain at its most proficient levels in the bloodstream. Testosterone is imperative to a man's wellbeing on a variety of levels, as it is integral to the body's operations and the transformation of boys into men. Not only that, but it has been proven to greatly influence the size, strength, and even the solidity of the muscles and bones.
Moreover, testosterone is necessary for libido, fertility, and the regular working of male genitals. For this reason, men should ensure that their testosterone levels are in a good range, not merely for the sake of muscle growth, but also for general reproductive health.
This powerful formula features D-aspartic acid, a component known for its part in the testosterone production procedure. Other ingredients include beta ecdysterone, a popular choice for athletes looking for a natural alternative to anabolic steroids, extract from fenugreek seeds, which may have potential to increase testosterone levels and provide other benefits as its steroid saponins have been uncovered, and Siberian ginseng, a type of adaptogen with the capacity to decrease stress.
The AlphaMale TestoBooster is packed with vitamins and minerals specifically chosen for their benefits. Magnesium is particularly necessary for those days that require a lot of physical exertion--it helps reduce fatigue and exhaustion, and helps in the production of energy. From fitness enthusiasts and bodybuilders, it is vitally important; it keeps muscles and bones healthy, and assists in the growth of muscle mass by aiding in the production of proteins. It is also great for sexual health and immunity; zinc further helps with hormone levels.
AlphaMale TestoBooster has vitamin B3 and B6, which can positively influence mental health. The B6 vitamin helps with the standard metabolism of proteins and glycogen, and is needed for red blood cell production, the immune system, and hormonal activity. B6 also helps keep the nervous system working and will have a beneficial effect on mental health.
In addition to Alfalfa, this formula also contains ornithine, a type of amino acid that is part of the body's self-cleansing process. The blend is further enhanced with wild yam, BioPerine® and vitamin K1, making it both a multi-purposeful and powerful solution.
AlphaMale TestoBooster is an extremely powerful combination of ingredients meant to boost your testosterone levels and provide extra health benefits. It will be especially useful for men working to increase their strength and build their muscle mass.
The benefits of AlphaMale TestoBooster are considerable.
This particular blend of substances has been carefully chosen to boost testosterone, thus supporting bone health, fertility, and muscle functioning, as well as reducing exhaustion and fatigue. Additionally, it contains beta ecdysterone, a natural alternative to steroids, and various essences, vitamins, and minerals which contribute to the regulation of hormonal activity, a positive mental state, and a healthier immune system.
COMPOSITION
Container size: 120 caps
Serving size:4 caps
Servings per container: 30
| | |
| --- | --- |
| | Amount per serving (4 caps) |
| D-Aspartic Acid | 600mg |
| Beta Ecdysterone (Rhaponticum Carthamoides extract) | 600mg |
| Fenugreek Seed Extract (Standardized For Fenuside) | 400mg |
| Extract of Siberian Ginseng (Eleutherococcus senticosus) root | 200mg |
| -of which eleutheroside | 2mg |
| Wild Yam (Dioscorea alata) root extract | 200mg |
| 5-Methyl-7-methoxyisoflavone | 200mg |
| D-Pantothenate | 200mg |
| Hydroxypropyl Methylcellulose (HPMC) | 160mg |
| L-ornithine | 80mg |
| Magnesium (Magnesium Citrate) | 60mg |
| Alfalfa (Medicago sativa L.) leaf extract 5: 1 | 60mg |
| Vitamin B3 (Niacin) | 20mg |
| Vitamin B6 (Pyridoxine Hydrochloride) | 4mg |
| Zinc (Zinc Glycinate) | 14mg |
| BioPerine | 1mg |
| Vitamin K1 (Phylloquinone) | 200mcg |
Other ingredients: Capsule (Gelatin, Colorant (Black Iron Oxide, Titanium dioxide)), anticaking agents (Silicon Dioxide, Calcium salts of orthophosphoric acid).
Warning: Not suitable for children, pregnant and nursing women. Do not exceed the recommended daily dose. It is not a substitute for a varied diet. Keep out of the reach of small children. Store in a dry place at temperatures not exceeding 25 ° C, protect from direct sunlight and from frost. The manufacturer is not liable for any damage caused by improper use or storage. Food for particular nutritional uses.
DIRECTIONS OF USE
Recommended use: Take 2 capsules in the morning and 2 capsules in the evening. Take with food
REVIEWS
There is no review
Atsiliepimas Atsiliepimas