TESTOSTERONE BOOSTERS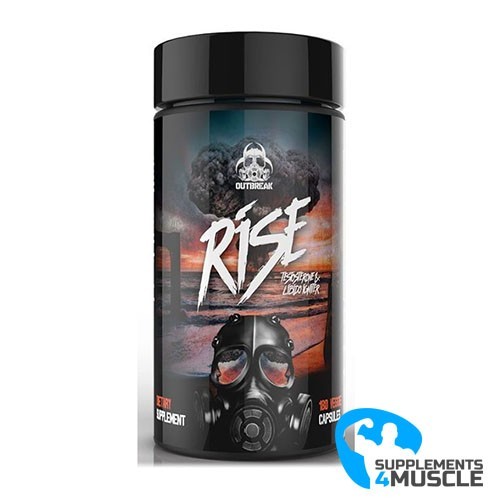 
DESCRIPTION
COMPOSITION
DIRECTIONS OF USE
REVIEWS
DESCRIPTION
Outbreak Rise
Rise is the strongest tool for men's endurance. In this post-catastrophic age, strength, power, aggression and strength of purpose are all essential components to maintain life. Rise gives us an edge by boosting testosterone levels while restricting estrogen, resulting in a body that can gain muscle quickly, burn fat more productively and exhibit a powerful sense of ambition (after all, we have to repopulate the planet).
Beware! Rise™ isn't one of those iffy sports nutrition products that you have no idea if they are working or not; It will have you conquering the environment around you and not making any compromises. The composition of Rise™ has been substantiated via scientific tests to hugely increase testosterone levels and reduce estrogen.
Become the man you need to be, it's time to RISE™.
So what is in this product?
In the post-apocalyptic wasteland, it can be difficult to come by adequate amounts of zinc and magnesium - both of which are necessary for maintaining normal testosterone levels. Without these two minerals, it is almost impossible to increase them.
AgresTest™ (Fadogia agrestis) 10:1 Extract 1200mg is an incredibly strong patented concentrate that rapidly and dramatically increases testosterone levels. In clinical tests it has also been proven to fuel enthusiasm and even improve endurance in amorous activities, though of course that's not something you personally require.
KSM-66™ (Ashwaghandha Extract) 500mg is an extremely effective ingredient with numerous advantages for males. It is the highest quality and most thoroughly researched kind obtainable. This element has the capacity to help improve endurance, energy, and natural testosterone levels. Additionally, it acts as a powerful adaptogen, meaning it will help you remain concentrated and tranquil even if the day is difficult.
Fenugreek (Trigonella foenum-graecum) 500mg- This ancient superfood has long been known to promote virility, a result of it naturally boosting testosterone levels. We source only the best quality to make sure you get the best out of this powerful herb.
Eurycoma longifolia, commonly known as LongJack, is a powerful ingredient which can be found in this 300mg extract formula. It has aphrodisiac qualities which have an effect on the body as well as potent anti-estrogenic abilities.
Taking Boron Citrate 100mg can be beneficial because it provides 10mg of boron, which helps to keep hormone levels healthy while further increasing the level of free testosterone. Not consuming enough boron can impede the production of testosterone in men.
E. cottonii Extract 500mg has been found to be particularly effective in blocking estrogen in clinical trials, even more so than certain prescription drugs. At an impressive dosage of 500mg, this ingredient should be more than sufficient to give the desired results.
COMPOSITION
Serving Size: 6 Veggie Caps
Servings per Container: 30
| | |
| --- | --- |
| | Amount Per Serving |
| Magnesium (as Aspartate) | 200 mg |
| Zinc (as Monomethionine) | 15 mg |
| AgresTest™ (Fadogia agrestis) [Stem] 10:1 Extract | 1200 mg |
| KSM-66™ (Ashwaghandha Extract) (made with certified organic ashwagandha)(Withania somnifera [root] Extract) | 500 mg |
| Fenugreek (Trigonella foenum-graecum) [Seed] (Standardized to 50% Saponinis) | 500 mg |
| Longjack (Eurycoma longifolia) [Root] 100:1 Extract | 300 mg |
| Boron Citrate | 100 mg |
| Red Seaweed (Eucheuma cottonii) [Whole Plant] Extract | 500 mg |
Other Ingredients: Hypromellose (Veggie Cap), Silica, Magnesium Stearate.
DIRECTIONS OF USE
Take 6 Rise™ capsules before bed at night. Rise™ should be taken with a meal and should only be taken by men over the age 21 years of age.
REVIEWS
There is no review
Atsiliepimas Atsiliepimas