PREWORKOUTS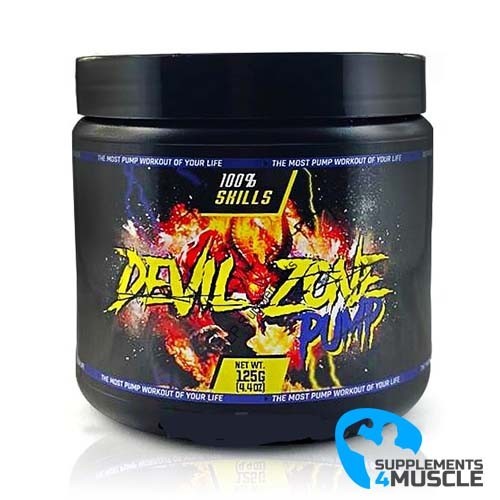 
DESCRIPTION
COMPOSITION
DIRECTIONS OF USE
REVIEWS
DESCRIPTION
100% Skills Devil Zone Pump
100% Skills Devil Zone Pump is the latest pre-workout supplement from 100% Skills. The amazing, proprietary blend of Insane Nitric Oxide System increases the amount of nitric oxide in the body, bringing with it a number of benefits in the form of a hardcore muscular pump, creating new muscle fibers and maximally accelerating regeneration after training. The blend of the most effective high-quality ingredients provides a specific effect: it builds a compacted muscle mass, reduces muscle soreness, increases exercise performance, and by increasing blood flow improves sexual function. The addition of nootropic substances has a positive effect on well-being, increases motivation, adds energy and influences the body's vigilance.

Devil Zone Pump will free the beast !

The ingredients of the product are only the best substances with scientifically proven effect. The innovative formula will satisfy even the most demanding users. The product provides an amazing focus on training by nothing and no one will be able to disperse you.

Agmatine Sulfate - is a metabolite of arginine, a chemical compound of the type of biogenic amines (derivatives of organic ammonia that arise as a result of decarboxylation of amino acids). This ingredient is often used in a variety of supplements and training nutrients. Most often, however, it is used to produce preparations before training, which are to stimulate the body and intensify the so-called "muscle pump". Agmatine is characterized by a very wide spectrum of activity. It stimulates the synthesis of nitric oxide (NO2), and thus improves blood supply and nutrition of muscle cells, eliminating pain of neuropathic origin and supporting cognitive processes. Agmatine enjoys great popularity among athletes, because it allows you to improve performance, strength and endurance. - increases blood flow, supporting the process of "cleaning" of working muscles. In each cell there is a specific exchange of oxygen and nutrients for carbon dioxide and harmful metabolic products that the body has to remove, and due to the increased blood flow such exchange occurs faster so that the cells of muscle tissue can work longer and harder. Arterial blood contains essential muscle oxygen and provides nutrients such as amino acids, sugars, creatine, arginine from the outside. Thanks to the action of nitric oxide, the transport of the body is more efficient, thanks to which not only the cells receive nutrients but also the harmful metabolic products are removed more quickly.

Citrulline Malate- is a combination of an amino acid - citrulline with malic acid. Citrulina, although it does not build muscle, plays an important biological role by participating in the urea cycle. During metabolism, citrulline neutralizes toxic ammonia. Citrulline jabroxil is a compound that increases the production of nitric oxide and thus increases the blood flow to the muscles during training, causing the muscle pump. Research shows that citrulline malate, pre-workout, improves the body's ability to exercise and reduces fatigue. Another advantage of the preparation is its ability to reabsorb bicarbonate through the kidneys, which has a beneficial effect on the equilibrium-alkaline balance. In addition, the use of the supplement effectively reduces the acidification of muscles after a hard workout.

Arginine Nitrate - arginine nitrate. is an advanced form of the amino acid arginine, providing effective blood flow to the muscles, which causes their proper blood circulation (creating the feeling of the so-called muscle pump), while maximizing strength and strength, which is why it is recommended to apply the preparation before exercise. In addition, the combination of nitrogen and arginine extends its operating time up to 8 hours!

HydroMax - contains glycerol in high concentration, up to 65%. Proper hydration of muscle cells is of great importance not only for their size but also for muscle fiber contractions. Glycerol also increases the volume of blood and improves the blood circulation of working muscles. The most important benefit of this substance for bodybuilders is the ability to bind and retain water. Glycerin, reaching the muscles, binds fluids, which makes the muscle more swollen and increases its efficiency. The mechanism of action of glycerol is similar to the binding of water through creatine. Along with the water, many substances with anabolic effects and hormones carried in the blood go to the muscles. Through an exceptionally high dose of glycerol, Hydromax allows you to quickly obtain a muscle pump.
Alpha GPC- is a water-soluble choline derivative that in the body transforms into acetylcholine, one of the most important neurotransmitters. Scientific research has shown that Alpha GPC supplementation really raises the level of acetylcholine in the brain, which translates into significantly better memory and concentration, also in young people. Other clinical trials have proven that L-alpha-glycerylpforsorylcholine supplementation supports brain function in people suffering from Alzheimer's disease and dementia, while delaying the aging process. Alpha-GPC activates the parasympathetic system (relaxing, calming), increases the level of GABA (inhibitory neurotransmitter) and growth hormone (GH, regenerative hormone), reduces the adrenergic activity (sympathetic), thereby eliminating the effects of stress and irritability. It causes a calming, anti-stress and relaxing effect. It supports the regeneration of the nervous system. Therefore, it is best to take this remedy before bedtime or rest.

Noopept - is considered to be a nootropic agent stimulating in the central nervous system. Its unique properties lead to an increase in cognitive functions, improvement of memory, as well as faster assimilation of information. The compound stimulates the connection between the hemispheres of the brain. Noopept significantly contributes to the growth of creativity, efficiency and better functioning of thought processes. It is a great remedy for use during increased mental and physical activity. It has an additional protection against the harmful effects of free radicals, protecting neurons from external factors. Noopept proves to be effective in the recovery of memory, problems with emotional instability and the improvement of well-being. It is worth adding that it helps in disorders associated with insomnia and restores healthy and restful sleep. Its beneficial properties lead to the activation of mental processes, memory, intelligence, motivation and in the case of the need to focus maximum in work and study.

Huperzine A - substance obtained from Chinese moss of the fly club moth (Toothed Clubmoss). The product is standardized for maximum efficiency. The main properties of this compound are: blocking the breakdown of acetylcholine, improve nerve conduction and a positive effect on concentration, mating and memory processes. One of the most amazing alkaloid used to increase the ability to remember. Hupercine A is one of the most desirable substances in the group of agents that provide so-called brain doping. It allows you to achieve maximum concentration, focus and isolation of our attention in almost every situation. It is perfect for people with very demanding mental work as well as students or high school graduates. Unlike many other stimulants acting on our mind, its action does not diminish with time and we can benefit from the use of hupercin for a very long time. Both solo and also in the form of an important part of many complex supplements aimed at increasing mental abilities or improving memory are on the market.
COMPOSITION
Serving Size: 1 Scoop (5g)
Serving Per Container: 25 Servings
Amount Per Serving
%DV
Insane Nitric Oxide System:
Agmatine Sulfate, Citrulline Malate 2:1, Arginine Nitrate, HydroMax™ Alpha GPC, Noopept, Huperzine A
5000mg
DIRECTIONS OF USE
Users may wish to begin by consuming 1/2 scoop tp assess tolerance. On non training days you can take pne scoop on morning if you want make day more beautiful.
REVIEWS
There is no review
Atsiliepimas Atsiliepimas