Xtreme PWO formulas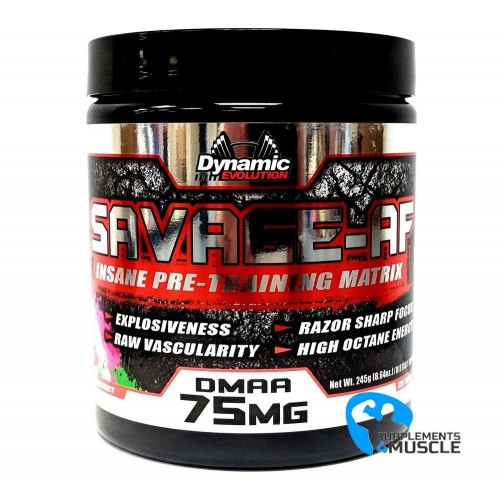 
Dynamic Evolution Savage-AF 245g DMAA
INCREASE EXPLOSIVENESS!!
RAW VASCULARITY!!
RAZOR SHARP FOCUS!!
HIGH OCTANE ENERGY!!
DESCRIPTION
COMPOSITION
DIRECTIONS OF USE
REVIEWS
DESCRIPTION
Dynamic Evolution Savage AF Pre Workout – Savage AF Pre-workout provides tremendous focus, endless energy and a strong vasodialation. Not for beginners!
The most powerful and mind blowing pre-workout on the market!
Niacin:
Boosts brain function
Increase energy production
Dilates your blood vessles for increase blood circulation 
Beta Alanine:
Shown to fight fatigue and increase muscular endurance
Glycerol Monosterate:
Triggers vasodilation 
Reduce fatigue 
Improves hydration and absorption 
Prolongs the pump during your workout 
Agmatine Sulfate:
Regulates nitric oxide levels
Increase mental focus
Increases strength
Increases stamina 
Caffeine Anhydrous:
Caffeine is shown to increase energy, focus and body coordination.
Increase performance
Caffeine is used to increase concentration, alertness, and mood.
Increases stamina and endurances
Decreases fatigue 
Beta Phenylethlamine:
Increases energy, mood, and focus
1,3 Dimethylamylamine (DMAA)
Alpha GPC
Dendrobium Extract
Juniper Berry
Alpha Yohimbine:
Increase bloodflow and vascularity
Decrease fat synthesis, which will increase fat loss.
Increase energy
COMPOSITION
Serving Size: 1 Scoop (7g)
Servings Per Container: 35
| | |
| --- | --- |
| | Amount Per Serving |
| Niacin (As Nicotinic Acid) | 15mg |
| Beta Alanine | 3.2g |
| Glycerol Monosterate 95% | 1000mg |
| Agmatine Sulfate | 750mg |
| Caffeine Anhydrous | 350mg |
| Beta Phenylethlamine | 250mg |
| 1,3 Dimethylamylamine | 75mg |
| Alpha GPC 50% | 30mg |
| Dendrobium Extract 10:1 | 25mg |
| Juniper Berry | 25mg |
| Rauwolfia Vomitoria Extract (STD. Min 90% Alpha Yohimbine) | 2mg |
Other Ingredients: Maltodextrin, Citric Acid, Natural and Artificial flavoring, Silica, Sucralose, Calcium Silicate, Acesulfame Potassium (Ace K), FD&C Red 40, FD&C Blue 1
DIRECTIONS OF USE
Suggested Use: As a dietary supplement mix 1 scoop in 8-10 oz. of water 30 minutes before you workout on training days. Due to extreme potency one should assess tolerance with 1/2 scoop. Do not exceed one scoop per day.
REVIEWS
There is no review
Atsiliepimas Atsiliepimas