PREWORKOUTS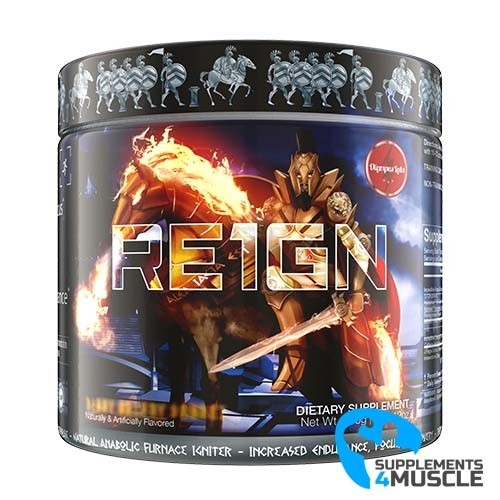 
Olympus Labs Re1gn
Tunnel Vision Focus
Insane Energy
Extreme Pumps
Maximum Endurance
DESCRIPTION
COMPOSITION
DIRECTIONS OF USE
REVIEWS
DESCRIPTION
Olympus Labs Re1gn
Olympus Labs Re1gn is a top-of-the-line product from the renowned brand Olympus Labs. They are one of the most prominent producers in the USA, appreciated for their cutting-edge creations. Re1gn, a pre-workout, has earned positive reviews from users around the world. There are two different versions of the product - one sold in the European Union that does not contain agmatine, and one sold in the United States that does. We only provide the US version due to its superior quality.
If you're looking for a top-quality pre-workout supplement, Re1gn is one of the best. It's a complex blend of strong stimulants and the best quality muscle-pump enhancers, and is certified by AGmass™ to use ingredients of the highest quality. Re1gn will make every workout unique, pushing beyond all limitations. Bodyshock.pro highly recommends it as a next-generation pre-workout booster.
The Re1gn composition includes, among others:
L-Citrulline plays a role in the production of nitric oxide and phosphocreatine as well as in glucose metabolism in the body. This boosts uptake of oxygen, glucose, amino acids and creatine, plus energy production in muscle cells. Additionally, it decreases lactic acid and ammonia levels in the muscles, aiding the recovery process by increasing the amount of creatine phosphate and ATP. Citrulline malate is much more effective than high doses of arginine, due to it being the precursor of arginine. Even if used in the same amount, it is more superior in increasing the amount of arginine contained in the body compared to arginine alone.
Compound Solutions Inc. in the U.S. offers AGmass™, a highly pure and natural agmatine sulfate made using modern fermentation processes. This type of agmatine has been found to boost nitric oxide production in the body, leading to a stronger muscle pump while working out. Furthermore, agmatine helps to expand the blood vessels responsible for transporting nutrients and other materials to the muscles, resulting in faster regeneration and muscle-building. Research has also shown that agmatine may support protein synthesis up to twice the normal capacity. This is in addition to its capability to promote the supply of essential nutrients to the muscle tissues.
Vaso6 is an enhanced oligomer that leads to a higher production of nitric oxide. It is based on naturally occurring grape seed extract, however Vaso6 is an exclusive compound which only contains the dynamic elements of GSE to promote enhanced blood flow. In order to attain the most out of protein synthesis, it is vital to trigger the anabolic period earlier than commencing physical activity in order to take advantage of its utmost potential. If you are eager to experience increased protein synthesis, then it is essential to initiate the anabolic window ahead of physical activity.
Eria Jarensis influences the central nervous system, providing beneficial impacts on cognition. Furthermore, it increases dopamine and nor-adrenaline in the body, leading to a better mood, as dopamine is linked with a greater feeling of contentment. Additionally, taking Eria Jarensis extract has been known to produce euphoric effects while concurrently reducing nervousness. Finally, through raising dopamine and noradrenaline, it enhances both mental keenness and focus.
TeaCrine, sourced from the Camellia Kucha plant, has been scientifically verified to be a beneficial addition to workouts, as it has been known to bring about a feeling of euphoria and work to keep motivation high. So far, no negative side effects have been associated with its use, although that possibility exists if used in overly large doses.
KannaEase is an uncommon herbal remedy that promotes cognitive enhancement. RE1GN's supplement also puts the body in a state of intense focus, enabling it to solely focus on learning objectives. Additionally, it has revitalizing and stimulating properties that are entirely distinct from the stimulants most people are familiar with.
COMPOSITION
Serving Size: 2 Scoops (9.2 grams)
Servings per Container: 20
| | | |
| --- | --- | --- |
| | Amount Per Serving | %DV |
| Incredible Pump & Endurance Matrix: | | |
| L-Citrulline | 5g | ** |
| AGmass™ Agmatine Sulfate | 1g | ** |
| Pomegranate Powder Extract | 1g | ** |
| Vaso6™ (Gallate-Enhanced Oligomers) | 300mg | ** |
| Intense Energy Matrix: | 678mg | ** |
| Caffeine Anhydrous (300mg), Eria Jarensis Extract, Julgans Regia Extract, ST1M-X™ As C.Macroceras Extracted For Alkaloids | | |
| Immaculate Focus Matrix: | 100mg | ** |
| TeaCrine® 40% [Tasteless] (Theacrine) | | |
| KannaEase™ | 25mg | ** |
| (as Sceletium Tortuosum Standardized For Alkaloids (Total Alkaloids >= 0.5%) & 0.2% Mesembrine) | | |
| Maximum Absorption Matrix: | 50mg | ** |
| AstraGIN® Proprietary Blend [Astragalus Membranaceus Extract (Root) & Panax Notoginseng Extract (Root)] | | |
** Daily Value (DV) Not Established
Other ingredients: N&A Flavouring, Acesulfame Potassium, Citric Acid, Malic Acid, Sucralose, FD&C Blue #1.
DIRECTIONS OF USE
Directions: As a dietary supplement, take (1) scoop 30 minutes prior to workout with 8-12 oz of water. Once tolerance has been assessed, up to (2) scoops may be taken 30 minutes prior to workout with 8-12 oz of water.
REVIEWS
There is no review
Atsiliepimas Atsiliepimas