Xtreme fat burners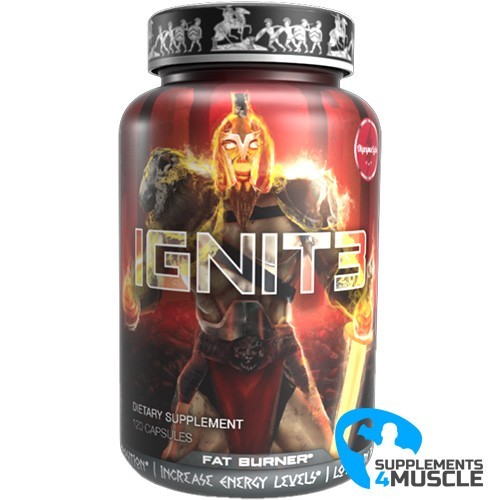 
Olympus Labs IGNIT3
Improve Body Composition
Increase Energy Levels
Lose Body Fat Percentage
Appetite Suppression
DESCRIPTION
COMPOSITION
DIRECTIONS OF USE
REVIEWS
DESCRIPTION
Olympus Labs IGNIT3 is a new fat burner containing the most effective ingredients safely burning fat, increasing energy, suppressing appetite and ensuring greater concentration and promoting mental fitness. Ignit 3 contains unique and patented active substances: stimulants, adaptogens, flavonoids that reduce even the most stubborn fat. This is undoubtedly one of the best smokers on the market.

The exceptionally strong burner works after just a few minutes, and the effect lasts for many hours. Perfectly increases the efficiency of training accelerating the achievement of a dream, slim figure. The addition of Aframomum melegueta acts as an aphrodisiac enhancing libido. To sum up, Ignit 3 is a multi-directional product that not only burns fat but also cares for proper brain functions and supports sexual functions. This is an ideal solution for all those who expect a wide spectrum of action from the product.

Ignit 3 is a breakthrough, comprehensive supplement that will surely meet your expectations!

Gynostemma Pentaphyllum - called the herb of longevity, effectively reduces cholesterol and triglycerides. It contains saponins similar to those found in ginseng. It contains as many as 82 active compounds more than ginseng -28. Active substances have a strong effect on individual body systems and internal organs. The herb contains many amino acids, vitamins and minerals, among others: selenium, magnesium, zinc, calcium, iron, potassium, manganese, phosphorus. Gynostemma has a nourishing and strengthening effect on the body. In addition, it regulates the pressure, reduces cholesterol. This efficient adaptogen strengthens immunity and prevents the harmful effects of stress. It is helpful in the fight against insomnia, reduces nervousness and delays the aging process. It is a powerful antioxidant, reducing the risk of cancer, as well as effectively inhibiting its development.

Olive Leaf extract - olive leaf is a good solution for people who are weakened and often have infections. The supplement favors strengthening the immune system and improving the health condition. It is especially recommended for people whose metabolic parameters deviate significantly from the norm and increase the risk of developing civilization diseases such as atherosclerosis, diabetes, hypertension or obesity. It can also be used for recurrent bacterial infections, viral infections and gastrointestinal parasites. Olive tree leaf extract, rich in "olive" phenols. Supplementing it: it helps to prevent LD oxidation, exerts a beneficial effect on thyroid hormone levels, helps in weight loss, improves skin health.

Caffeine Anhydrous - has a thermogenic effect and suppresses appetite due to the increase in the production of adrenaline and noradrenaline. It has been proven that it causes the formation of such neurotransmitters as dopamine, acetylcholine or even serotonin in the central nervous system, which exerts a stimulating effect and increases cognitive functions. The overall activity of caffeine on the body, allows you to maintain the effectiveness of training and maintain a positive mood, despite the calorie deficit.

Aframomum melegueta- Madagascar franken acts as a stimulant and aphrodisiac. The plant has a thermoregulatory effect, improving digestion, thus reducing overweight. It also helps in weakening the body.

Sesamol - a natural organic compound that is a component of sesame seeds and sesame oil. It is a white crystalline solid which is a derivative of phenol. It is slightly soluble in water but mixes with most oils. Sesamol is an antioxidant, protects the body against harmful radicals, exerts antibacterial and antifungal effects.

Tangerine seed Extract - tangerine seed extract contains nobiletin - a type of flavonoid that prevents processes that lead to fat deposition. By stimulating genes responsible for their burning and blocking the genes responsible for their accumulation, it helps to fight obesity and prevent heart disease.

Theacrine- is an alkaloid that is structurally reminiscent of caffeine and also activates similar signaling pathways. Under natural conditions, theacrine is most likely synthesized from caffeine and then stored. It is believed that this substance is in the highest concentration in Chinese tea Camallia sinensis, where it is found next to caffeine and theobromine. This substance effectively increases the energy level in the body, and its action is very similar to caffeine with the difference that it works much longer, shows a slower increase in tolerance and does not cause unpleasant effects. In addition, the substance does not increase blood pressure.
Ginger Root Extract - Ginseng Extract is a rich source of ginsenosides, whose activity will particularly appeal to people on a diet (they redirect energy to body fat). Introducing it to permanent supplementation has a positive effect on the overall health of the body, reduces the accumulation of lactic acid in the muscles, which causes their pain and reduces efficiency. The substances contained in it also strengthen mental fitness (it is recommended, among others, during preparation for exams, etc.)

Dynamine - the molecular structure is similar to axson (also known as TeaCrine ®) and is believed to behave in a similar but more intense way in the body. Like acrylic, methylliberine clearly increases energy, mood and concentration by activating dopamine receptors and other key neurotransmitters, inhibiting adenosine receptors, all without increasing the pressure.

COMPOSITION
Serving Size: 2 Capsules
Servings Per Container: 60
| | |
| --- | --- |
| | Amount Per Serving |
| Gynostemma Pentaphyllum Extract (Standardized to Min. 2% Damulin A & B) | 225 mg |
| Olive Leaf Extract (Std. 40% Oleuropein) | 200 mg |
| Caffeine Anhydrous | 150 mg |
| Aframomum Melegueta (Std. 12.5% 6-Paradol) | 120 mg |
| Sesamol | 100 mg |
| Tangerine [seed] Extract (Std. to Nomilin 0.2%) | 75 mg |
| Theacrine (as TeaCrine®) | 62.5 mg |
| Ginger Root Extract (Zingber Officinale)(Std. to 25% Gingerols) | 40 mg |
| N-Methylliberine (as Dynamine™) | 25 mg |
DIRECTIONS OF USE
Take 2 capsules (one serving) on an empty stomach up to two times per day. Do not exceed 4 capsules in a 24 hour period of time.