FAT BURNERS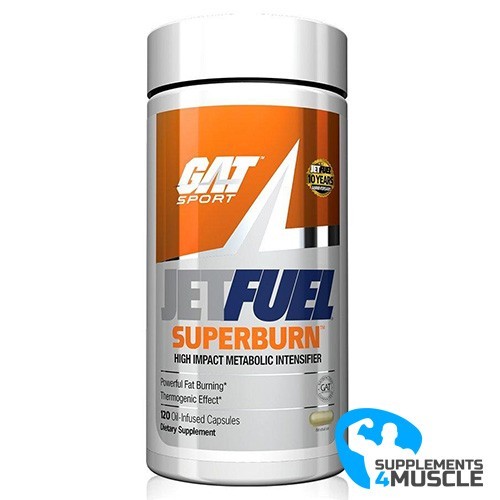 
DESCRIPTION
COMPOSITION
DIRECTIONS OF USE
REVIEWS
DESCRIPTION
GAT JetFuel Superburn
GAT JetFuel Superburn utilizes the latest Micron RD technology, which ensures the active ingredients are conducted with unimpeded speed. The matter that comprises it is no larger than 20 microns! This micronization process induces JetFuel to instantly commence active metabolic activity while diving into fat deposits to maximize energy release.
Jet Fuel Superburn is a great way to get an extra boost for any activity, no matter how strenuous. It can help you stay energized and motivated for an intense workout, a long car journey, and even a lively night time gathering. Furthermore, it has the capacity to target areas of the body which other burners may not be able to reach. For those that need an extra bit of energy to get them through a long night working or studying, Jetfuel Super Burn is ideal. Furthermore, this product also helps those looking to lose weight as it contains ingredients which increase metabolic activity and promote the use of fatty acids for unleashed heat. Jetfuel PYRO works to supercharge the release of fatty acids from fat cells so that they can be used more efficiently as energy.
Bitter orange extract is made from a fruit that is not meant for consumption; however, it offers an abundant amount of vitamin C, which may exceed 42%. Apart from vitamin C, the extract also contains numerous bioflavonoids and hesperidin rich in antioxidants. The most notable effect of bitter orange extract is likely due to the presence of synephrin in the plant, a chemical structurally similar to ephedrine, which is naturally harvested from immature citrus fruits like Citrus uranium L. and Citrus aurantium L.
This material is an alternative for ephedra. It is frequently used as an ingredient in various medicines and dietary supplements, which are helpful for athletes as well as people who are overweight. Synephrine increases your metabolic rate, reduces your craving for food, and strengthens your physical and mental performance. It increases your blood pressure and the amount of blood your heart pumps, expands your bronchial tubes to make breathing simpler, clarifies the sinuses, and makes you feel better.
Yohimbine, obtained from Yohimbe bark extract, is known for helping with fighting fat that is normally hard to get rid of, found mainly around the chest, waist, thighs, buttocks, and hips (depending on the gender). It does this by blocking α2-type receptors, which helps make slimming easier. An important thing to remember is that Yohimbine eliminates insulin, so it is pointless to take it with a carb-heavy meal. To get the most out of it, it is best used on an empty stomach and before physical activity.
Ashwagandha, also known as Indian ginseng, is an adaptogen used in traditional Eastern medicine to help the body stand up to environmental stress. It is thought to be able to stabilize moods, boost the immune system, help with rheumatic conditions, improve stamina, treat sexual dysfunction, and support memory. This is due to its contain of various biologically active compounds, such as beta-sitosterol, nicotinic alkaloids, witanolides (including vitanolid D), coumarins, sitoindosides, chlorogenic acid, and vitaferin A.
Olive leaf extract can help those with weak immune systems who often suffer from illnesses. It helps to strengthen the body's defenses and it is beneficial to those with abnormal metabolic rates that pose the risk of developing illnesses such as atherosclerosis, diabetes, hypertension, and obesity. It also can be used to treat recurrent bacterial, viral, and gastrointestinal parasite infections.
Green tea extract contains sizable amounts of polyphenols, which are potent antioxidants. One of the chemicals present in green tea is epigallocatechin gallate (EGCG), and this antioxidant is even more impressive than vitamin C - its power is estimated to be up to 100 times higher. In supplement form, the extract helps people to slim down when taken with other active ingredients.
Caffeine Anhydrous is part of a family of organic molecules that is in a dehydrated form. It prevents the body from registering the reception of adenosine from the brain, thus blocking out bodily sensations of fatigue during physical activity. Additionally, due to its ability to raise body temperature, it can contribute to the breakdown of fat and raise the rate of metabolism.
Cayenne pepper is one of the most effective home remedies for weight loss. It has been reported that the spice can increase one's metabolic rate by as much as 25%, leading to faster burning of calories. The primary element responsible for its efficacy is capsaicin. Furthermore, using it has a plethora of health benefits, such as improving blood circulation, increasing libido, reducing stomach ulcers, better digestion, and helping to regulate blood pressure.
COMPOSITION
Serving Size: 3 Capsules
Servings Per Container: 40
Amount Per Serving
%DV
Superburn Stimulant Blend
485 mg
**
Caffeine Anhydrous 275 mg
**
AdvantraZ® Bitter Orange Extract (Citrus Aurantium) 150 mg
(standardized to 6% synpehrine and naturally containing hordenine and octopamine)
**
Cayenne pepper (standardized to 40,000 SHU) 35 mg
**
Yohimbine bark extract (Pausinstalia yohimbine) 25 mg
(standardized to 8% yohimbine alkaloids)
**
Triple-Tea Plus Antioxidant Blend*
295 mg
**
Black tea leaf extract (Camelia sinensis nigra) 100 mg
**
Green tea leaf extract (Camelia sinensis veridis) 80 mg
**
White tea leaf extract (Camelia sinensis albus) 25 mg
**
Blend typically yielding 82mg polyphenols, 100mg catechins (36mg EGCG) and 13mg caffeine]
**
Olive leaf extract (15% oleuropein) 90 mg
**
Superburn Cognitive Enchancement Blend
285 mg
**
Ashwanganda root standardized extract 125 mg
(Withania somnifera) 2.5% withanolides
**
Lemon Balm leaf 4:1 extract (Melissa officinalis) 100 mg
**
L-Theanine 50 mg
**
Evodia rutaecarpa fruit 4:1 extract 10 mg
**
Medium Chain Triglyceride Powder
25 mg
**
Bioperine® Black pepper extract
5 mg
**
Other Ingredients: gelatin (capsule), dicalcium phosphate, vegetable stearate, silicon dioxide, titanium dioxide.
DIRECTIONS OF USE
Take 1 serving (3 capsules) 1-2 times per day. Take 1 serving first thing in the morning. SUPERBURN can be taken with or without food depending on your stomach sensitivity. If you are sensitive to caffeine, do not take within 6 hours of bedtime.
REVIEWS
There is no review
Atsiliepimas Atsiliepimas