VITAMINS AND MINERALS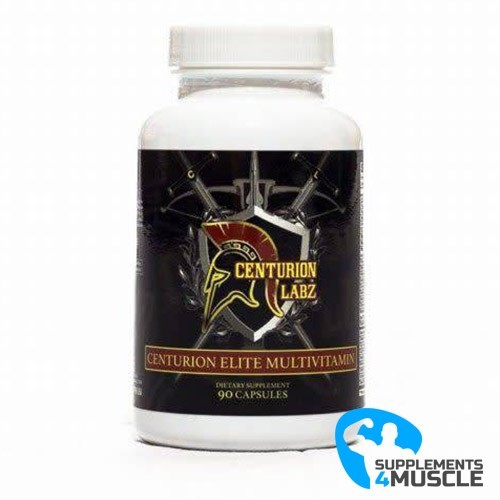 
DESCRIPTION
COMPOSITION
DIRECTIONS OF USE
REVIEWS
DESCRIPTION
Centurion Labz Elite Multivitamin provides the body with essential vitamins and minerals. The multivitamin supplement contributes to the elimination of free radicals from the body, reduces the level of cortisol and cares for the cardiovascular system. The product is recommended especially for people who train intensively, whose need for vitamins and minerals is increased. The use of the preparation improves the overall efficiency of the body and increases the motivation to act. The synergistic combination of ingredients and the right proportions ensure maximum efficiency.

High-quality ingredients will take care of your health and well-being !

Vitamin A- is a key vitamin when it comes to the health of our skin, hair and nails. That is why it is often an invaluable component of skin and hair supplements. The use of vitamin is particularly important for dry and acne-prone skin. It helps the skin to maintain an adequate level of hydration, thanks to which the skin is more elastic and soft. It also helps in the fight against signs of aging such as wrinkles. It proves helpful in reducing stretch marks or symptoms of flaky skin.

Gynostemma - contains saponins similar to those found in ginseng. It contains as many as 82 active compounds more than ginseng -28. Active substances have a strong effect on individual systems of the organism and internal organs. The herb contains many amino acids, vitamins and minerals, among others: selenium, magnesium, zinc, calcium, iron, potassium, manganese, phosphorus. Gynostemma has a nourishing and strengthening effect on the body. In addition, it regulates the pressure, reduces cholesterol. This efficient adaptogen strengthens immunity and prevents the harmful effects of stress. It is helpful in the fight against insomnia, reduces nervousness and delays the aging process. It is a powerful antioxidant, reducing the risk of cancer, as well as effectively inhibiting its development.

Vitamin C- plays an important role in the formation of collagen, which is about 1/3 of the total amount of protein in our body. It is the basis of the structure of the skin, bones, cartilage, tendons, blood vessels and valves in the heart. Ascorbic acid is a powerful antioxidant, accelerates the breakdown of harmful substances formed under the influence of intense training, effectively protects against infections. Another advantage of this vitamin is the improvement of iron absorption and the improvement of oxygen transport to the cells, which translates into an improvement in muscle condition. The effective absorption of oxygen extends the working time of the muscles and delays the anaerobic breathing phase of the muscles causing the formation of sourdough. In addition, vitamin C effectively leaches lactic acid from the muscles and therefore accelerates the regeneration process after training. In addition, ascorbic acid affects the release of male hormones, including testosterone, which is desirable by athletes.

Shitake mushroom- contain a large amount of rare B vitamins and vitamin D. Although the main health benefit of their consumption is to improve the immune system, shiitake can also help lower cholesterol, fight obesity, and even inhibit the growth of cancer cells.

Vitamin D3 - affects the work of muscles, which translates into better control over the body and stronger activation of muscle fibers to work. Regulation of androgen levels and tissue sensitivity to insulin allows maximizing anabolic processes and optimal use of nutrients. A beneficial effect on the reduction of adipose tissue can also be noted, among others due to elevated adiponectin. Research confirms the effect on the severity of fat burning in people who previously suffered from a deficiency of vitamin D.

ALA - this component is produced by the human body in small amounts. ALA has a high antioxidant potential. This translates into its ability to neutralize free oxygen radicals, which are a by-product of intense metabolic processes.

Vitamin E - is responsible for building cells, thanks to which wounds heal faster and the body can fight infections by producing antioxidants.

CoQ10- helps support the cardiovascular system through its important role in energy production and its antioxidant effect. CoQ10 has a high antioxidant potential, thanks to which it supports the elimination of free radicals. The deficiency of coenzyme Q10 begins to be noticeable already around 30 years of age, and people over 40 should take it regularly. Due to the deficit character of coenzyme Q10 as a result of the progressive aging process, irrational diet, non-hygienic lifestyle and increased physical activity, chronic coenzyme Q10 deficiencies often occur, which in the first place manifest themselves in dysfunctions of body structures with high energy demand and exposure to oxidation.
Vitamin B6 - exerts a beneficial effect on the general mood, is responsible for restful sleep, reduces the feeling of pain and prevents the occurrence of various types of chronic diseases. Its level is reduced, among other things, by stress. It is a vitamin with a multidirectional effect. It is involved in many enzymatic reactions and its normal level is crucial in maintaining and promoting health.

Vitamin B1- is very well soluble in water, which directly affects its bioavailability. It plays an important role in tissue respiration processes, including metabolic carbohydrate metabolism. It is one of the most important vitamins, which deficiencies can lead to weakness, fatigue, problems with the eyes (nystagmus), circulatory insufficiency, disorders of the digestive system, and even in extreme cases to depression.

Lycopene is a strong neutralizer of free radicals, prevents cardiovascular diseases, normalizes blood pressure, reduces the level of bad cholesterol and increases the permeability of arteries. Lycopene effectively inhibits the action of 5 alpha reductase, which causes hormonal imbalance and causes gynecomastia. The use of lycopene preparations effectively prevents abnormal growth of adipose tissue in the breast area.

Choline - participates in the process of creating and maintaining the proper structure of cells, controlling muscle functions, respiratory system, heart activity and proper brain work associated with memory. Scientific research shows that choline improves long-term memory. Some specialists believe that a diet with a large amount of digestible choline may reduce the risk of dementia and dementia characteristic of Alzheimer's disease. Choline effectively reduces the risk of developing cancer. In addition, it is involved in the regulation of lipid metabolism. It also positively affects the functioning of the liver. It is recommended especially in conditions of the liver crisis, due to the use of an incorrect diet, alcohol and medication.

Lutein - active carotenoid with velvety flower extract. The marigold has a cholagogic and protective effect on the liver. It has diuretic and anti-rheumatic properties. Accelerates the process of detoxifying the body by removing unnecessary metabolic products. Velvet flowers in various shades of yellow and orange are one of the richest sources of carotenoids, compounds with antioxidant and anticancer effects. The most important dyes of this group are widely used in the ophthalmological diagnosis of lutein. Scientific research confirms that already at a dose of 6 mg / day reduces the risk of developing AMD (macular degeneration) by 57%.

Zinc - in people who are hard and intensely trained, one can observe a reduced content of zinc in the body. In this case, supplementation is necessary to ensure the right dose of this essential element. Its proper presence in the body is indispensable for normal growth and sexual development, acceleration of wound healing, increase of immunity of the organism, proper sense of smell and differentiation and division of cells. A deficiency of this element will certainly affect the reduced immunity of the body, frequent infections, stunted growth, decreased body weight, apathy, anemia, delay in puberty. The microelement, which is not delivered to the body for a long time, causes permanent nerve damage.

Chromium - is an essential micronutrient that influences the secretion of insulin, thus affecting the increase in the level of glucose in the muscles and blood. It improves the transport of amino acids to cells, stimulates energy metabolism. For people who are slimming and using physical exercise, an important property of chromium is its positive effect on limiting the need to reach for something sweet.

Inositol - is a natural compound necessary for the proper functioning of our body. It improves the mood, regulates the endocrine system, reduces the level of bad cholesterol and stimulates the regeneration of all tissues of our body. In addition, it is necessary for the proper functioning of the reproductive system of men and women, which is why it is sometimes called the "fertility vitamin".
COMPOSITION
Serving Size: 3 Capsules
Servings Per Container: 30
| | | |
| --- | --- | --- |
| | Amount Per Serving | *Daily Value |
| Methylcobalamin 99% | 1 mg | 16.500% |
| Vitamin D3 (Cholecalciferol) | 100 mcg | 500% |
| Vitamin B1 (Thiamine) | 10 mg | 667% |
| Vitamin B6 (Pyridoxine HCl) | 10 mg | 500% |
| Vitamin C (Ascorbic Acid) | 300 mg | 500% |
| Vitamin B2 (Riboflavin) | 7 mg | 411% |
| Quatrefolic® (6S)-5-methyltetrahydrofolate | 2 mg | 400% |
| Chromium Picolinate (Chromax 12% Cr) | 3 mg | 333% |
| Zinc Picolinate (20% Zn) | 250 mg | 333% |
| Biotin | 600 mcg | 2000% |
| Iodine (as Kelp (Ascophyllum nodosum)) (1% Iodine) | 300 mcg | 200% |
| Molybdenum (as TRAACS® Molybdenum Glycinate Chelate)(2.5% Mo) | 150 mcg | 333% |
| Vitamin B5 (Panthothenic Acid) | 20 mg | 200% |
| Niacinamide (Vitamin B3 NO FLUSH) | 40 mg | 200% |
| Manganese Citrate (28% Mn) | 14 mg | 200% |
| Selenium (as Albion® Selenium Glycinate Complex)(1% Se) | 100 mcg | 181% |
| Vitamin A (10% Beta Carotene) | 126 mg | 140% |
| Nutra-E VITAMIN E 500IU GNNA | 60 mg | 100% |
| Choline BiTartrate | 50 mg | 2% |
| ALA (Alpha-lipoic acid) Granulated | 100 mg | * |
| Boron (as Albion® Bororganic™ Glycine)(10% B) | 2 mg | * |
| CoQ10 (Coenzyme Q10)(Ubidecarenone) | 100 mg | * |
| Gynostemma Pentaphyllum Extract | Sypenosides 20% UV | 500 mg | * |
| Inositol | 50 mg | * |
| Leutein 5% (Tagetes erecta) | 6 mg | * |
| Lycopene 5% (Lycopersicon Esculentum) | 1 mg | * |
| Shitake Mushroom Powder | 500 mg | * |
| Zeaxanthin 5% | 1 mg | * |
* Daily value not established
DIRECTIONS OF USE
Take 1 serving (3 capsules) with a glass of water daily.