VITAMINS AND MINERALS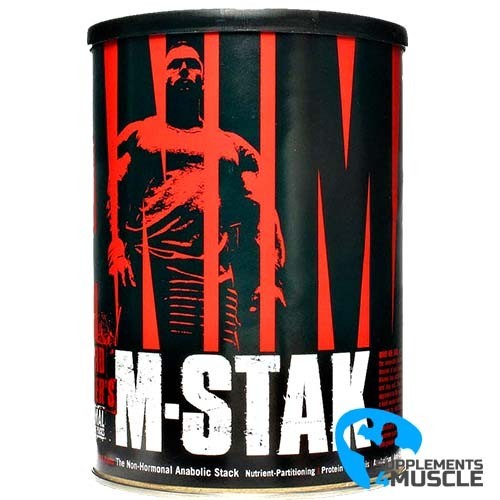 
Animal M-Stak
The Non-Hormonal Anabolic Stack
Nutrient-Partitioning
Protein Synthesis
Anabolism
Anti-Catabolism
Flavones
Sterones
Stims
DESCRIPTION
COMPOSITION
DIRECTIONS OF USE
REVIEWS
DESCRIPTION
Animal M-Stak
Anabolic processes involve protein synthesis, nitrogen retention, and "nutrient-partitioning." The all-new Animal M-Stak is a natural supplement to support these processes, especially beneficial for those of us that are considered "hardgainers."
M-Stak provides a potent anti-catabolic amino blend to directly activate muscle synthesis at the cellular level. The inclusion of leucine and other branched chain amino acids has been shown to be more effective at creating net balanced protein than just ingesting protein and carbs. By means of non-hormonal support, the aminos in M-Stak act as cues for the body to begin constructing muscles through the regulation of elements such as PKB, mTOR, p70s6k, 4E-BP1, FOXO, and MAFbx. Consequently, this blend helps to speed up muscle recovery and growth after an exercise session.
The M-Factor transport complex found in M-Stak ensures that all the beneficial components of the formula are properly processed. The addition of ginger root extract as well as bergmottin and bioperine function as absorption enhancers, so that all the growth factors in M-Stak are used to their fullest potential and don't go to waste.
M-Stak helps to maximize the anabolic potential of your body by flooding it with essential nutrients. The combination of particular sterones and flavones together with an anabolic array of amino blends, and adaptogens has made the latest pretraining pack of Animal M-Stak even more effective in providing nutrients without hormones. Animal M-Stak, designed to help those having difficulty with muscle gain, will turn "hardgainers" into "hard" gainers.
COMPOSITION
Container size: 21 Packs

Serving size: 1 pack

Servings per container: 21
Amount Per Pack
%DV
Natural Flavone/Sterone Complex:
Cyanotis Vaga Extract (ß-Ecdysterone)(whole plant)
5-Methyl-7-Methoxyisoflavone
Ajuga Turkestanica Extract (turkesterone, whole plant)
Phytosterols (providing beta sitosterol)
750 mg
-
Anti-Catabolic Amino Complex:
L-Leucine
L-isoleucine
L-Valine
L-Taurine
Acetyl-L-Carnitine (ALC)
Leucine Ethyl Ester HCl
3000 mg
-
Anabolic Adaptogen Complex:
Muira Puama (bark)
Kudzu Extract (isoflavones)
Siberian Ginseng (root)
1000 mg
-
Insulin Potentiating Complex:
Fenugreek (4-Hydroxyisoleucine)(seed)
Banaba Leaf Extract (corosolic acid)
Cinnamon Bark Extract
Na-R-Alpha Lipoic Acid (Na-R-ALA)
500 mg
-
M Factor Complex:
Ginger Root (gingerols, shogaols)
Grapefruit (6,7-Dihydroxybergmottin)(friut)
Citrus Bioflavonoids (peel)
500 mg
-
Energy Complex:
Methylxanthine Complex (caffeine, theobromine)
Kola Nut (seed)
500 mg
-
Other ingrednients: Methylxanthine Complex (50% Kola Nut Extract, 22% Guarana Extract), Fenugreek Extract, Cyanotis Vaga Extract, Evodiae Fructus Extract, Grapefruit Extract, Cinnamon Root Extract, Gelatin, Di-Calcium Phosphate, Whey (Milk), Microcrystalline Cellulose, Titanium Dioxide, Stearic Acid, Magnesium Stearate, Fd&C Blue #1, Fd&C Red #40
DIRECTIONS OF USE
DOSAGE: Take a pack every day for 21 straight day. On training days, take it 30-45 minutes before lifting. On off days, take it between meals. Cycle Animal M-Stak for best results- three weeks on, one week off.
REVIEWS
There is no review
Atsiliepimas Atsiliepimas