VITAMINS AND MINERALS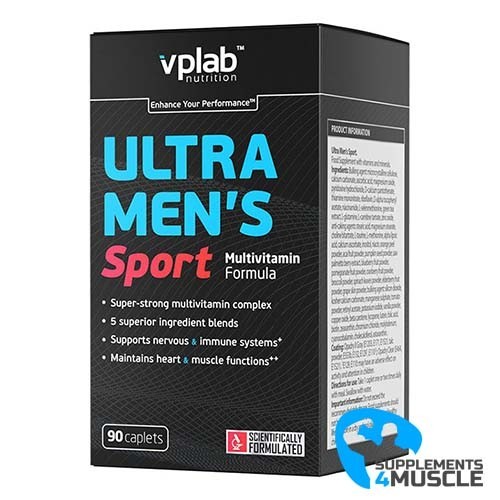 
VPLab Ultra Men's Sport 90caps
Super-strong male vitality complex
Stress & Immune support
Supports heart & prostate health
DESCRIPTION
COMPOSITION
DIRECTIONS OF USE
REVIEWS
DESCRIPTION
VPLab Ultra Mens  Sport
Men, your search for a supplement which contains essential vitamins, nutrients and minerals is complete. Ultra Men's Sport has been specifically designed for men and provides over 50 active ingredients to benefit their overall health. This supplement should be taken two times a day, and provides benefits such as increased energy metabolism, strengthened nervous system, better muscle function and improved protein synthesis. Adding Ultra Men's Sport to your daily routine has never been simpler.
What do you need from a supplement? Ultra Men's Sport isn't a matchmaking service, but it has formulated five different blends specifically designed to suit your needs.
Amino Acid Blend is able to give you the complex that you require quickly by furnishing a combination of L-Methionine, L-Taurine, L-Carnitine, and L-Glutamine. This will make the recovery process much faster.
Are you looking to improve your overall well-being? Ultra Blend is the answer for you. It's a specifically designed mixture of crucial vitamins and minerals with the intention to offer a man optimal health.
If you're in search of the increased benefits of male hormones, the herbal components in the Fruit and Vegetable Blend ought to give you the outcome you desire.
The significance of the mind is just as important as the significance of the body and Memory Blend is the perfect selection for an energetic and healthy brain, as its formula has been created to enhance cognitive abilities and recollection.
This blend of ingredients, including pumpkin seed powder, lycopene and Saw Palmetto berry extract, certainly helps to maintain optimal prostate health.
The only thing left for you to do is choose the type of supplement that will best meet your needs. Start taking advantage of Ultra Men's Sport to begin optimizing your wellbeing now.
COMPOSITION
Serving Size  2 Caplet(s)
Servings Per Container  45


Nutrition Information
 
per 2 caplets
% NRV*
Ultrablend
Vitamin A
2.25 mg RE (5000 IU)
281.00%
Vitamin C
300 mg
375%
Vitamin D3
40 µg (1600 IU)
800%
Vitamin E
20 mg TE (30 IU)
167%
Vitamin К1
80 µg
107%
Vitamin B1
50 mg
4545%
Vitamin B2
50 mg
3571%
Vitamin B3
50 mg
313%
Vitamin B6
50 mg
3571%
Folic Acid
400 µg
200%
Vitamin B12
50 µg
2000%
Biotin
300 µg
600%
Pantothenic Acid
50 mg
833%
Calcium
200 mg
25%
Iodine
150 µg
100%
Magnesium
100 mg
27%
Zinc
25 mg
250%
Selenium
200 µg
364%
Copper
2 mg
200%
Manganese
2 mg
100%
Chromium
120 µg
300%
Molybdenum
75 µg
150%
Aminoblend
L-Carnitine, L-Taurine, L-Glutamine, L-Methionine
102 mg
**
Fruit & Vegetable Powerblend
Orange peel powder, acai fruit powder, cranberry fruit powder, blueberry fruit powder, pomegranate fruit powder, broccoli powder, spinach leaves powder, elderberry fruit powder, grape skin powder, tomato powder
87 mg
**
Memoblend
Choline, Inositol, Silicon
24 mg
**
Prostablend
Pumpkin seed powder, saw palmetto berry extract, lycopene
19 mg
**
Alpha-Lipoic Acid
25 mg
**
Green Tea Extract
40 mg
**
Lutein
950 µg
**
Zeaxanthin
190 µg
**
Astaxanthin
50 µg
**
* % NRV - Nutrient Reference Value (Percentage of Daily Reference Intakes for Adults)
** - NRV not established
Ingredients: Bulking agent (microcrystalline cellulose), calcium carbonate, L-ascorbic acid, magnesium oxide, pyridoxine hydrochloride, D-calcium pantothenate, thiamine mononitrate, riboflavin, D-alpha tocopheryl acetate, niacinamide, L-selenmethionine, green tea extract, L-glutamine, L-carnitine tartrate, zinc oxide, anti-caking agent: stearic acid, magnesium stearate, choline bitartrate, L-taurine, L-methionine, alpha lipoic acid, calcium-L-ascorbate, inositol, niacin, orange peel powder, acai fruit powder, pumpkin seed powder, saw palmetto berry extract, blueberry fruit powder, pomegranate fruit powder, cranberry fruit powder, broccoli powder, spinach leaves powder, elderberry fruit powder, grape skin powder, bulking agent (silicon dioxide), kosher calcium carbonate, manganese sulphate, tomato fruit powder, retinyl acetate, potassium iodide, vanilla powder, copper oxide, beta carotene, lycopene, lutein, folic acid, biotin, zeaxanthin, chromium chloride, molybdenum, cyanocobalamin, cholecalciferol, astaxanthin.
DIRECTIONS OF USE
Directions: 1 caplet one or two times daily with liquid to a meal.
REVIEWS
There is no review
Atsiliepimas Atsiliepimas