VITAMINS AND MINERALS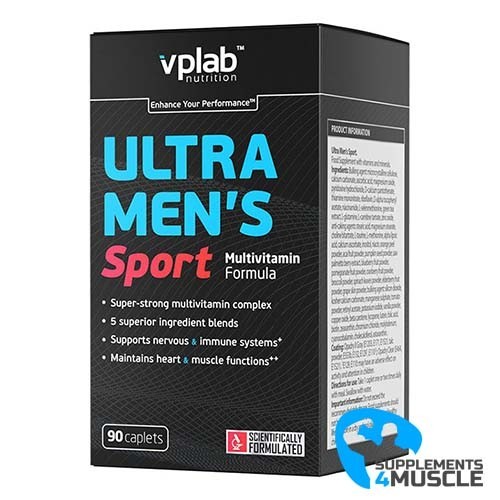 
VPLab Ultra Men's Sport 90caps
Super-strong male vitality complex
Stress & Immune support
Supports heart & prostate health
DESCRIPTION
COMPOSITION
DIRECTIONS OF USE
REVIEWS
DESCRIPTION
VPLab Ultra Mens  Sport
VPLab Ultra Mens  Sport. Men, your search for the supplement optimized with the natural vitamins, nutrients, and minerals complex is over. Ultra Men's Sport is the recipe designed to meet the needs of the male physiology. Ultra Men's Sport is loaded with over fifty active ingredients that benefit a man's overall health. Energy metabolism, nervous system, enhanced muscle function and protein synthesis is delivered in one caplet twice daily. Ultra Men's Sport couldn't be an easier addition to a man's healthy lifestyle.

What are you looking for in a supplement? Ultra Men's Sport isn't a dating service, but the developers created five performance blends perfect for you.

- Amino Acid Blend efficiently speeds up recovery with its blend of L-Methionine, L-Taurine, L-Carnitine and L-Glutamine for you to get the complex that you need.

- Do you need to support your overall health and well-being? Ultra Blend is the formula for you. It's a unique combination of essential vitamins and minerals designed in accordance with a man's total health in mind.

- If you're looking for the performance enhancement of male hormones, the botanical extracts in the Fruit and Vegetable Blend will give you the result you are looking for.

- Mind is just as important as body, and for a healthy, active brain, Memory Blend is the ideal choice, with a complex designed to improve cognitive functions and memory.

- Of course, the Prostate Health Blend keeps prostate health tip-top with ingredients like pumpkin seed powder, lycopene and Saw Palmetto berry extract.

All that's left is for you to choose the performance blend right for you. Start supporting your overall health today with Ultra Men's Sport.
COMPOSITION
Serving Size  2 Caplet(s)
Servings Per Container  45


Nutrition Information
 
per 2 caplets
% NRV*
Ultrablend
Vitamin A
2.25 mg RE (5000 IU)
281.00%
Vitamin C
300 mg
375%
Vitamin D3
40 µg (1600 IU)
800%
Vitamin E
20 mg TE (30 IU)
167%
Vitamin К1
80 µg
107%
Vitamin B1
50 mg
4545%
Vitamin B2
50 mg
3571%
Vitamin B3
50 mg
313%
Vitamin B6
50 mg
3571%
Folic Acid
400 µg
200%
Vitamin B12
50 µg
2000%
Biotin
300 µg
600%
Pantothenic Acid
50 mg
833%
Calcium
200 mg
25%
Iodine
150 µg
100%
Magnesium
100 mg
27%
Zinc
25 mg
250%
Selenium
200 µg
364%
Copper
2 mg
200%
Manganese
2 mg
100%
Chromium
120 µg
300%
Molybdenum
75 µg
150%
Aminoblend
L-Carnitine, L-Taurine, L-Glutamine, L-Methionine
102 mg
**
Fruit & Vegetable Powerblend
Orange peel powder, acai fruit powder, cranberry fruit powder, blueberry fruit powder, pomegranate fruit powder, broccoli powder, spinach leaves powder, elderberry fruit powder, grape skin powder, tomato powder
87 mg
**
Memoblend
Choline, Inositol, Silicon
24 mg
**
Prostablend
Pumpkin seed powder, saw palmetto berry extract, lycopene
19 mg
**
Alpha-Lipoic Acid
25 mg
**
Green Tea Extract
40 mg
**
Lutein
950 µg
**
Zeaxanthin
190 µg
**
Astaxanthin
50 µg
**
* % NRV - Nutrient Reference Value (Percentage of Daily Reference Intakes for Adults)
** - NRV not established
Ingredients: Bulking agent (microcrystalline cellulose), calcium carbonate, L-ascorbic acid, magnesium oxide, pyridoxine hydrochloride, D-calcium pantothenate, thiamine mononitrate, riboflavin, D-alpha tocopheryl acetate, niacinamide, L-selenmethionine, green tea extract, L-glutamine, L-carnitine tartrate, zinc oxide, anti-caking agent: stearic acid, magnesium stearate, choline bitartrate, L-taurine, L-methionine, alpha lipoic acid, calcium-L-ascorbate, inositol, niacin, orange peel powder, acai fruit powder, pumpkin seed powder, saw palmetto berry extract, blueberry fruit powder, pomegranate fruit powder, cranberry fruit powder, broccoli powder, spinach leaves powder, elderberry fruit powder, grape skin powder, bulking agent (silicon dioxide), kosher calcium carbonate, manganese sulphate, tomato fruit powder, retinyl acetate, potassium iodide, vanilla powder, copper oxide, beta carotene, lycopene, lutein, folic acid, biotin, zeaxanthin, chromium chloride, molybdenum, cyanocobalamin, cholecalciferol, astaxanthin.
DIRECTIONS OF USE
Directions: 1 caplet one or two times daily with liquid to a meal.
REVIEWS
There is no review
Atsiliepimas Atsiliepimas