SARMS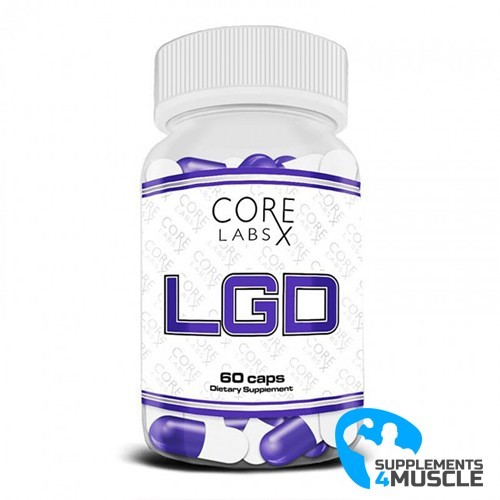 
Core Labs X LGD
Increased mass & strengh
High anabolic activity
Muscle tissue selective
Preventative muscle atrophy
DESCRIPTION
COMPOSITION
DIRECTIONS OF USE
REVIEWS
DESCRIPTION
Core Labs X LGD
Core Labs X LGD is a SARM that binds to the high affinity androgenic receptors LGD-4033 has an anabolic effect on the muscles, anti-resorptive properties (blocking the absorption of bone minerals) and anabolic activation of bone mineralization. Activity affecting muscle anabolism has no effect on the prostate and sebaceous glands.
Increased mass & strengh
High anabolic activity
Muscle tissue selective
Preventative muscle atrophy

During clinical trials Ligandrol showed the strongest ability to build lean muscle mass. LGD 4033 is the strongest SARM causing rapid loss of excessive body fat, maximizing the muscular figure. The addition of natural vegetable ingredients increases libido and raises the mood. The proper composition of vitamins is responsible for the proper functioning of the nervous system, cardiovascular system and stimulates the production of serotonin, increasing well-being and motivating to action.

Ligandrol / LGD-4033- is an efficient, selective androgen receptor modulator, but it has no steroid structure. It works on the principle of joining the androgen receptor, which in turn translates into increased anabolic processes in skeletal muscles, leading to weight gain. It is probably the strongest legal anabolic on the market, discovered in the medical field, where it was used to treat muscle wasting in the fight against various diseases. Despite relatively low popularity, clinical trials confirm its effectiveness at a relatively low dose, which minimizes any side effects of the product. In addition, the results of the study turned out to be amazing, because SARM LGD proved to be more effective than the popular and appreciated in the world supplementation of ostarine, which is considered a natural alternative to steroids. The first attempts show the enormous potential of this agent, which certainly has a chance to gain much greater recognition and popularity among the users. It is intended for all those who want to transfer their supplementation to the highest level of sophistication, as well as for those who have already tried everything on the market and are looking for the strongest supplements available on the market.
COMPOSITION
Serving Size: 1 Capsule
Servings Per Container: 60
Amount Per Serving
NAC (N-Acetyl L-Cysteine)
300 mg
DHEA (Dehydroepiandrosterone)
200 mg
Naringin
20 mg
Grape Seed Extract 95%
20 mg
Vitamin E (TPGS)
10 mg
Piperine 95%
5 mg
LGD-4033
4-((R)-2-((R)-2,2-trifluoro-1-hydroxyethyl) pyrrolidin-1-yl-2-trifuloroMethyl) benzonitrile
5 mg
Other Ingredients: Magnesium Stearate, Silicon Dioxide, Magnesium Carbonate, Calcium Gluconate, Potassium Gluconate, Zinc Gluconate.
DIRECTIONS OF USE
As a dietary supplement, take 1 capsule 1-2 times per day. Do not exceed 2 capsules in a 24 hour period and do not take for more than 12 weeks continuous use without a 4 week break between cycles.