PREWORKOUTS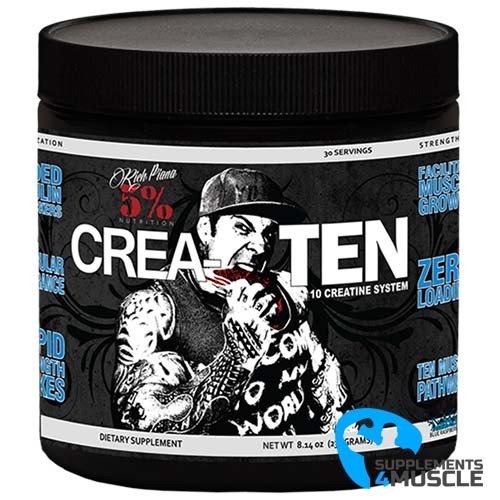 
Rich Piana 5% Crea Ten
Advanced 10-In-1 Creatine Formula!
Energy – Size - Strength and Pumps!
No Loading Needed
No Bloat or Gastric Discomfort
No Calories – Only Results
DESCRIPTION
COMPOSITION
DIRECTIONS OF USE
REVIEWS
DESCRIPTION
Rich Piana 5% Crea Ten
Rich Piana 5% Crea Ten. Creatine is one of the first supplements any athlete adds to their training stack - in the gym, on the field, or on the platform. It's a tried and true staple in sports nutrition for it's ability to pack on serious size. Rich Piana 5% Nutrition Crea-TEN is an incredible innovation as far as creatine supplements go as it combines 10 of the most effective and easily absorbed creatines in a single convenient powder form. This product has been specifically designed to be easy on the stomach, with no loading phase necessary and none of the unpleasant bloating that can often because by cheaper, less pure forms of creatine. On top of all of this, Rich Piana 5% Nutrition Crea-TEN to form a synergistic formula that will enhance absorption and make this creatine supplement even more effective.
COMPOSITION
Serving size: 7.7 g (one scoop)
Servings per container: 30
Amount Per Serving

%DV

Chromium (as Chromium Nicotinate Glycinate Chelate)

120mcg

100%

Creatine Blend:
Magnesium Creatine Chelate (Creatine MagnaPower®), Tri-Creatine Malate, Creatine Anhydrous, Creapure® (Creatine Monohydrate), Creatine Citrate, Creatine Pyruvate, Creatine Ethyl Ester, Creatine AKG, Creatine Ethyl Ester Malate, Creatine Gluconate

5000 mg

*

Creatine Accelerate Blend:
Taurine, Betaine Anhydrous, Gymnema Sylvestre Extract (Leaves), Black Pepper Fruit Extract (BioPerine®), Vanadium Nicotinate Glycinate Chelate, Banaba Powder (Leaves), Fenugreek Seed Extract

1590 mg

*
Other ingrednients: Citric acid, natural flavors, silicon dioxide, sucralose, acesulfame potassium, and blue #1.
DIRECTIONS OF USE
Directions: Consume (1) Serving Size scoop mixed with your favorite beverage of choice immediately after working out ONCE A DAY. On off-training days, it can be taken any time of day.