Xtreme PWO formulas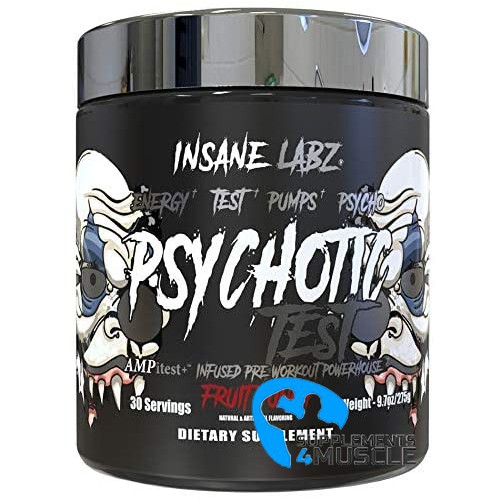 
DESCRIPTION
COMPOSITION
DIRECTIONS OF USE
REVIEWS
DESCRIPTION
Insane Labz Psychotic Test 276g
Insane Labz Psychotic Test hardcore pre-training formula that guarantees the best training results!
Psychotic Test is a new formula with synergistic ingredients. Provides a durable and substantial muscle pump and energy. It accelerates the building of muscle mass and is a testosterone modulator in the body. This is one of the stronger pre-training sessions from the USA with high stimulation. Rich in the patented AMPitest formula increasing testosterone levels. The supplement improves concentration during training and increases training endurance.
The revolutionary patented formula of AMPiberry perfectly reduces oxidative stress, reduces inflammation and reduces muscle soreness. The Psychotic Test is ideal for athletes who need a high dose of energy during intense workouts. The stimulating formula enriched with ingredients that increase testosterone levels will delight all athletes looking for a pre-workout that strengthens their masculinity.
This unique formula works synergistically to provide you with insane pumps and energy, while also aiding your muscles in post-workout growth.  Get the newest addition to the PSYCHOTIC family today and go insane in the gym!
ENERGY. With an all-new Energy matrix, Psychotic TEST is the ultimate high-stimulant pre-workout that will push the limits of every workout.
TEST. The unique testosterone boosting matrix featuring D- Aspartic Acid, Chlorophytum Extract, and our patented AMPitest, allows your muscles to keep growing long after your workout has ended.
SIZE. Featuring an industry best testosterone boosting matrix, Psychotic TEST has your muscles growing long after your workout has finished.
COMPOSITION
Serving size: 1 scoop (9.2g)
Servings per container: 30
Amount Per Serving

9.2g

PUMP & ENDURANCE MATRIX:

Beta Alanine, Glycerol Monostearate, Creatine HCL, OXYGOLD (Fulvic Acid)

3.8g
TESTOSTERONE MATRIX:
D-Aspartic Acid, AMPitest+ (Mucuna Pruriens Extract (98% L-Dopa)(seed) & Chlorophytum Extract (Chlorophytum Borivilianum)(whole herb))
3.4g
ENERGY & FOCUS MATRIX:
Caffeine Anhydrous, Choline Bitartrate, Citicoline Sodium, AMPiberry (Juniperus Communis)(berry), DMAE Bitartrate, Rauwolfia Vomitoria Extract (std. min 90% alpha yohimbine)(rootbark)
502mg
Other Ingredients: Citric Acid, Natural and Artificial Flavoring, Silica, Sucralose, Sodium Chloride, Calcium Silicate, FD&C Red #40
DIRECTIONS OF USE
Dosage: 1 scoop 30 minutes before training.
REVIEWS
There is no review
Atsiliepimas Atsiliepimas