PREWORKOUTS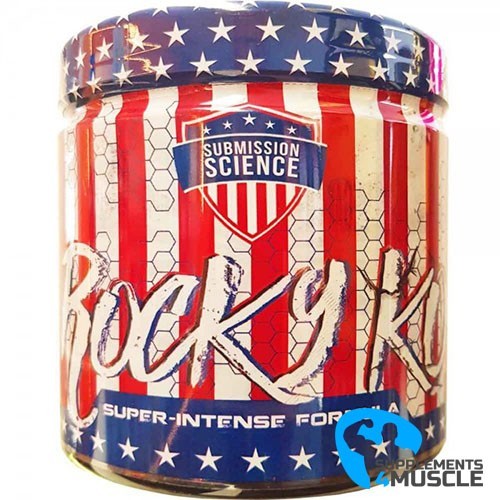 
DESCRIPTION
COMPOSITION
DIRECTIONS OF USE
REVIEWS
DESCRIPTION
Submission Science Rocky Ko
Want to buy the favorite workout supplement in town? If your answer is a big yes, Submission Science Rocky Ko is all you need to place your hands on. Submission Science Rocky Ko is a great choice for every fitness enthusiast who wants their workout supplement to be as effective as their efforts. With an enhanced absorption formula, Submission Science Rocky Ko ensures better post-workout recovery and higher muscle gains so that you get more value out of your gym performance.
Why Buy Submission Science Rocky Ko?
Helps you recover quickly after intense resistance training or cardio sessions
Enhances protein synthesis and nitrogen retention
Improves the supply of nutrients to muscle tissues
Reduces muscle soreness and fatigue
Improves muscle mass, size, and definition
Improves libido and the quality of intimate sessions
Increases intensity of workout sessions
Enhances the uptake of amino acids, oxygen, glucose, and creatine
If there is one fat-burning and muscle-building dietary supplement that you can always count on, it has to be Submission Science Rocky KO. Enriched with powerful & natural ingredients, Submission Science Rocky KO helps you access more energy and power than any other fat-burning and energy booster. 
Choose Rocky KO from Submission Science, one of the most trusted names in the world of sports nutrition. Backed by years of research, Submission Science Rocky KO leads the pack when it comes to power-packed fat burners and bodybuilding supplements. It improves the metabolism of your body and helps you gain ultimate strength, power, endurance, and energy. Don't settle for anything else, it cannot be an option ever. Order Submission Science Rocky KO now.
COMPOSITION
Serving Size: 1 Scoop (10g)
Servings Per Container: 30
Amount Per Serving
%Daily Value
Proprietary Blend
Citrulline Malate 2:1, AGmass™ (Agmatine sulfate), N-Acetyl Tyrosine, Caffeine Citrate, Caffeine Anhydrous, 1-3 dimethylamine (100mg), Synephrine Hcl, Higenamine Hcl, Hordenine Hcl, L-Norvaline, Schisandra Chinesis, Yohimbine Hcl, Huperzine A, Vitamin B12, Vitamin D3
8500mg
*
-Daily value not established
DIRECTIONS OF USE
Suggested use: Assess your tolerance by consuming 1/2 a scoop 15 minutes pre workout in 250ml cold water. After assessing tolerance consume 1 scoop in 250ml cold water 15 minutes pre workout. Do not consume more than 2 scoops in a 24 hour period.