Xtreme PWO formulas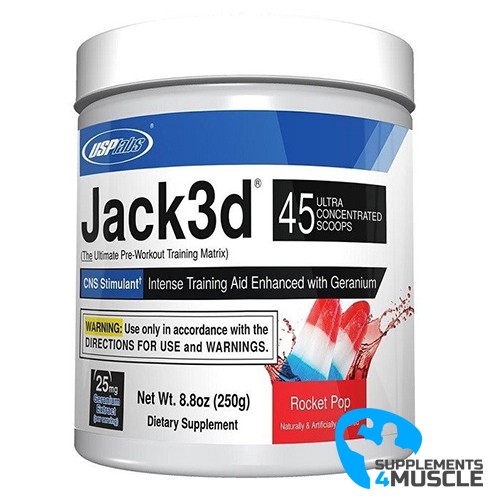 
DESCRIPTION
COMPOSITION
DIRECTIONS OF USE
REVIEWS
DESCRIPTION
USP LABS Jack3d 250g DMAA+DMHA
USP LABS Jack3d 250g DMAA+DMHA the latest version of the famous Jack3d pre-workout. This is the legendary pre-workout supplement in which valued geranium was used as the first on the market, with enormous potency, which made it definitely one of the most popular products in the world. It contains the most effective ingredients from each category, responsible for completely different parameters during training. USP Labs JackeD is a multi-component product, one of the best pre-workout boosters.
The special formula makes it extremely effective, therefore it provides solid support for daily workouts for the best athletes. The supplement works extremely quickly, after a few minutes you can feel its effect. Ingredients with a stimulating and pumping effect are effective in increasing motivation and training energy. The addition of yohimbine will additionally reduce your body fat even from resistant places such as the abdomen, lower back, thighs and buttocks.
COMPOSITION
Serving Size: 1-3 Scoops (5.55-16.65g)
Servings Per Container: 15-45
| | |
| --- | --- |
| | 1 Scoop |
| Proprietary Blend: | 4,145 mg |
| (Arginine Alpha-Ketoglutarate, Creatine Monohydrate, Beta Alanine, Caffeine, 2-Aminoisoheptane HCl, Geranium Extract (stem & leaves), Yohimbine Extract (bark)(Standardized for Yohimbine Alkaloids)), Schisandra Chinensis (berry) Extract (Standardized for Schizandrol A) | |
| Caffeine | 135 mg |
DIRECTIONS OF USE
Beginners should mix 1 scoop with cold water and take 30 minutes before training. After the compatibility has been tested, the portion size can be increased to 2 measuring spoons. Do not exceed the recommended dosage.
Advanced athletes should take two full scoops with cold water 30 minutes before training. Do not take after 5 p.m.
REVIEWS
There is no review
Atsiliepimas Atsiliepimas