Xtreme PWO formulas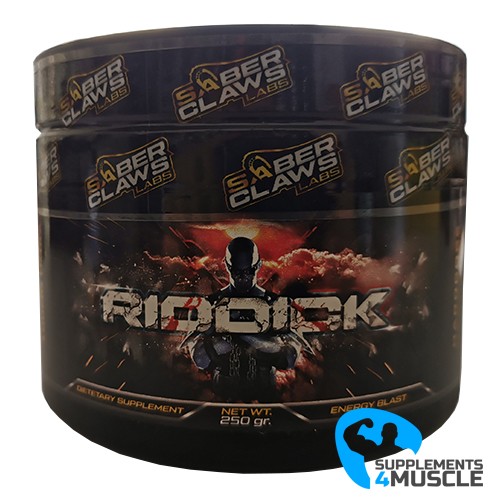 
DESCRIPTION
COMPOSITION
DIRECTIONS OF USE
REVIEWS
DESCRIPTION
Saber Claws Labs Riddick 250g
Saber Claws Labs Riddick 250g is a new, unique pre-workout supplement designed for men and women. The product contains two strong blends of components: Psycho Stimulant Blend and Plasma Pump Blend that increase energy, strength and promote endurance. Riddick will free you in an unlimited amount of energy ensuring a quick action from the first ruler.
The supplement provides incredible strength, adds energy and motivation to action, reduces fatigue and enhances the feeling of a muscle pump. The idea behind this pre-workout supplement is to get maximum benefit and progress on training, increasing strength and providing energy needed for the toughest workouts. If you dream about getting the best results in the gym, without feeling tired, the Riddick pre-workout is definitely the right choice.
COMPOSITION
Serving Size: 1 Scoop (10g)
Serving Per Container: 25 Servings
Amount Per Serving
Psycho Stimulant Blend:
Beta Alanine, N-Acetyl Tyrosine, Choline Bitartrate, Creatine Nitrate, Caffeine Anhydrous, 1,3 Dimethylamine Hcl (100mg), Nicotinic Acid
4250 mg
Plasma Pump Blend:
Citrulline Malate, Agmatine Sulfate, Arginine Nitrate
4000 mg
DIRECTIONS OF USE
As a dietary supplement mix 2 scoops (1 serving) of RIDDICK with cold water and consume 15-30 minutes prior to workout.
REVIEWS
There is no review
Atsiliepimas Atsiliepimas