Xtreme PWO formulas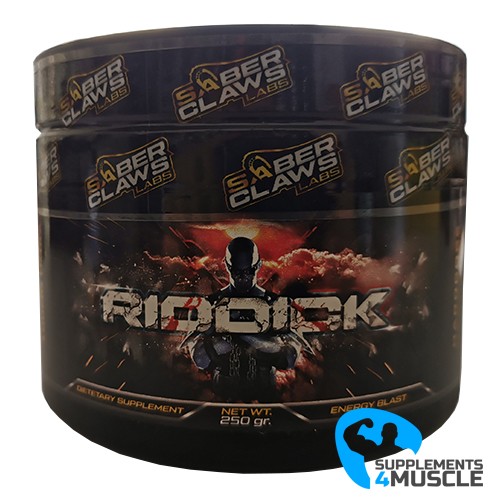 
DESCRIPTION
COMPOSITION
DIRECTIONS OF USE
REVIEWS
DESCRIPTION
Saber Claws Labs Riddick 250g
Saber Claws Labs Riddick 250g is a revolutionary pre-workout supplement tailored for both men and women. It features two robust combinations of ingredients: a Psycho Stimulant Blend and a Plasma Pump Blend. These components provide an energized feeling, enhanced strength, and increased resilience, enabling you to unleash an infinite amount of energy from the very first use.
This pre-workout supplement can give you immense strength, vigor, and high enthusiasm for physical activity. It also diminishes exhaustion and heightens the sensation of a successful pump. The aim of this supplement is to achieve the best results possible whilst at the gym by building strength and providing the energy that is needed for hard-working exercise. If you aspire to accomplish what you hope to in the gym and still maintain intense vitality, the Riddick pre-workout can make this a reality for you.
COMPOSITION
Serving Size: 1 Scoop (10g)
Serving Per Container: 25 Servings
Amount Per Serving
Psycho Stimulant Blend:
Beta Alanine, N-Acetyl Tyrosine, Choline Bitartrate, Creatine Nitrate, Caffeine Anhydrous, 1,3 Dimethylamine Hcl (100mg), Nicotinic Acid
4250 mg
Plasma Pump Blend:
Citrulline Malate, Agmatine Sulfate, Arginine Nitrate
4000 mg
DIRECTIONS OF USE
As a dietary supplement mix 2 scoops (1 serving) of RIDDICK with cold water and consume 15-30 minutes prior to workout.
REVIEWS
There is no review
Atsiliepimas Atsiliepimas