Xtreme fat burners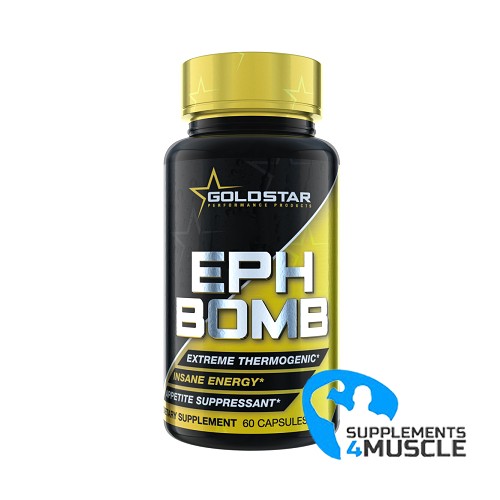 
DESCRIPTION
COMPOSITION
DIRECTIONS OF USE
REVIEWS
DESCRIPTION
Goldstar EPH Bomb
Goldstar EPH Bomb is a powerful and rapid way to shed extra fat quickly. It contains components that are renowned for their capacity to increase weight loss, through intensifying lipolysis and thermogenesis and giving you the extra energy you need.
The key components of EPH Bomb are caffeine, synephrine HCl, phenylethylamine HCl, ephedra, nettle root, Theophylline and yohimbine HCL. Caffeine can combat fatigue feelings and boost energy levels. It also boosts cell metabolism and helps stimulate fat reduction. Yohimbine HCl also stimulates functioning and helps decrease fat in "trouble spots" like the tummy, hips and thighs and can boost libido. Nettle root extract sustains blood sugar levels and regulates sex hormones by encouraging testosterone concentration.
Goldstar Performance has formulated a fat burner that works quickly and efficiently.
Benefits of Goldstar EPH Bomb
Boost your vigor, amplify the speed of fat loss, lessen exhaustion, minimize persistent fat on your stomach, legs, and glutes, and heighten lipolysis.
COMPOSITION
Serving Size: 1 capsule
Servings per Container: 60
1 capsule
DiCaffeine Malate
404mg

Proprietary Blend:

Synephrine HCL, Phenylethylamine HCI, Ephedra (leaf extract with 50 mg Ephedra Viridis), Nettle root (extract), Theophylline, Yohimbine HCL

375mg
Other Ingredients: Silicon Dioxide, Rice Flour, Gelatin
DIRECTIONS OF USE
Dosage: Take 1 capsule in the morning. Do not take more than 2 capsules per day and do not use the product for more than 45 days in a row.
REVIEWS
There is no review
Atsiliepimas Atsiliepimas