TESTOSTERONE BOOSTERS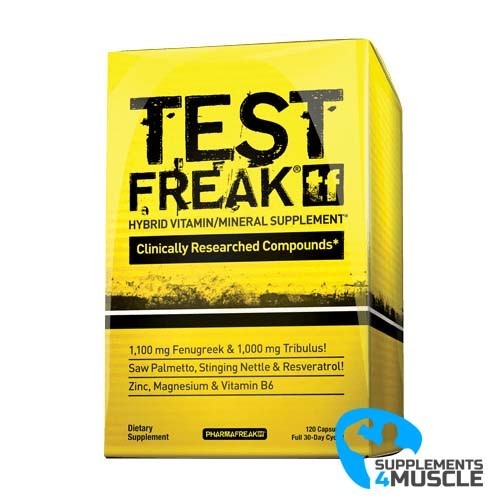 
PharmaFreak Test Freak
Provides widely used testosterone supporting ingredients3!
Supplies 700 mg of TESTOFEN® per serving!
Provides TRIGOTEST- a cutting-edge Fenugreek extract!
Every serving supplies a massive 1000 mg dose of Tribulus Terrestris!
Provides a beneficial dose of Zinc in every serving!
DESCRIPTION
COMPOSITION
DIRECTIONS OF USE
REVIEWS
DESCRIPTION
PharmaFreak Test Freak
PharmaFreak Test Freak is an amalgamation of vitamin and mineral supplementation with clinically-proven components. Each dose furnishes 1,100 mg of fenugreek, 1,000 mg of Tribulus terrestris and zinc. Moreover, TEST FREAK provides saw palmetto and stinging nettle, as well as hesperidin, apigenin, and resveratrol.
This product gives access to popular testosterone-stimulating ingredients, offering 700 mg of TESTOFEN® per serving, and also includes the revolutionary Fenugreek extract TRIGOTEST, a 1000 mg dose of Tribulus Terrestris, and a beneficial amount of zinc.
COMPOSITION
Serving Size : 4 caps. (30 servings per container)
Amount per Serving
Vitamin B6 (as Pyridoxine Hydrochloride)
10.5mg (525%)
Magnesium (as Magnesium Citrate)
90mg (23%)
Zinc (as Zinc Acetate)
30mg (200%)
Proprietary Testosterone Support Complex:
TESTOFEN® Fenugreek (Trigonella foenun greacum) (seed)
TRIGOTEST™ Fenugreek (Trigonella foenun greacum) (seed)
Tribulus (Tribulus terrestris) (fruit)
2.1g
Proprietary DHT Support Complex:
Saw Palmetto Extract (Serenoa repens) (fruit)
Stinging Nettle Extract (Urtica dioica) (leaf)

280mg
Proprietary Estrogen Support Complex:
Hesperidin [(S)-2,3-dihydro-5,7 -dihydroxy-2-(3-hydroxy-4- methoxyphenyl)-4-H-1-benzopy-ran-4-one]
Apigenin (5,7-Dihydroxy-2-(4-hydroxyphenyl)-4H-1-benzopyran-4-one)
Resveratrol (trans-3,5,4'-Trihydroxystilbene)

150mg
Ingredients: Gelatin, Magnesium.
DIRECTIONS OF USE
Directions For Use: Take 4 capsules every day before bed with 8 ounces of water. Take on an empty stomach, at least 30 minutes after your last meal. Use continuously for up to 8 weeks, followed by a 2-week off period.
REVIEWS
There is no review
Atsiliepimas Atsiliepimas