TESTOSTERONE BOOSTERS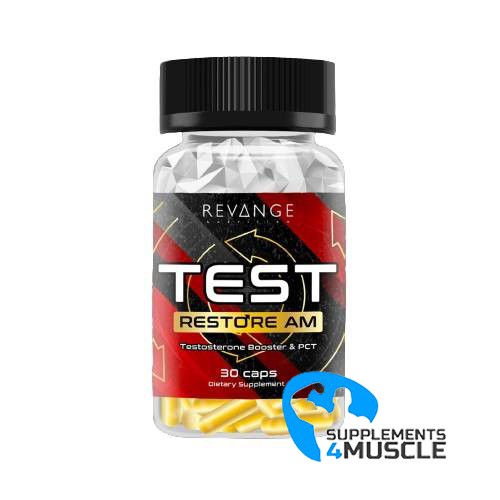 
DESCRIPTION
COMPOSITION
DIRECTIONS OF USE
REVIEWS
DESCRIPTION
Revange Nutrition Test Restore AM 30caps
Revenge Test Restore AM 30 caps is a highly influential multi-ingredient formula for enhancing testosterone production. Its one-of-a-kind blend of 18 stimulating substances is unparalleled. There isn't another testosterone booster formula on the dietary supplement market that can compete with its efficiency! This product has been formulated to deliver maximum results. The powerful composition ensures that the user will experience the effects of Test Restore AM immediately. After a few servings, the body will be endowed with elevated energy levels, rapid recovery, improved vascularity, and increased strength and muscle size during exercise.
Do you have an interest in improving your overall appearance and wellness? Revange Test Restore AM can not only enhance your mood, but it also boosts energy and promotes faster healing. This supplement will enable you to become even more active in your physical activities, and you can work out more intensely. Plus, the increase in testosterone will result in having a more well-defined frame and solid, toned muscles.
Test Restore AM action:
This product can promote increased testosterone levels, reduce activity in the SHGB hormone, and stimulate the growth hormone. Additionally, it can help to improve overall well-being, increase libido and make post-cycle therapy more effective. It can also improve erection and make your muscles grow more quickly. Furthermore, it will help to emphasize your muscles, make them look more full, assist with maintaining muscle endurance, and increase your strength.
Who is Test Restore Am recommended to?
This product is specifically created for people over 30 in order to enhance the potential of their body. Taking the supplement will give them their "second youth." Test Restore Am results in improved hormones, making users feel vigorous. We recommend this supplement to people who often experience fatigue, stress, and lack of sexual desire. Additionally, Restore Test is beneficial in the post-Cycle Therapy after the application of Prohormone or Selective Androgen Receptor Modulator, to energize the endocrine system.
COMPOSITION
Amount Per Serving
1 Capsule
Stinging Nettle Extract
(3,4-Divanillytetrahydrofuran 95%)
200mg
Horny Goat Weed
(Epimedium Extract 70% icariins)
100mg
Tongkat Ali Extract 200:1
(Eurycoma Longifolia)
100mg
Arimistane
(Androsta-3,5-Diene-7,17-Dione)
50mg
Fenugreek Seed Extract
(50% Saponins)
50mg
Diindolylmethane
(DIM)
50mg
Saw Palmetto Extract
50mg
N-Methyl-D-Aspartic Acid
30mg
Catuaba Bark Extract
30mg
Maca Root
20mg
Coleus Forskohlii Root Extract
(40% Forskolin)
20mg
Piperine 95%
10mg
Grape Seed Extract 95%
10mg
Naringenin
10mg
Boron
(As Boron AAC)
10mg
Vitamin E TPGS
(Drug Delivery System)
10mg
Vitamin D3
(As Cholecalciferol)
10 000IU
Zinc
(As Zinc AAC)
10mg
Yohimbine Extract 8%
10mg
DIRECTIONS OF USE
Dosage: 1 serving, 1 capsule 1-3 times a day.
REVIEWS
There is no review
Atsiliepimas Atsiliepimas