TESTOSTERONE BOOSTERS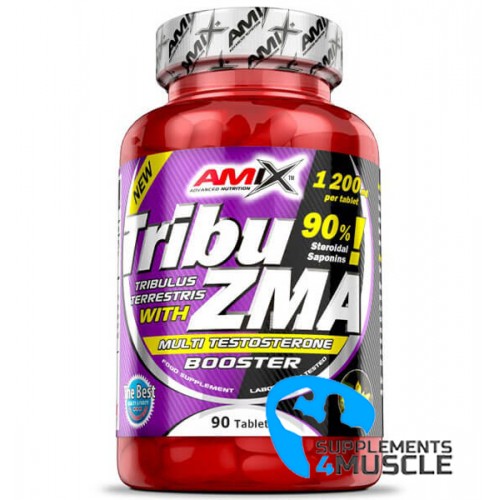 
DESCRIPTION
COMPOSITION
DIRECTIONS OF USE
REVIEWS
DESCRIPTION
Amix Tribu-ZMA
Amix Tribu-ZMA is a potent enhancer of testosterone levels consisting entirely of Tribulus terrestris extract, containing up to 90% saponins with a potent anabolic impact.
This product encourages the production of natural testosterone, increases strength, and contributes to the acquisition of lean muscle mass. Additionally, it can optimize sleep, allowing for a more restful and restorative sleep.
Saponins triggers the body's production of testosterone, which leads to a speedier rise in testosterone levels in the bloodstream and a greater amount of lean muscle tissue.
Studies have proved that Tribulus terrestris encourages the development of luteinising hormone (LH). This in turn triggers the generation of the sex hormone testosterone, in addition to causing an ascent in sexual desire and capacity.
Amix Tribu-ZMA provides a single serving (2 tablets) which includes 2000 mg of 90% Tribulus terrestris extract and 400 mg of ZMA. Both of these elements are active components.
COMPOSITION
Net quantity : 90 caps. (45 servings).
Serving composition

2 tablets

Tribullus Terestris Extract (90% Steroidal Saponins)

2000mg

ZMA complex

400mg

vitamin B6 (pyridoxine hydrochloride)

5.25mg

350% RNI

magnesium (citrate and oxide)

225mg

60% 

RNI

zinc (aspartate and monomethionine)

15mg

150% 

RNI
RNI is the reference nutritional intake.
Other Ingredients: Adhesion Controller Microcrystalline Cellulose and Dicalcium Phosphate, Stabilizer Cross-Linked Sodium Carboxymethylcellulose, Magnesium Salts of Fatty Acids, Silica Regulator.
DIRECTIONS OF USE
Usage : Take 2 tablets in the evening before bedtime. We recommend that you consult a trainer, sports doctor or nutritionist before using it.
REVIEWS
There is no review
Atsiliepimas Atsiliepimas