PREWORKOUTS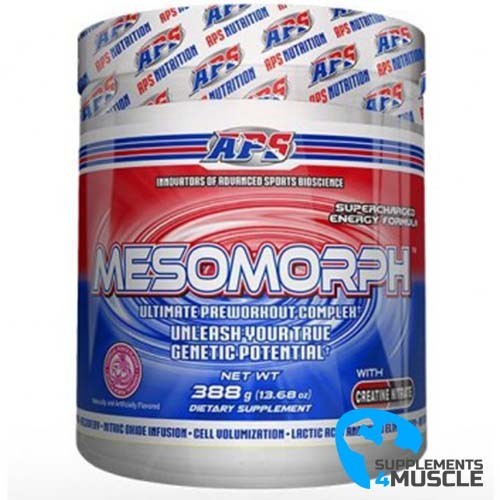 
APS Mesomorph 388g
Supercharged Energy Formula
Ultimate Preworkout Complex with Creatine Nitrate
Unleash Your True Genetic Potential
Muscle Gains and Enhanced Athletic Performance
DESCRIPTION
COMPOSITION
DIRECTIONS OF USE
REVIEWS
DESCRIPTION
APS Mesomorph
The essential requirement for any top-notch preworkout supplement is Strength, Stamina, and Energy, which Mesomorph® from APS Nutrition provides in abundance. It features an intense energy-producing, vein-opening and fatigue-fighting system, making it the authority in the arena of concentrated preworkout supplements. Furthermore, the use of energizers and focus enhancers ensures that your workout and training are of the highest possible quality. This comprehensive preworkout energy matrix is the only one in the market that offers full clinical doses of its cutting-edge ingredients.
Mesomorph® has studied the research and collected the data to unveil two potent ingredients which will create remarkable outcomes. They have included a scientifically-backed, exhilarating energy source named "Senegalia Berlandieri". This substance is commonly recognized as the "ephedrine impostor" since it has impressive energizing impressions, and this newly patented ingredient could bring about a transformation in the preworkout industry.
Mesomorph® consists of top of the line ingredients yielding extreme muscular stimulation. Research undertaken at the University of California, Los Angeles has found that Creatine Nitrate is much more water-soluble than other forms of Creatine, including Creatine Monohydrate. This extraordinary solubility in water ensures maximum absorption, while eliminating the adverse effects usually associated with Creatine supplementation.
Mesomorph® delivers more performance-oriented components than any other competing product, providing a powerful and potent muscle-building, energy-boosting, and skin-stretching effect. This product is essential for anyone, from professional athletes to newcomers to exercise. However, prior to use, athletes competing in events should check that this supplement is compliant with any governing sporting organizations.
COMPOSITION
Serving Size: 15.5 grams (one rounded scoop)
Servings Per Container: 25
Amount Per Serving
% Daily Value

SYNTHENOX-CARNOSINE/NITRIC OXIDE COMPLEX:
Beta Alanine, L-Citrulline DL-Malate 2:1, Arginine Alpha Ketoglutarte

6.500mg
*

MESOSWELL_CELL VOLUMIZING ATP MATRIX:
Di-Creatine Malate, L-Taurine, Creatine Nitrate, Ascorbic Acid 300mg, Creatinol-O-Phosphate, Agmatine Sulfate.

4.500mg
500%**

NEUROMORPH-NEURO ENERGIZED STIMULANT MATRIX:
Glucoronolactone, Methylxanthine Anhydrous, Senegalia Berlandieri Extract (leaves), (Yielding 200mg Phenylethylamine Alkaloids including: B-Phenylethylamine, Methylsynephrine, N-Methyl-B-Phenylethylamine, N-Methyl-B-Methylethylamine N, N-Dimethyl Beta-Phenylethylamine), Theobromine, Naringin (fruit), Isopropylnorsynephrine HCL

1.860mg
*
* Daily value not established
**Precentage Daily Values are based
Other Ingredients: Malic Acid, Natural & Artificial Flavours, Sucralose, Acesulfame-K, Maltodextrin, Silicon Dioxide, FD&C Red #40
DIRECTIONS OF USE
Suggested Use: Once tolerance has been determined, mix one scoop of Mesomorph® with 8-10oz of water, stir adequately, and consume on an empty stomach approximately 30-40 minutes prior to exercise.
REVIEWS
There is no review
Atsiliepimas Atsiliepimas