PREWORKOUTS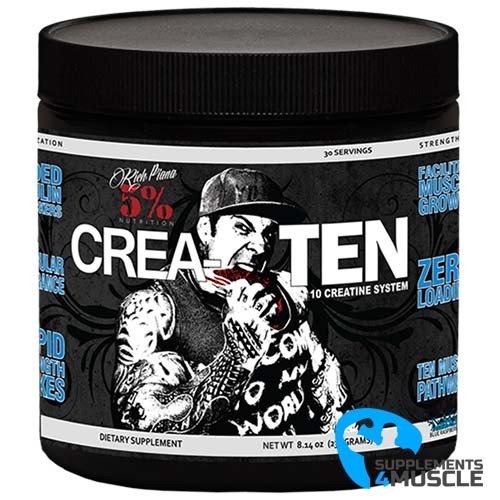 
Rich Piana 5% Crea Ten
Advanced 10-In-1 Creatine Formula!
Energy – Size - Strength and Pumps!
No Loading Needed
No Bloat or Gastric Discomfort
No Calories – Only Results
DESCRIPTION
COMPOSITION
DIRECTIONS OF USE
REVIEWS
DESCRIPTION
Rich Piana 5% Crea Ten
Creatine is a staple in sports nutrition due to its ability to help athletes gain size. Rich Piana 5% Nutrition Crea-TEN is a helpful innovation combining ten of the most effective and easily absorbed creatines into a single powder. This product is designed to be mild on the stomach, needing no loading phase and no uncomfortable bloating. Additionally, this creatine supplement even has a synergistic formula that promotes better absorption for an even greater effect.
COMPOSITION
Serving size: 7.7 g (one scoop)
Servings per container: 30
Amount Per Serving

%DV

Chromium (as Chromium Nicotinate Glycinate Chelate)

120mcg

100%

Creatine Blend:
Magnesium Creatine Chelate (Creatine MagnaPower®), Tri-Creatine Malate, Creatine Anhydrous, Creapure® (Creatine Monohydrate), Creatine Citrate, Creatine Pyruvate, Creatine Ethyl Ester, Creatine AKG, Creatine Ethyl Ester Malate, Creatine Gluconate

5000 mg

*

Creatine Accelerate Blend:
Taurine, Betaine Anhydrous, Gymnema Sylvestre Extract (Leaves), Black Pepper Fruit Extract (BioPerine®), Vanadium Nicotinate Glycinate Chelate, Banaba Powder (Leaves), Fenugreek Seed Extract

1590 mg

*
Other ingrednients: Citric acid, natural flavors, silicon dioxide, sucralose, acesulfame potassium, and blue #1.
DIRECTIONS OF USE
Directions: Consume (1) Serving Size scoop mixed with your favorite beverage of choice immediately after working out ONCE A DAY. On off-training days, it can be taken any time of day.
REVIEWS
There is no review
Atsiliepimas Atsiliepimas