PREWORKOUTS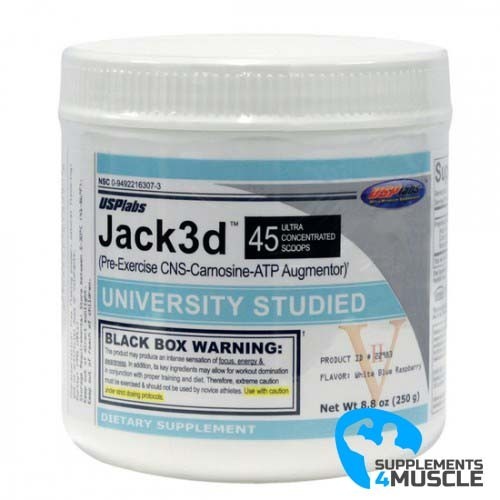 
USP LABS Jack3d Pre Workout DMAA 250g
If you're looking for a supplement that is going to boost your energy levels, increase endurance and intensify your pumps, Jack3d is the supplement for you.
DESCRIPTION
COMPOSITION
DIRECTIONS OF USE
REVIEWS
DESCRIPTION
USP LABS Jack3d Pre Workout
Jack3d has been produced as a pre-workout supplement to supercharge your gym routine. It has been specifically formulated to increase energy, heighten endurance and intensify muscle pumps, so you can go into the gym feeling determined and come out feeling accomplished. If your aim is to get bigger, stronger and more successful in the gym, then Jack3d is the supplement for you - you'll be able to lift more, do extra reps and feel better than ever afterwards.
We are all familiar with what it's like to have a really successful workout session in the gym: a high level of concentration, a powerful physical boost, and relentless, concentrated vigor. USP Labs Jack3d can help you to charge through an intense set, leading to a well-deserved pump and discernible outcomes.
Jack3d Ingredients
Many are curious as to what the components of Jack3d pre-workout are and why it is much stronger than the other products. This supplement only has its own special selection of ingredients which make it the most powerful nutritional supplement available. The main component of Jack3d is Geranium (1,3-Dimethyltylamin or Methylhexamine). Where some products use Ephedrine, Jack3d uses Geranium, which is a plant that boosts the Central Nervous System and helps to increase strength, muscles, mental clarity, and energy.
Schizandrol A
The distinctive component comes from Schisandra Chinesis, a plant used in traditional Chinese medicine. It has been observed to energize both the body and the mind when engaging in physical activity. In addition to providing excitement, it has been seen to upgrade pulmonary and cardiovascular functioning while keeping hormones like cortisol at minimal values. Since cortisol is known to impede muscle growth, Schizandrol A is an essential ingredient to help sustain muscle growth momentum.
Creatine Monohydrate
Research has indicated that Creatine Monohydrate is both safe and effective during both short and extended periods of time. It helps to stop muscle exhaustion and will provide your body with the necessary energy to complete challenging physical activities.
Methylxanthines refer to substances such as caffeine and theophyline.
The elements inside these compounds give us a burst of energy that is necessary in order to stay alert. Caffeine works to make us less tired, while also helping our brain to focus better and think more sharply.
Beta-alanine
Beta-alanine is a very secure element of Jack3d that can assist in reducing tiredness and sharpening concentration during physically challenging workout routines. It functions to fuel the body's muscles to prevent exhaustion and increase the ability to work out for longer periods of time.
COMPOSITION
Serving Size 1 Scoop (5.55 g)
Servings Per Container: 45
| | | |
| --- | --- | --- |
| | Amount per serving | % Daily Value |
| Proprietary Blend | 4145.00mg | * |
| (Arginine Alpha-Ketoglutarate, Creatine Monohydrate, Beta Alanine (CarnoSyn®), Caffeine, 1,3-Dimethylamylamine HCL, Schisandra Chinensis (Berry) Extract (Standardized for Schizandrol A)) | | |
*Daily value not established
DIRECTIONS OF USE
Directions for Use: As a dietary supplement, mix 1 Ultra-Concentrated scoop (5.5 grams) with 4-8 ounces of cold water and consume 30-45 minutes before beginning workout. This is to be done the first three (3) times using the product. Under no circumstances should the initial dose be exceeded or the warnings on this bottle be ignored. Beginning with the 4th time using the product, dose may be increased by, but not more than 1/2 of a scoop (2.75 grams). The ideal individual dose for workout domination may vary between 1-3 scoops.