Xtreme PWO formulas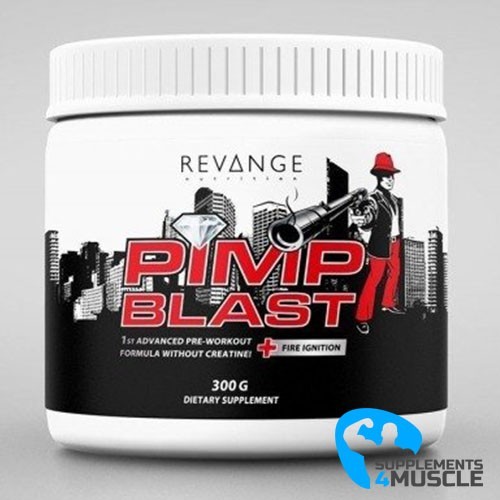 
Revange Nutrition Pimp Blast
The effects of using Pimp Blast:
mega spectacular muscle pump

noticeable increase in strength and strength

increase in training intensity

fatigue reduction

raising concentration and motivation to the maximum

vitamin supplement promoting health
DESCRIPTION
COMPOSITION
DIRECTIONS OF USE
REVIEWS
DESCRIPTION
Revange Nutrition Pimp Blast supplement from Revange is a legendary pre-workout stack that significantly affects your body and mind during training sessions. It works perfectly in the period of hard endurance training for amateurs of strong and long stimulation. The product is intended for advanced users who want to get higher level training struggling with the highest level of difficulty. A blend of effective, synergistically active ingredients will allow you to achieve completely unknown levels of power and energy that are incomparable to previously used preparations before training.

Thanks to the strong training booster your silhouette will go through an amazing metamorphosis and will contribute to the progress in the gym by several shelves higher. The unique FETA-MAXX complex will effectively increase well-being and energy, and also through thermogenesis will reduce unwanted fat and accelerate metabolism.

If you are looking for an assistant for extremely heavy and hard training Pimp Blast is certainly one of the most interesting proposals on the market that meets the expectations of even the most demanding users!


GPLC - is a combination of l-carnitine ester and glycine. This combination supports the bioavailability of the molecule. GPLC has an action supporting the production of nitric oxide, which greatly supports the body during training efforts. The compound effectively supports the reduction of fat and contributes to the construction of lean muscle mass, increases strength and endurance.

Citrulline - takes part in the synthesis of nitric oxide (NO), phosphocreatine and oxygen metabolism of glucose, thereby increasing the uptake of oxygen, glucose, amino acids, and creatine. In addition, it reduces the concentration of lactic acid and ammonia in the muscles, allowing the body to recover faster by increasing creatine phosphate and ATP resynthesis. Citrulline malate is a much more effective form than large doses of arginine, because it is its precursor, and hence - the same dose of citrulline is more effective than arginine itself.

Agmatine - is a metabolite of arginine, a chemical compound of the genus of biogenic amines (derivatives of organic ammonia that arise as a result of decarboxylation of amino acids). This ingredient is often used in a variety of supplements and training nutrients. Most often, however, it is used for the production of pre-workout preparations, which are to stimulate the body and intensify the so-called "muscle pump". Agmatine is characterized by a very wide spectrum of activity. It stimulates the synthesis of nitric oxide (NO2), and thus improves blood supply and nutrition of muscle cells, eliminating pain of neuropathic origin and supporting cognitive processes. Agmatine enjoys great popularity among athletes, because it allows you to improve performance, strength and endurance.

Beta Alanine - belongs to the organic chemical compounds from the group of amino acids, the structural isomer of alpha -alanine, or the basic amino acid protein. It belongs to the so-called β-amino acids, in which the amino group is located on the β-carbon in relation to the carboxyl group. β-alanine is a component of the carnosine dipeptide (β-alanyl-L histidine), whose biosynthesis depends on the availability of β-alanine as a substrate. Carnosine buffers the pH drop associated with with the formation of lactic acid in the muscles during exercise. Therefore, the intake of β-alanine reduces physical reduction. Furthermore, β-alanine is a component of other biologically active compounds, e.g. pantothenic acid, balenin peptides (β-alanyl-1-methyl-L-histidine) and anserine (β-alanyl-3-methyl-L-histidine).
ALC- is the acetyl ester of L-carnitine. It is produced in the cells of the human body, and more specifically in the mitochondria, by the enzyme carnitine acetyltransferase (CAT). It is involved in many metabolic cycles, e.g. in fatty acid oxidation and energy production. It can also be an acetyl donor in the acetyl co-enzyme reaction (acetyl-CoA). Probably it can also act as a molecular chaperone that allows the proper formation of newly synthesized protein chains and affecting their functions. in comparison to the "normal" L-carnitine, its acetyl derivative has a much stronger effect on the central nervous system. Acetyl L-carnitine supplements are intended especially for people planning to reduce body fat, older people who have a tendency to memory disorders and all physically and mentally active, under the influence of stress and adverse environmental factors. Acetyl L-carnitine reduces fatigue and its sensibility, supports fat reduction processes.

N-acetyl L-tyrosine- is the acetylated derivative of the L-tyrosine amino acid. Ordinary L-tyrosine is less stable and also less soluble in water, which can lead to reduced bioavailability. Acetylation increases the solubility and stability of some amino acids. N-acetyl-L-tyrosine supports brain function by supporting the synthesis of catecholamine norepinephrine and dopamine (neurotransmitters). Vitamin B6 supports the metabolism of amino acids. Vitamin B6 helps in the proper functioning of the nervous system, helps in maintaining normal psychological functions and contributes to the reduction of tiredness and fatigue.

L-norvaline is an organic chemical compound from the group of branched chain amino acids belonging to non-protein amino acids. Norwalina is an arginase inhibitor, thereby increasing arginine concentration. The biologically active enantiomer is L-norvalin. Norwalina is used to regenerate muscle tissue after exercise. Its natural origin is nuts, meat and cereals. It enhances the anabolic and anti-catabolic action of arginine, affecting the increase of exercise capacity (strength and endurance) and causes more efficient blood supply and nutrition of muscle tissue. Norwalina supports the supply of nutrients and vitamins to the muscles, which enhances and accelerates muscle building.

Synephrine - has a similar structure to ephedrine. It is obtained in a natural way, from immature citrus fruit, e.g. Citrus uranium L., Citrus aurantium L. This substance is a natural substitute for ephedra. Increasingly, it is added to drugs and dietary supplements intended for athletes as well as overweight people. This compound boosts metabolism, reduces appetite and at the same time increases mental and motor activity. Synephrine increases blood pressure and affects the minute volume of the heart. It widens the bronchi to facilitate breathing, effectively clears the sinuses and improves well-being.

Hordenine - works primarily through the release and protection of norepinephrine, which translates into increased metabolism, energy supply as well as a decrease in appetite. Users use Hordenine for three main effects: fat loss, appetite control and energy boost. It is used by bodybuilders before training, for synergistic effects combined with PEA (phenylethylamine).

Sulbutamine - a derivative of the known vitamin B1 (thiamine). It is an organic chemical compound that penetrates the nervous system in an amazingly effective way. It is important for normalizing processes in the nervous system - eliminates anxiety attacks, improves the quality of contacts with the environment, reduces such feelings as shame, shyness, lack of self-esteem or fear of other people. As a drug, it is widely used to treat asthenia or having sexual origins in the psyche. Thanks to the nootropic properties, it greatly influences the improvement of memory and concentration, improves the efficiency and endurance of the whole body for both physical and mental effort. It also helps to regenerate quickly and effectively. Sulbutiamine is also a preparation that facilitates slimming, by significantly accelerating the metabolism of carbohydrates in the body and effective fat burning.
COMPOSITION
Serving Size: 1 scoop (10 grams)
Servings Per Container: 30
| | | |
| --- | --- | --- |
| Amount Per Serving | | % Daily Value** |
| Vitamin C | 150mg | 250% |
| Niacin | 150mg | 1500% |
| Vitamin B12 | 1000mg | 16666% |
| Magnesium | 150mg | 38% |
| Potassium | 150mg | 4% |
| Pump that Bitch! | | |
| GPLC (Glycine Propionyl-L-Carnitine HCL) | 2000mg | |
| Citrulline Di-Malate | 2000mg | |
| AgmaMax® (Agmatine Sulfate) | 1000mg | |
| Beta Alanine | 1000mg | |
| ALC (Acetyl L-Carnitine) | 1000mg | |
| N-acetyl L-tyrosine | 1000mg | |
| L-Norvaline | 250mg | |
| Fire Ignition | | |
| Caffeine Anhydrous | 150mg | |
| FETA-MAXX (Methylated forms of Synephrine, Hordenine, Tyramine) | 120mg | |
| Electro-Hydro-Vit System | | |
| Sulbutiamine, Sodium Ascorbate (Vitamin C), Niacin (as Niacin USP), Vitamin B12 (as Methylcobalamin), Magnesium, Potassium | 800mg | |
Other Ingredients: Natural Flavor, Sucralose, Natural Color.
DIRECTIONS OF USE
On Average 1 serving (10 grams) 30 minutes before workout mixed with water. Depending on individual sensitivity and needs the safe effective dose should be estimated individually and usually ranges between 5 to 20 grams per serving. It is not advised to use more than 20 grams (2 average servings) a day!
REVIEWS
There is no review
Atsiliepimas Atsiliepimas